This year has been a very active one for the company formerly known as KHD Humboldt Wedag International (OTCPK:KHDHF). There have been spin-offs, lawsuit settlements, a takeover and a rights issue and some quite complex transactions surrounding this company all year long. In the tradition of year-end reviews, I thought it might be a good idea to review the events at the company in 2010. I must admit that since so many pieces of what used to be the ticker symbol "KHD" have been flying around, I have lost track myself of what the combined performance of these pieces would have been in 2010.

So I got to work. What happened to your investment if you bought KHD shares at the beginning of this year?

The initial situation

The first trade in KHD in the year 2010 was made at a price of $13.75.
At the beginning of 2010, KHD was a company that consisted of three parts: first, a cement plant manufacturing operation it controlled directly (through wholly-owned subsidiaries); second, a 98% stake in the German company "KHD Humboldt Wedag AG" (listed on the German market) which contained most of the cement plant manufacturing operation (except for the previously mentioned wholly-owned subsidiaries), and third, a royalty income stream from an iron mine in Newfoundland & Labrador (the Wabush mine).

In January of 2010, KHD announced its intention to split the company in two pieces: one piece would be the cement plant manufacturing operation, the other one a company holding the mineral royalty. To achieve this goal, KHD would spin off (in several tranches) its shares in the Germany-listed subsidiary company (OTCPK:KHDHF) and only retain the interest in the Wabush royalty. Since the overwhelming part of KHD's value was the cement plant manufacturing operation, some adjustments were made to bolster the value of the remaining part.

Before the first distribution of shares in the German subsidiary, the subsidiary declared a large cash dividend of EUR 3 per share (that was around 23% of its stock price around that time). This money would flow to the mother ship and bolster its cash balance. At the same time, KHD sold back to the German company the wholly-owned cement plant manufacturing subsidiaries (it bought them from the German company a few years earlier at a very favourable price) and further added to its cash pile (while also putting an end to several lawsuits by minority shareholders, who accused the company to have bought these subsidiaries at a price below its fair value).

Thus, all of KHD's cement operations were now concentrated in the 98%-controlled Germany-listed company, and the rest was a large cash pile and the royalty stream.
Let the spin-offs begin
The company was now ready to begin distributing shares of the German subsidiary to its shareholders. To clear up confusions, KHD renamed itself "Terra Nova Royalty corporation" and changed its ticker symbol from KHD to (NYSEARCA:TTT). The German subsidiary changed its name from "KHD Humboldt Wedag International Deutschland AG" to "KHD Humboldt Wedag International AG".
At the end of March 2010, the split-up became effective, and shareholders in KHD were given 1 TTT share for each KHD share, and 1 share in the German company for each 3.5 shares of KHD owned before the split.
Terra Nova Royalty (TTT) still retained a large ownership in KHD Humboldt Wedag AG (OTCPK:KHDHF) after the first distribution (only 26% of shares were distributed). The spin-off turned out to be confusing to many shareholders who, after an initially positive reaction, sold off shares. In April and May 2010, the markets were generally weak, culminating in the May 6 "flash crash" that sent the value of the combined TTT and KHD-spin-off tranche down to $9 (the low for the year). After the "flash crash", (TTT) and (OTCPK:KHDHF) shares continued to struggle in the market, but found their lows at the end of May and beginning of June.
At the end of June, the second tranche of KHD Humbold Wedag (OTCPK:KHDHF) shares were distributed to TTT shareholders. This time, TTT shareholders received 1 KHD share for every 4 TTT shares. At that point, the company had used up its paid-up capital, thus a 15% Canadian withholding tax was levied on the distribution.
Rights issue
After the second distribution of KHD shares, TTT had distributed 49% of KHD's total outstanding shares. To avoid further withholding taxes on future distributions of KHD shares, TTT had to increase its paid-up capital. To achieve this goal, the company started a rights issue at the beginning of August 2010. TTT shareholders could subscribe for one new TTT share at a price of $6.60 for every 4 shares held. The rights issue was heavily oversubscribed and the company had now enough paid-up capital to distribute further KHD shares.
In addition, the company had now even more cash sitting on its balance sheet ($133m at the end of Q3). The company also received an arbitration award of CAD 11.7m from a long standing litigation with Cliffs mining (NYSE:CLF) about underpaid royalties. At the end of September 2010, TTT distributed the third tranche of KHD shares (about 29% of shares) at a rate of 1 KHD share (OTCPK:KHDHF) for every 4 TTT shares held. After these three distributions, the remaining stake of TTT in KHD is a little less than 20%. This stake will be distributed at the end of 2010 (or the beginning of 2011) at a rate of 1 KHD share for 10 TTT shares with the record date being December 31.
Tracking the performance
To track the total performance of an investment in KHD at the beginning of 2010, I had to glue all these pieces back together. My objective was to reconstruct what would be the current value of an investment in KHD made at the beginning of 2010, if one had not traded the shares, kept all the spin-offs and participated in the rights issue.
The first required set of data was the share prices of KHD (until end of March) and TTT (starting from April) on the NYSE. I conveniently downloaded these data from Yahoo! Finance (here). Then I obtained (also from Yahoo! Finance) the share prices (in EUR) of KHD Humbold Wedag AG on the Frankfurt exchange in Germany (here). These prices had to be converted back into US Dollars, I used the daily historical average exchange rates from Oanda.com which can also be downloaded in CSV format.

Then I constructed a "synthetical" Terra Nova share which incorporated all the spin-offs and the rights issue on a pro-rata basis. The result can be seen in the following figure, where important events are marked as well (Volume is only TTT NYSE Volume, click figure to expand):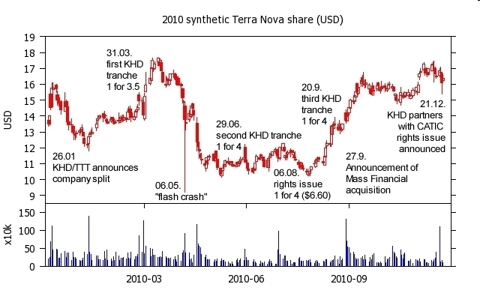 The synthetic Terra Nova total return share price was calculated in the following way:

| | |
| --- | --- |
| From 01.01.2010 to 30.03.2010 | KHD (NYSE) share price |
| From 31.03.2010 to 28.06.2010 | TTT + 0.2857*KHD*EUR/USD |
| From 29.06.2010 to 05.08.2010 | TTT + 0.5357*KHD*EUR/USD |
| From 06.08.2010 to 20.09.2010 | 1.25*TTT - $1.65 + 0.5357*KHD*EUR/USD |
| From 21.09.2010 to 23.12.2010 | 1.25*TTT - $1.65 + 0.8036*KHD*EUR/USD |

The value of the synthetic Terra Nova total return share was $16.39 at the close of December 23, giving a total return of 19.2% for the year. The shares have seen many ups and downs, but the overall performance has been better than the S&P500 which has returned 12.7% in the same period. The TTT "total return share" has outperformed the S&P500 by 6.5%.

Takeover bid

At the end of September, TTT announced its intention to fully acquire Mass Financial Corp. (OTC:MFCAF), a Barbados-based company that used to be a subsidiary of the former KHD. To achieve this merger, TTT issued one new share for every MFC share, on the basis of a book value per share $8.91 for TTT. Since Terra Nova only had the royalty interest in the Wabush iron ore mine and a pile of cash, and MFC was an operation looking to grow by pursuing bigger deals, the transaction made sense for both companies (and also the chairman of Terra Nova, Michael J. Smith – as well as the President and Director of Mass Financial, Michael J. Smith). Both companies combined would be a more significant operation and have more financial firepower to pursue deals.

The combination is becoming effective before the end of the year, and MFC will be a fully-owned subsidiary of NYSE-listed TTT.

Next to its royalty interest in the Wabush iron ore mine, TTT will now be involved in commodity trading and own interests in a diverse set of commodity-related companies (a cobalt refinery, a stake in an oil & gas company, aluminium factories, iron ore mines and zinc smelters among others) as well as real estate and other assets. With a large cash pile, TTT has room to grow in 2011.

Cementing ties with China

KHD, on the other hand, has also been active. It secured some large orders for new cement plants in India in September and its overall order backlog is satisfactory. KHD has traditionally been strong in the Indian market, as well as in the states of the former soviet union and in Europe. One spot that was missing on the map was China.

A few days ago, KHD announced a strategic partnership with the Chinese state-owned company CATIC to jointly bid on cement plant projects in China. KHD would be CATIC's exclusive cement process technology and equipment supplier, while KHD would have CATIC as their exclusive EPC (turnkey) contractor. CATIC would also become a 20% equity investor in KHD Humbold Wedag.

KHD will pursue a rights offering in January where existing shareholders can subscribe for one new share at a price of EUR 4.53 for every two KHD shares held. CATIC will subscribe the shares which are not subscribed by existing shareholders.
Since the current share price of KHD is around EUR 7.00, every shareholder certainly would want to exercise their subscription right. However, this way CATIC could never achieve its 20% stake in KHD. About 60% of KHD shareholders will have to abstain from exercising their rights in order for CATIC to be able to gain a 20% stake in KHD. The rights offering has thus be structured in a way that only shareholders with residence in Germany or Luxemburg will be able to subscribe for new shares. The 20% of KHD that will be spun off by Terra Nova on new year's eve (and thus still belongs to TTT shareholders currently) will almost certainly also not be able to take part in the rights issue. The past spin-offs of TTT have always taken several months to settle, and KHD's rights issue is scheduled to be completed by January 18. This share offering in which US shareholders will not be able to participate will dilute existing non-German shareholders and deprive them of their subscription rights, which are worth around $1.60 per KHD share – an amount they will not be compensated for. On the other hand, KHD will gain access to the Chinese market for cement plants, which amounts to a very large share of the global market. Maybe this will be a small price to pay for becoming a true global leader in cement plant engineering. Maybe the price is too high, and KHD is giving away a large stake in the company. Time will tell.


The year 2011 will certainly be another interesting year for both TTT and KHD, as both have concluded their restructuring and are now on solid footing and much larger than they were at the beginning of 2010.
Disclosure: I am long TTT, KHDHF.PK.
Additional disclosure: Long KHD Humboldt Wedag AG (German shares, not ADRs).