China became the largest car market in the world, with China surpassing the U.S. Just over 40% of all cars produced in China are made by domestic automakers, such as Geely (OTCPK:GELYF), Chery, Hafei, BYD (OTCPK:BYDDF), etc.
Car production in China started to increase drastically in the late 1990s due to various government incentives that encouraged auto sales. The chart below compares the annual auto production in China and the U.S.:
Click to enlarge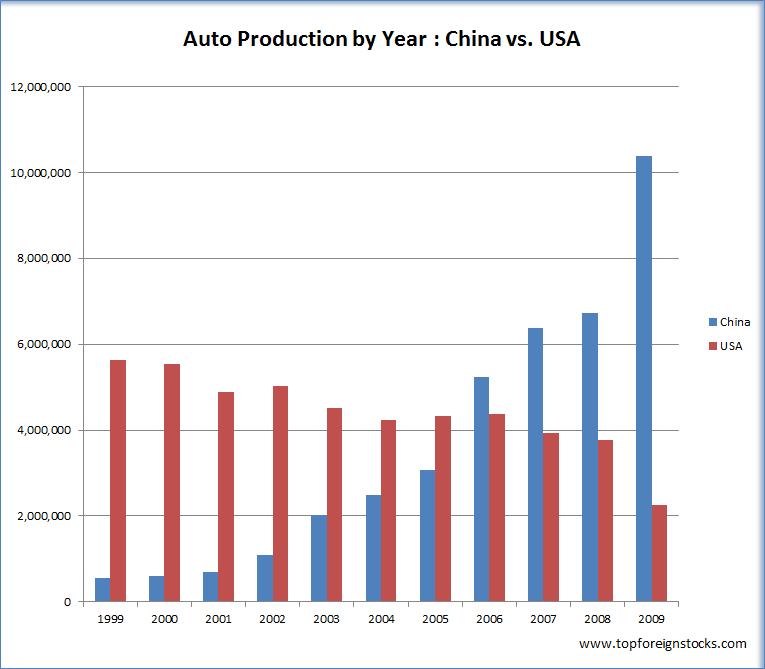 Source: International Organization of Motor Vehicle Manufacturers
The blue bar in the chart shows the soaring Chinese auto production numbers.Clearly the U.S. market has saturated in recent years and production volume has declined from about 5.6 million units in 1999 to 2.2 million in 2009.
Since the auto industry generates hundreds of thousands of jobs both directly and indirectly, the lower production numbers in the U.S. means a lesser number of jobs created. The majority of the cars produced in China are sold locally.
While the growth of auto sales creates issues such as pollution, congestion, etc. in major urban areas, there is still a huge untapped market in rural areas. Hence, Chinese auto production may continue to increase in the coming years. Rising income levels among the middle class and more state subsidies for auto makers will benefit the industry as well.
Through November this year auto sales in China are up 34% compared to 2009. The list of China's top 10 automakers by sales as of November 2009 and their relative market share is shown below: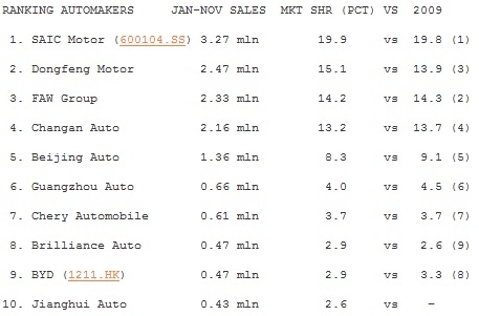 None of the automakers noted above trade on the organized U.S. exchanges. BYD Co trades on the OTC market with the ticker BYDDY.
Disclosure: No positions