By G C Mays
According to the USDA, estimates of global wheat (NYSEARCA:WEAT) production stand at a record 716 million metric tons. Demand estimates showed an expected increase in wheat consumption of 6.9 million metric tons. However, production estimates were 4 million metric tons higher at 10.9 million. Most of the increase was due to an increase in feed use, which in turn is due in large part to excessive rains in both the EU-27 and Ukraine during harvest season that lowered wheat quality.
Typically, livestock producers use lower quality wheat for animal feed. The EU-27 raised its estimates of animal feed use by 2.5 million metric tons. Given that wheat, corn (NYSEARCA:CORN), and soybean (NYSEARCA:SOYB) meal are generally interchangeable as animal feed, the higher estimates of wheat feeding generally means the European Union needs less corn for animal feed. In the August WASDE report, estimates of EU-27 corn imports were 1 million metric tons lower than one month earlier.
The lower quality wheat harvest in the EU-27 means that food producers need higher quality wheat from external sources, and that is where Russia reappears in the picture. Wheat yields and quality in Russia are very high this year. Higher quality Russian wheat gives them an advantage in export markets. In my opinion, competing countries will have to price any lower quality wheat at progressively lower prices to create an equal overall product rating for their respective wheat. Adding to Russia's competitive advantage in the export market is a falling ruble versus both the dollar and the euro. Since August 18, 2010, the ruble has tumbled by roughly 16 percent against the euro and 19 percent against the dollar.
Another reason that what happens between Russia and Ukraine is important is their collective importance to global wheat trade. The rival countries expect to export roughly 79 percent of their collective production in the current wheat marketing year. The US exports 45 percent of its production, but based on current US and global wheat estimates for the 2014/15 marketing year, the US only produced 7.7 percent of current world production.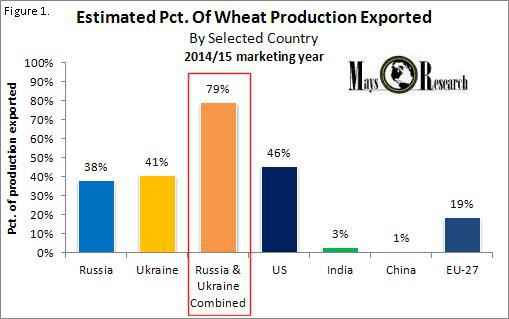 Given these two countries' seeming relative importance to global wheat markets, the conflict between them has added a risk premium to current wheat prices that is countervailing to increases in global production, in my opinion. Additionally, the 3 million metric ton increase in estimated Russian exports suggests two things 1), realization of increased exports of high quality wheat to the EU-27 and 2), estimates that the current conflict between Russia and the Ukraine will not interrupt their respective wheat export businesses. Russia will benefit from increased export business from the EU-27, while the Ukraine with its higher than expected stock of low quality wheat can win more export business based on price over India, which primarily exports low quality wheat. Due to production cost advantages, the Ukraine can sell at a more competitive price than India.
Of course, as with any geopolitical event that has a potential economic impact, the situation requires close monitoring by both wheat speculators and commercials that must use the grain as a raw material input into its production process. As the market demonstrated last week, any unexpected news of heightened conflict over the short term is likely to create price spikes while market participants try to see through the fog to decide the impact, if any, the news will have on the wheat export businesses of these countries. Naturally, any confirmation of news that would take supply off the market would be bullish for wheat prices over at least the short term. However, the current absence of reduced supply from these key wheat export markets makes a move to lower prices more likely, in my opinion.
Disclosure: The author has no positions in any stocks mentioned, and no plans to initiate any positions within the next 72 hours.
The author wrote this article themselves, and it expresses their own opinions. The author is not receiving compensation for it (other than from Seeking Alpha). The author has no business relationship with any company whose stock is mentioned in this article.
Additional disclosure: Author has bear credit spread based on wheat futures.