This is the start of my new weekly series that will include a few of my top investing ideas for value investors. I will only be including a short summary and analysis for each company so make sure you complete your own due diligence. If you would like me to publish some additional research on any company in particular, send me a message or leave a comment.
Large-Cap: L-3 Communications Holdings (NYSE:LLL)
Some of the most underappreciated companies today include those in the Defense and Military industry. Most people point out that def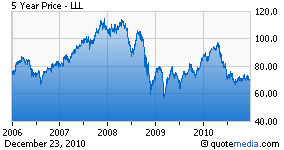 ense budgets will be slashed, that the US is progressing with troop pullouts in the Middle East, and that competition is increasing. For the most part, they're right. Fortunately for us, everybody already knows this and it appears that it's been priced in fairly aggressively.
Taking a look across the board, most established defense contractors look to be fairly cheap on the surface. Here's a look at my top pick (LLL) compared to its peers:
| | | | |
| --- | --- | --- | --- |
| | L-3 Communications (LLL) | Lockheed Martin (NYSE:LMT) | Raytheon (NYSE:RTN) |
| P/E | 9.17x | 9.34x | 9.40x |
| Forward P/E | 8.61x | 10.57x | 9.34x |
| PEG | 1.04 | 1.23 | 1.25 |
| Price/Book | 1.16x | 6.37x | 1.65x |
| Dividend Yield | 2.3% | 4.3% | 3.3% |
| Payout Ratio | 20% | 34% | 28% |
At current valuations, the market seems to be expecting dramatic slowdowns in revenues across the board for defense contractors, especially when you look at these companies' historical average P/E ratios which generally hover in the high teens. Although it is still not a sure thing that these companies will feel these pressures, their valuations seem to imply that it's a sure thing. Knowing that a large drop in revenues is already anticipated (and that they won't be able to drive the stock prices down too much farther), which company stands to benefit the most in this type of environment?
My top pick in which I have my personal wealth invested is L-3 Communications (LLL). Unlike other defense companies, LLL has somewhat of a niche in the military space. Its product line focuses on technology and peripherals, as well as specialty parts that go into making the larger finish items that Lockheed (LMT) and Northrop (NYSE:NOC) make. If defense budget cuts are less than expected, the largest piece of the budget that stands to benefit is investments in technology (most of what LLL offers).
Over the past five years, LLL has traded much like a fast growing technology company. Sure, the company's growth has been slowing, but in no way does it deserve to be trading below its larger, more mature peers. The company has been able to produce double digit results to both the top and bottom line almost every year of operations. A company such as LLL, with a high quality niche product offering, trading at almost book value (1.16x), and a healthy, growing dividend yield of 2.3% (the company recently boosted its dividend by 14%), should eventually be noticed by the market. All these factors make L-3 Communications my top pick for value investors with a cautious near-term outlook for the market.
Small-Caps: Take Two They're Cheap
My two final ideas may be more volatile than LLL, but may be a good choice for investors with a bullish view on equity markets. The two companies recently canceled a merger between themselves, but appear to be healthy and attractively priced as standalone companies.
Here are my latest small-cap ideas for you to consider:
Dover Downs Gaming & Entertainment (NYSE:DDE): Operates as a gaming and entertainment company in the United States. The company's operations consist of Dover Downs Casino, a 165,000 square foot video lottery casino complex featuring slot machine offerings, including multi-player electronic table, and a race and sports book; the Dover Downs Hotel and Conference Cent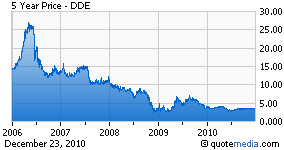 er, a 500 room AAA Four Diamond hotel with conference, banquet, ballroom, and concert hall; and Dover Downs Raceway, a harness racing track with pari-mutuel wagering on live and simulcast horse races. As of December 31, 2009, it operated 2,971 slot machines; and Dover Downs Hotel featured 500 rooms, a multipurpose ballroom/concert hall, a dining restaurant, swimming pool, and spa.
Dover Motorsports (NYSE:DVD): Markets and promotes motorsports entertainment in the United States. The company operates motorsports tracks in two states and promotes events under the sanctioning body, National H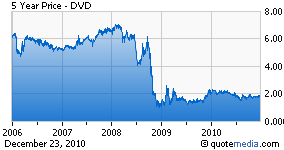 ot Rod Association. It owns and operates Dover International Speedway in Dover, Delaware; and Nashville Superspeedway near Nashville, Tennessee.
Both companies can be treated as undervalued asset plays as their core fixed assets are, for the most part, irreplaceable and can't be replicated. These may take a little more research, but on the surface appear to be slightly undervalued. Although they may not offer an adequate margin of safety for certain investors, they may fit well into an investor's aggressive section of their portfolio.
Disclosure: I am long LLL.