What is a sound business model? In my opinion, it is one that can 1. Have sustainable profit margins. 2. Earn a decent return on capital employed. 3. Have pricing power and a franchise that has longevity to it.
This article is a follow up to a recent article where I analyzed the erosion of AOB's profit margins.
Throughout the first 3 quarters of 2010, there has been a stabilization in the cost of sales as a % of revenue that has in some part, led to a somewhat stabilization of AOB's net profit margins, at or around 6%. Cost of sales as a % of revenue has contributed the most to the decline in net profit margins over the last 3 years from 27% to 6%, so it is welcoming to longs to see these margins stabilize.
The first question is: Are AOB's profit margins sustainable? In AOB's case, this has been the $64,000 question. This is the one area that needs to be monitored the most closely. For now, AOB is a low margin business and that has to be accepted by longs going forward. With the Government reforms and the current general product mix of AOB, coupled with a new strategy of R&D, whose expenses make up around 5% of revenue, it is difficult to see margins increase meaningfully in the near future.
With that said, AOB should be able to maintain 6% net profit margins, but obviously, there are a lot of factors that could take that % up or down a few % points.
How much capital and what assets are required for AOB to run the business?
Here is the balance sheet as of Sept 30, 2010: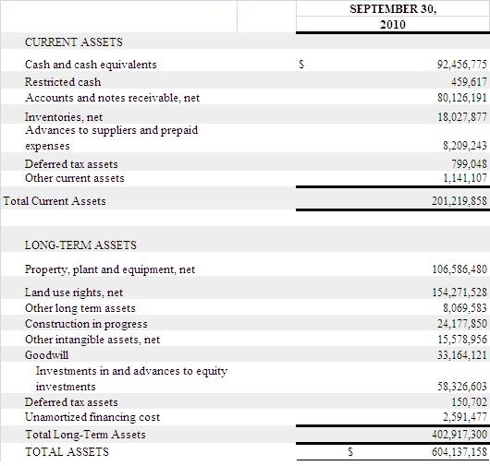 Source: 10k from SEC Filing
AOB has total assets of $604.137 million at the end of the 3rd qtr of 2010.
My goal here is to strip the assets down to only those that are required to run AOB. So I'm going to have to get a little creative.
AOB does not need $92 million in cash to run its operations. I can't say with great confidence I know for sure how much cash on hand they do need to run the business, so I'm going to say $25 million and a small line of credit should be sufficient.
AOB has $106.586 million worth of property plant and equipment which make up their manufacturing facilities. They need that to run the business.
The Land Rights use is for their building in Beijing where the main headquarters are. They are stuck with that but is proving well to help sustain their growth.
Goodwill is an accounting value given to AOB when they acquired other businesses and paid a price over the tangible value of the assets they acquired. That $33.164 million can get taken out as well.
Investments in and advances to equity investments are not directly part of AOB's operations. (These include for example the 36.11% stake in AXN, which is carried on AOB's books at cost of $19.446 million but has a market value of close to $50 million at AXN's current market price of 2.92.)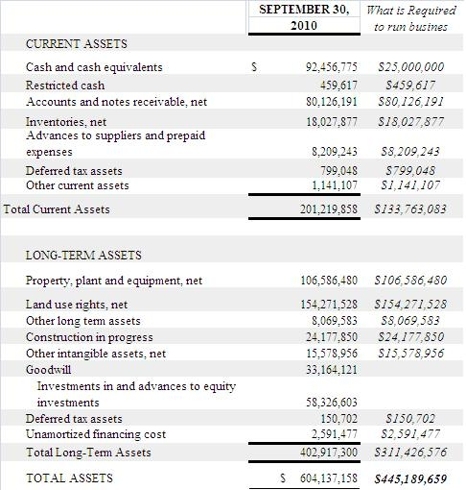 So at this point, AOB has about $445.89 million in assets that is more or less required to run the business.
AOB is estimated to have total revenue for fiscal 2011 of $372.59 million according to estimates gathered from yahoo finance.
If AOB is to earn a 6% net profit margin on $372.59 million, it would have a net income of $22.35 million, which is 5% return on assets identified as being required to run the business.
A 5% return on assets is close to bare minimum for being worthy of owning for investment.
But in defense of AOB, in recent years, rather than using capital generated from cashflows from operations to simply acquire other businesses, they have instead changed focus on doing their own Research and Development. Their focus has been on utilizing their existing brands and improving their existing drugs. R&D is counted as an expense, so its cutting directly into profits.
R&D is expected to be around 5% of total revenue, so for 2011, it may run about $18.63 million.
Taking a snippet from the most recent quarter's press release regarding sales growth:
Revenue from pharmaceutical products increased 16.9% to $77.2 million from $66.0 million in the third quarter of 2009. Revenue from prescription pharmaceutical products increased 25.1% to $37.3 million from $29.8 million in the prior year period, primarily due to the double digit increase in sales from the Jinji capsule, SHL powder, YYQH capsule and the expansion of CCXA generic pharmaceutical products in the rural market. OTC pharmaceutical products generated $39.8 million in revenue during the third quarter of 2010, representing a 10.1% increase from $36.2 million in the same period of last year, which was driven by the increased sales volume of CCXA and GLP's generic drugs, and the expansion of HQPL distribution channel.
The growth in sales in and of itself demonstrates AOB's products franchise value. For example, Jinji Capsule and Boke Nasal spray both won awards in 2009 "China's Top Branded Drugs of 2009."
More recently, according to Tony Liu, AOB's CEO, Jinji Capsule was awarded status as "the most recognized brand in Women's Healthcare Products in China" by China Pharmaceutical Enterprise Co-operation and Development organization, China Pharmaceutical Research Center of Retailing, and 21 Century Pharmacy news and retail outlets media.
Here is one of their commercials for Jinji Capsule.
The medicines are selling, but the pricing power has somewhat been stripped on many of AOB's products due to Government reforms.
AOB's share price is depressed, in many cases justifiably, due to the erosion of profit margins and what appeared to be never ending erosion.
AOB's tying up of a large amount of capital in its headquarters may have appeared overly expansive and contributed to lower returns on capital which also gives justification of a lower share price.
Aside from the general business operation of AOB, there are other factors that will affect the valuation of AOB shares.
Other factors that act as what I call "wild cards" in the generating of value are:
36.1% ownership in shares of Aoxing Pharmaceutical company, (NYSEMKT:AXN), a maker of narcotics and pain killer drugs in China. AOB made an initial investment of $18 million for post reverse split of 15 million shares at $1.20 per share back in April of 2008. Today, I calculate AOB to own 16,798,202 shares of AXN worth at the current price of 2.92 per share $49.02 million. On AOB's books, this asset is carried at cost which is $18.921 million. That is an additional $30 million of market value not presented on AOB's balance sheet.
The continued strengthening of the Chinese RMB. Since most all of AOBs assets and business is done in China using the Chinese currency, RMB, the recent announcement by the Chinese Gov't to allow the RMB to become de-pegged from the US $ is giving AOB shareholders additional income in the form of currency adjustments.
For example, by the end of the 3rd quarter, the average exchange rate of the RMB to the US$ was 6.6981 Vs 6.8372 as of December 31, 2009. This adjustment for the first nine months of 2010 resulted in $9,725,888 and was recorded as "Other Income."
Source: 10-K Found at the bottom,
As I finished writing this, the RMB exchange rate was 6.627 to the US$, so another adjustment should be seen in the 4th quarter and identified as "Other Income."
.
Thoughts on Equity:
AOB has shareholder equity of $420,970,719 or $5.36 per share. This doesn't include the additional $30 million in market value of its stake in AXN, which would make the equity more in the area of $450 million and with 78.59 million shares outstanding, the book value per share is $5.73.
Final thoughts:
At the current share price of 2.29 per share, it is selling at .4x book value and with an earnings estimate based on 6% net profit margins on $372 million in revenue next year, would be $22.32 million or 28 cents per share, the forward P/E is 8.17.
It's going to come down to managements ability to both maintain profit margins and get the income as a % of assets up in order for the multiples like P/E and P/B to come up. Ideally, if AOB's share price gets back to book value, management will have succeeded in having created the shareholder value it has created in equity all along.
Certainly, AOB's business model has its risks, as demonstrated above, with low returns on capital and still unforeseen stability in profit margins. Because AOB is selling at such a discount to its equity value, there should be a good degree of margin of safely priced into its shares today. When 5 year AAA Corporate bonds are yielding only 2.21%, it makes it easier to be patient for long term shareholders in AOB.
Disclosure: I am long AOB.