Rackspace Hosting (NYSE:RAX) operates in one of the hottest segments of the market - cloud computing. Rackspace operates 9 data centers around the world and is the founder of Openstack - the open source operating system for the cloud (developed with NASA). Its cloud computing IT solutions and infrastructure serve literally hundreds of thousands of customers worldwide. Last week the market punished Rackspace, pushing shares below $30 (near 52-week lows). The drop was mainly due to a mixed Q2 earnings report that showed decent year-over-year topline revenue growth (17%) but flatlined net income. Macro concerns also are pressuring shares - specifically pricing cuts from larger companies in the space such as Amazon (NASDAQ:AMZN), Microsoft (NASDAQ:MSFT) and Google (NASDAQ:GOOG) (NASDAQ:GOOGL).
Rackspace shares appear to have bottomed and are now heading back up presenting an excellent buying opportunity. Below are 3 reasons I'm currently buying Rackspace shares.
Rackspace Is Acquisition Bait
Rackspace filed an 8k on May 15th reporting that multiple companies had expressed interest ranging from partnership to acquisition. There is continuing speculation about interested companies, offers and which companies Rackspace would be a potentially strong fit with. Companies mentioned as good fits are Cisco (NASDAQ:CSCO), AT&T (NYSE:T), Red hat (NYSE:RHT) and Facebook (NASDAQ:FB) to name a few. Hewlett-Packard (NYSE:HPQ) was even rumored to have made a $43 per share bid for the company but that rumor was eventually denied by HP. Rackspace would provide significant value to any of the above mentioned enterprise oriented companies. Rackspace is growing revenues and it is profitable plus it has solid cash flows, has valuable data center assets, and a large clientele base which make it a compelling acquisition target. According to Forbes, Rackspace was rumored to want $55 per share to sell which is about 70% higher than its most recent close. The company filed the 8k because of inbound interest so getting a deal done is most likely just a matter of putting together mutually acceptable valuation and terms.
High Profile Whales Taking Positions
A form 13F institutional ownership filing revealed Daniel Loeb's $8B hedge fund, Third Point, LLC, initiated a large 7.25M share position in the second quarter. This position was worth nearly $231M as of close Monday. Loeb is a high profile activist hedge fund manager with a very successful track record spurring management and driving share value. The market certainly took notice as the stock rose over $1 per share on August 14th - the day the news was released.
On 8/18 another activist hedge fund, Blue Harbour Group, filed a Form 13D revealing it increased its stake in Rackspace to 6.5% from 2.5%. This caused the shares to spike over $1 in after hours trading Monday evening. Blue Harbour will take positions in a company and work closely with management and the board of directors to develop strategies to unlock shareholder value. An influx of "smart" money like the hedge funds above typically indicates the shares are undervalued and have room to run.
Momentum Has Turned Positive
In the graph below one can see the RSI(14) is showing positive momentum, the MACD shows a bullish crossover and the share price is trending sharply up.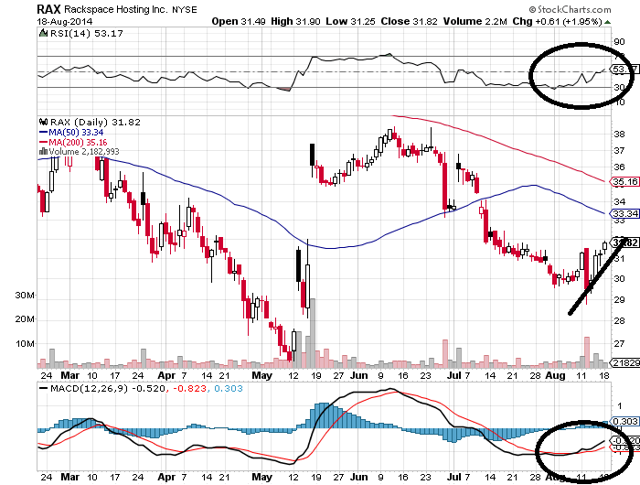 I rarely ever try to "catch a falling knife" or in other words buy shares as they are free-falling. I prefer to see the bounce and the momentum turn positive and take advantage of the upward trend. Rackspace currently fits this "bounce" and positive momentum profile.
Conclusion
Rackspace Hosting is a buy. The company hired Morgan Stanley to evaluate inbound proposals and given the high profile/high growth market it operates in, its solid financial footing and valuable assets, and the increased hedge fund positioning - the company should continue the positive upward momentum, possibly culminating in an acquisition or high profile tie-up.
I am long Rackspace.
Disclosure: The author is long RAX. The author wrote this article themselves, and it expresses their own opinions. The author is not receiving compensation for it (other than from Seeking Alpha). The author has no business relationship with any company whose stock is mentioned in this article.
Additional disclosure: This article is informational and intended to spur thought and discussion. This article is not a substitute for your own extensive due diligence and does not qualify as investment advice. Do not buy or sell stocks based on this article.