Electric utility stocks are often a dividend investor's dependable income vehicle offering above average income, usually providing steady and consistent increases in annual dividends. However, they are not necessarily a buy at any time just because they possess above average yields in the market place. Sometimes investors must be willing to accept less now in order to "get" more later. Such is the case, I believe, with electric utility stocks.
It has been over 30 years since interest rates topped out in the early 1980s. Today, as it has for the last several years, the prime rate stands at 3.25%. Most economics, according to a recent poll published in Fortune magazine, predict that rates will begin rising over the next year. With or without such predictions, it is difficult for me to assume that rates will decline from present levels. Therefore the path of least resistance is rising rates as the economy begins to strengthen and add jobs. If that is the case, then the upcoming period is not the best time for purchase of utility stocks. Higher fixed rates compete with dividend yields making them less attractive.
Since interest rates should not be our sole guiding light regarding the ownership of utility shares, we should also examine valuations of various utility companies. Some of my favorite methods of valuations to buy and sell dividend stocks are measuring them by historical P/E and current yield. Not perfect of course, but what is?
Valuation Charts
Found below are charts of Dominion Resources (NYSE:D), Duke Power (NYSE:DUK), NextEra (NYSE:NEE), and Southern Company (NYSE:SO) that each plot the historical P/E and current yield of each back to 1980. These four utilities issues comprise 48% of the capitalization of the Dow Jones Utility Average, which make them an ideal surrogate for analysis. Each one shares at least two similarities: a historical low yield and a historical high P/E, neither of which points to an excellent buying opportunity.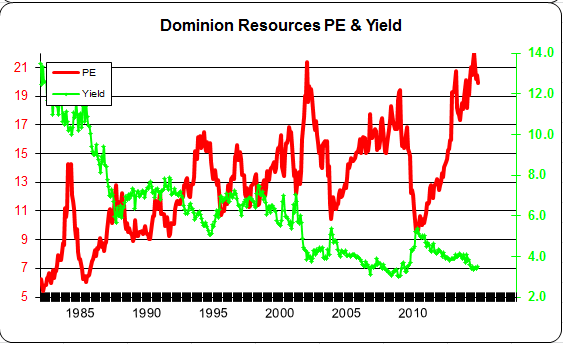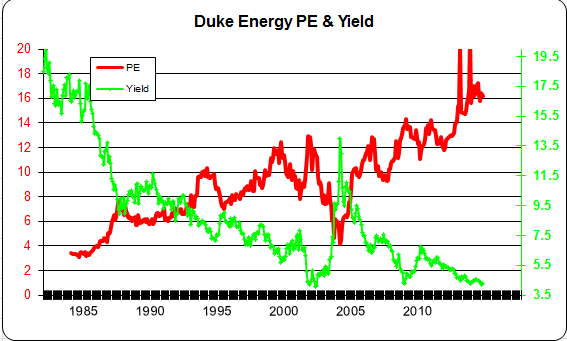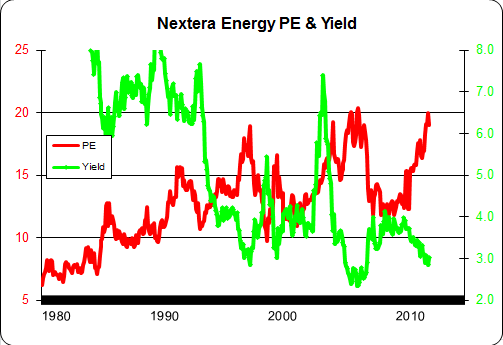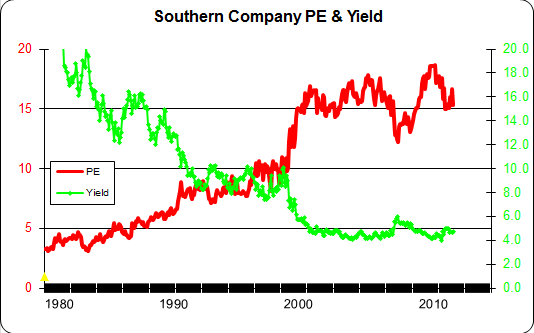 Predicting when another golden opportunity will present itself like 1980, if ever, is impossible. In my opinion, it will be years before such an environment in utility stocks repeat such an outstanding valuation entry point.
Dividend Per Share Charts
A contrasting positive consideration is the continued increase in dividends thrown off by utility shares. Though cuts sometimes occur, the general practice has been steady, though not tainted, increases. The key is to watch for payout ratios that reach lofty unsustainable levels and periods in which increases do not occur when expected. Below are charts of the same four utilities with dividends plotted.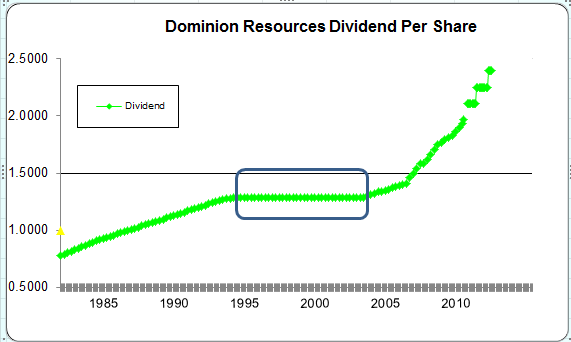 Dominion had a long period (in box) where the dividend basically went sideways for nearly ten years.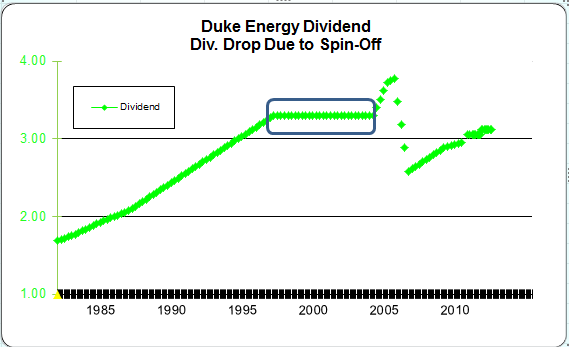 Duke's dividend payments were stagnant from a period stretching from the later 1990s to around 2004 (area shown in box).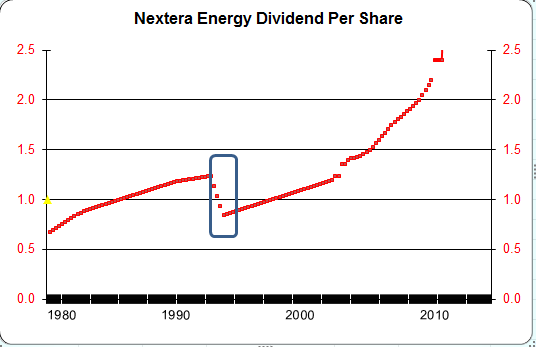 NextEra reduced the dividend (area in box) in the early 1990s as the payout ratio reached levels that made it difficult for the company to fund expansion. After the decrease, the company has again continued to increase dividends surpassing the level attained ten years earlier.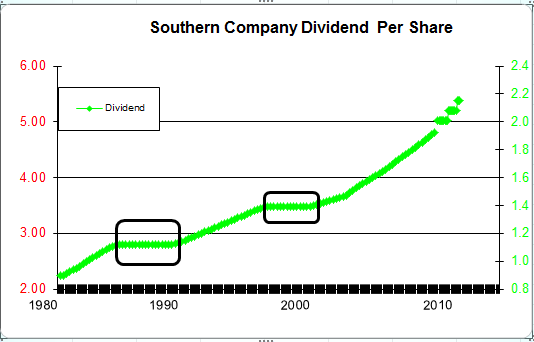 Southern Company has gone through two periods (shown in box) since 1980 where dividends have shown no growth for several years at a time.
Not Always a Low-Risk Investment
One final chart entry to illustrate the often overlooked low risk that utility shares seem to have among investors. This chart plots the year to year percentage changes in market value of the Dow Jones Utility Index back to the 1920s. When one assumes that the dividend yield outweighs market volatility, one often finds that not to be the case.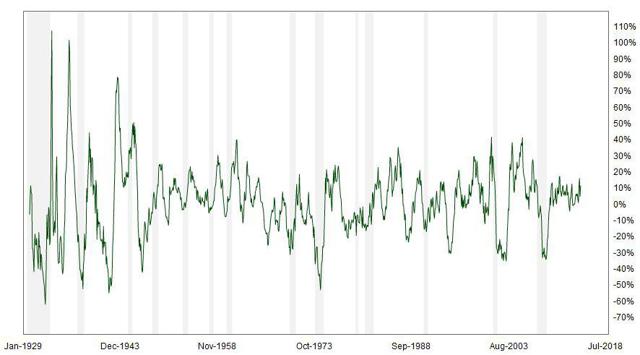 Conclusion
I completely understand one's reluctance to sell shares that would probably cause both a reduction in income, as well as producing a capital gains tax. That is for each investor to make that decision. However, one should not purchase electrics at current valuations without realizing that the so-called easy money has been made in these stocks over the last 30-plus years. I, for one, have sold all but one tiny position in favor of more enticing issues with better growth prospects, sacrificing little in the way of total portfolio income. On a rally back to a overbought situation, I will likely sell that remaining small position. Current yields and P/E levels do not warrant purchase at these levels, and for me, I no longer wish to be long this market sector. Fortunately, I owned mine in non-taxable accounts, so I was able to escape capital gains issues. Hopefully, this article may help the reader in managing his or her investment portfolio.
Disclosure: The author is long SO. The author wrote this article themselves, and it expresses their own opinions. The author is not receiving compensation for it (other than from Seeking Alpha). The author has no business relationship with any company whose stock is mentioned in this article.
Additional disclosure: Author has one small position, less than 1/2% of holdings in Southern Company at this time and will likely sell it over the next few months.