Confirmation that Microsoft (NASDAQ:MSFT) will release a $199 laptop, through Hewlett-Packard (NYSE:HPQ), will bode well for Advanced Micro Devices (NASDAQ:AMD) shareholders. AMD fell sharply after speculators bid its share price ahead of quarterly results. The optimism was built around Intel (NASDAQ:INTC) reporting a strong quarter thanks to a rebound in PCs. Yet AMD's rebound is merely delayed.
Introducing HP's $199 laptop
HP eased fears it would become irrelevant in the PC market by committing itself to low-cost computers. The hardware giant entered the tablet market through the release of Android Slate tablets. On the PC side, it is choosing Microsoft's Windows 8.1 powered by AMD's processor. All other specifications are standard: the display is 1366 x 768, storage is 32 - 64GB, and there is 2GB of memory.
At $199, margins will be negligible for Microsoft, but the company will benefit from promoting OneDrive, a cloud storage offering. From there, users will get exposed to other Microsoft products, including Office 365, Bing search, and Outlook.com. Users will also realize there is an alternative to Google's (NASDAQ:GOOG) (NASDAQ:GOOGL) Chromebook. Windows 8.1 is a more efficient operating system: the operating system runs on seven-year-old machines having only 1 GB of RAM.
AMD benefits if budget notebooks take off. The recent gain in tablet sales hurt the growth in PC sales in recent years. Undercutting tablets will help AMD regain market share against Intel, though investors should not expect high profit margins. Still, AMD is moving toward other markets, so it is not too worried if profits are light. Sony (NYSE:SNE) just surpassed 10 million PS4 sales in the last nine months. Since AMD is a supplier, profits from this division may easily offset any margin pressures from the budget laptop chip.
AMD is betting on renewed interest from consumers for budget PCs. There is more flexibility and power for users running the current generation of budget PCs powered by AMD and running Windows 8. If the $199 HP laptop is successful, users might eventually choose AMD-powered systems for future upgrades. In Q2, Acer, Dell, HP and Lenovo all released notebooks that used AMD's 3rd generation mobile APU. AMD is marketing two APU series: an FX brand and a Pro A-Series.
Losses narrowed in Q2
AMD lost $36 million on revenue of $1.44 billion. This is an improvement over the $74 million loss on $1.16 billion revenue last year. AMD underperformed its peers in the last month, but regained some ground in recent trading sessions.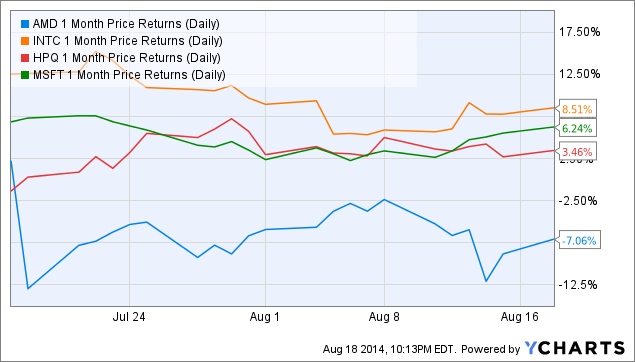 AMD 1 Month Price Returns (Daily) data by YCharts
Bottom line
Investors will soon forgive AMD for reporting a quarterly loss whilst forecasting weak overall PC sales ahead. Gaining exposure through HP and Microsoft in the ultra-budget notebook market is positive for AMD. Wins like this will help AMD report better desktop, processor and chipset sales in the quarters ahead. Growth could accelerate for AMD in 2015 as Microsoft refreshes its Windows 8.1 operating system software.
Disclosure: The author is long AMD.
The author wrote this article themselves, and it expresses their own opinions. The author is not receiving compensation for it (other than from Seeking Alpha). The author has no business relationship with any company whose stock is mentioned in this article.