For those of you who don't know Phillip A. Fisher, I urge you to get to know one of the most important investment thinkers, who, in my opinion, stands in the same line with Benjamin Graham, Warren Buffet and Peter Lynch.
In 1958, Fisher published "Common Stocks and Uncommon Profits," which was to become the bible of many professional investors around the world.
In that book, Fisher outlines his 15 points. These are 15 criteria that an outstanding long-term investment must meet. Fisher was known for his very long-term time horizon, and when you are that kind of investor, you ought to look at the raw building blocks that make up your business.
With the limits of length, I'll attempt to give a short summary of Fisher's 15 points, applied to GT Advanced Technologies (GTAT), a company I believe makes an outstanding long-term investment.
Point 1: Does the company have products or services with sufficient market potential to make possible a sizable increase in sales for at least several years?
GT's product lines can be divided into the following: polysilicon manufacturing equipment, solar manufacturing equipment, sapphire manufacturing equipment and sapphire material sales. The company also offers LED equipment and silicon carbide equipment.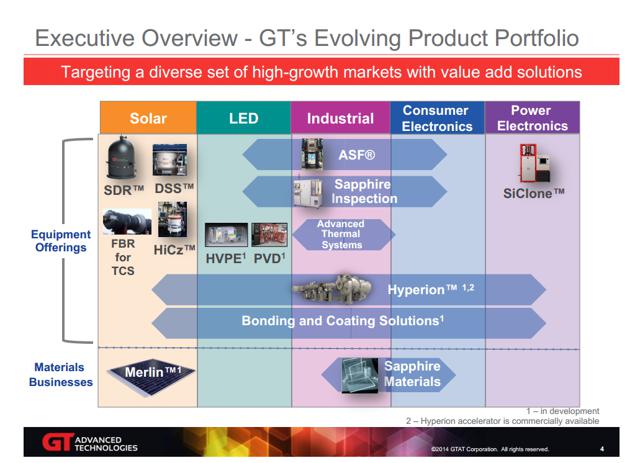 Source: GT Advanced Technology Corporate Overview
The polysilicon line of products is targeting a market that should enjoy strong growth well into the end of this decade. Polysilicon demand for solar production is expected to push massive production capacity expansions throughout the next several years.
Solar manufacturing equipment also seems to have the potential to experience a sizable increase in sales for at least several years. As demand for solar grows and current production capacity is almost fully utilized, this market offers plenty of growth for GT.
Sapphire manufacturing equipment, driven by LED adoption and the use of sapphire as a cover screen in consumer electronics, also seems to meet this point.
As the LED business continues to explode and prices of LED products seem to be on a never-ending fall, producers are looking to cut LED production costs in any possible way. GT's LED equipment taps into this trend, which could push sales further on.
The use of silicon carbide in power electronics' applications is rapidly developing. GT's SiC furnace sales could grow together with its adoption.
The Hyperion fit into all product lines, as a very thin laminate/wafer production tool.
More on GT's products here.
Point 2: Does the management have a determination to continue to develop products or processes that will still further increase total sales potentials when the growth potentials of currently attractive product lines have largely been exploited?
I believe that GT's management excels in this point. Let us not forget that a few years ago, GT was called "GT Solar." After the solar market had hit some turbulence in 2010-2012, management had pivoted the business to face multiple growth markets.
Proof points of this would be the successful identification of the move to use sapphire in consumer electronics and the design win from Apple (NASDAQ:AAPL) and the early identification of silicon carbide, which signals to us that management hasn't stopped thinking of further growth markets.
Point 3: How effective are the company's R&D efforts in relation to its size?
In the past 13 quarters, GT's commitment to R&D is seen by measuring its R&D expense: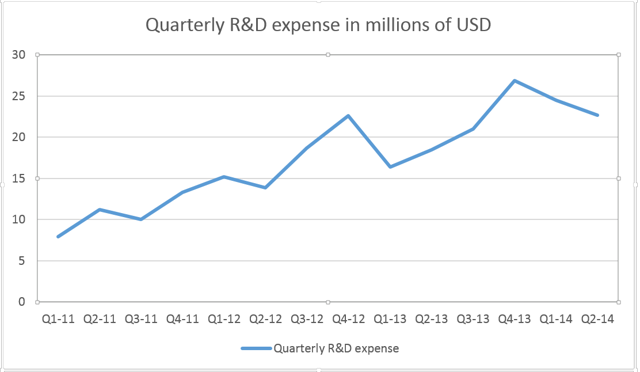 Source: PTT Research/PTT Alpha; SEC filings.
Although GT's past few quarters marked an all-time revenue low point, the company was still committed to investing in R&D, which in Q1-2014 surpassed 100% of its quarterly revenues.
The results of the past two and a half years of R&D efforts in the form of the many new lines of products show an efficient R&D organization. These lines of products caused management to deliver its all-time high guidance for revenue/earnings for the next two years.
Point 4: Does the company have an above-average sales organization?
I believe that GT's sales organization (as of 31 December 2014, GT had 38 sales and marketing employees) is efficient in finding new business for the company.
In most of the company's served markets, it is the market leader, and maintains a $609M backlog.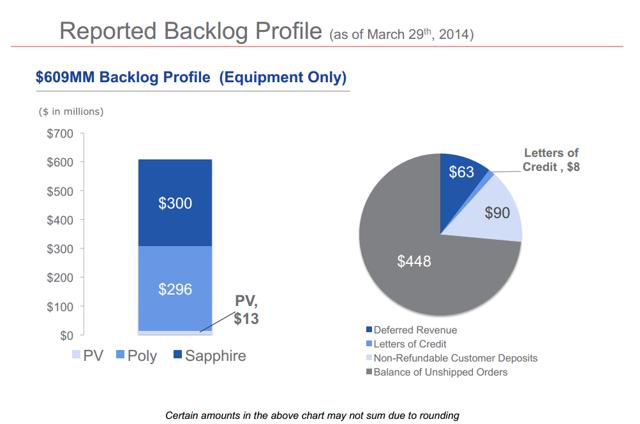 Source: GT Advanced Technology Corporate Overview
There is no possible way for GT to reach a market-leading position without a superb sales organization.
Point 5: Does the company have a worthwhile profit margin?
Although in 2012 the company showed wide losses, that was caused by the ongoing investment in the company's future and the required resources to pivot the company away from just solar and polysilicon equipment.
A look back to 2011 shows net margins of 10%-20% (from Q1-2011 to Q1-12). With the help of NYU Stern Net Margin Study, we can tell that the machinery industry had an average net margin of 7.72%.
The semiconductor equipment sector had a negative net margin of 1.25%.
I expect that GT will continue to show above-industry-average net margins now that the company has re-positioned itself.
Point 6: What is the company doing to maintain or improve profit margins?
GT's new Merlin product is basically a consumable sold to solar manufacturers. The move of the company to sell consumables (which have higher margins) is in my view an attempt to improve profit margins.
I'm not talking about a short-term change but a more fundamental change in the company itself. This shows me that GT's management is committed to developing new product lines that will support the maintenance and improvement of future net margin.
Point 7: Does the company have outstanding labor and personnel relations?
This point is one that GT needs to work on in my view. Examining a few Glassdoor and Indeed reviews shows a mixed view from current employees:
Source: Glassdoor.com; Indeed.com
Although I think that due to the sheer scale of GT's current growth, it is expected to have some disorganization amongst employees, GT management needs to be aware of this issue.
In the last 10K, GT said that it believes its relations with its employees are "satisfactory," not "good." This hints to me that management is completely aware of the employees' views. There is no unionization of GT's employees.
I believe that this area will gradually improve as GT's growth pains subside.
Point 8: Does the company have outstanding executive relations?
This Fisher point is a very hard point to verify, as it concerns the relations between executives. Even if we could get management's comments on this issue, there is practically no way to believe they wouldn't be likely to portray a story as brighter than it really is (true for any executive team).
On this point I believe the best thing to do is to relate to it as neutral as of now.
Point 9: Does the company have depth to its management?
GT's executive team is composed of six officers (not including its CTO).

I believe this team has much depth to it and that the business does not rely too much on one person. Raja Bal, the company CFO, only 38 years old, joined the team in 2014, which in my view contributes to the diversity and continuity of this executive team.
Point 10: How Good Are the Company's Cost Analyses?
I believe that GT's management is fully aware of the production cost of each of its products. GT is an equipment manufacturer and is a de-facto expert on the manufacturing of polysilicon, solar silicon ingots, sapphire furnaces, sapphire crystals, LEDs and more.
Being an expert on manufacturing costs requires GT to constantly analyze the manufacturing costs of its customers. I think it would be a fair assumption to say that GT has its hands around the cost analysis of its own products.
One sign for that would be the company's unusual two-year guidance for gross margin, which tells us that it was able to estimate the future costs of sales.
Point 11: Are there other aspects of the business, somewhat peculiar to the industry involved, which will give the investor important clues as to how outstanding the company may be in relation to its competition?
This point is about identifying something that gives the company an advantage over its competitors. I believe the key for that something is GT's ability to offer the combination of lowest cost of ownership tools with reliable and ongoing support.
There is a reason GT won Apple as a customer. It is not only GT's ability to identify potential cost reduction across its products lines, it is also the level of support and reliability it delivers to its customers.
GT's leading market share is, in part, a result of this combination.
Point 12: Does the company have a short-range or long-range outlook with regard to profits?
GT excels at this point. Not only has management chosen to pursue the development of sapphire furnaces as a part of its diversification strategy, it also pursued going into the sapphire material business. This investment in R&D in order to get that business going in my view represents a long-range outlook.
The fact that GT is pursuing the silicon carbide market with its offering of SiC furnaces, shows us management still has a very long-range mentality, which is exactly the kind of mentality that makes an outstanding investment.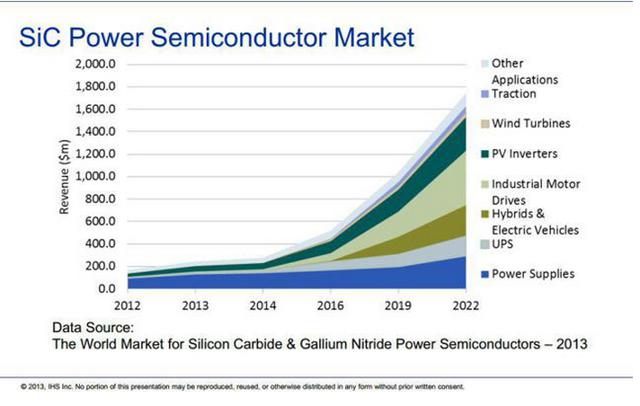 Point 13: In the foreseeable future will the growth of the company require sufficient equity financing so that the larger number of shares then outstanding will largely cancel the existing stockholders' benefit from this anticipated growth?
Given that we anticipate GT to enter a period when all of its markets are aligned for growth for at least several years, I estimate this period to generate substantial cash flows.
Taking a peek at GT's debt payment schedule makes me think that no substantial equity rises should prevail, although we might see management re-finance some of the outstanding debt.
Source: GT's 2013 annual report.
Point 14: Does the management talk freely to investors about its affairs when things are going well but "clam up" when troubles and disappointment occur?
Going back to the end of 2012, when things didn't look good for GT, I remember management being quite frank about the challenges it faced.
On 18 December 2012, the company hosted a call to discuss guidance for 2013. Here is a quote from Tom Gutierrez, the company's CEO: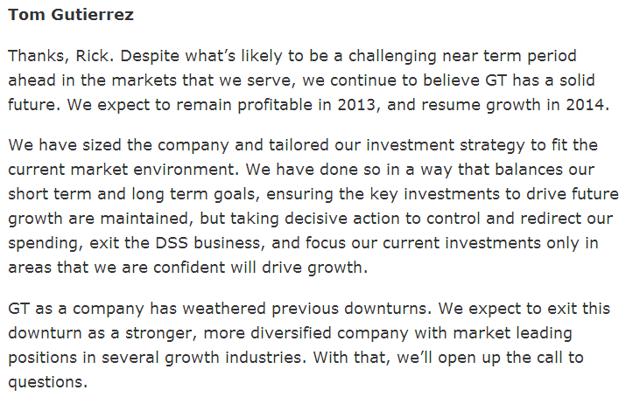 Source: GT's call to discuss 2012-2013 guidance, 18 December 2012.
I believe that GT's management is keen in its ability to communicate the true business environment, and not try to hide downturns when these are present.
Point 15: Does the company have a management of unquestionable integrity?
As I have followed GT for the past few years, in my view, the fact that most of the executive salary is in stock rewards, combined with the decision of GT's compensation committee to require each executive to hold at least 25% of its equity in the company at any given time, indicates management is committed to the business.

Source: GT's 2014 proxy statement.
As far as my research on GT has gone, I don't recall ever reaching the conclusion that management is not 100% committed to the future of the company, with unquestionable integrity.
Conclusion
According to Philip Fisher's 15 points, GT Advanced Technologies is positioned very well to be an outstanding company over the long term.
Analyzing the 15 points in this article has its limit, as each point can make an article of itself. I have tried to offer my view on GT in regard to each point, in a short manner.
I believe GT is doing very well in almost each point. However, as things seem to stand now, I would say that one area in which the company has room for improvement in is employee relations. I would like to see GT improve from "satisfactory" labor relations to great ones.
Other than that, I believe that all of the raw building blocks that make an outstanding investment are found in GT Advanced Technologies.
This article was first published on my blog: SolarStockIdeas.com.
Disclosure: The author is long GTAT.
The author wrote this article themselves, and it expresses their own opinions. The author is not receiving compensation for it. The author has no business relationship with any company whose stock is mentioned in this article.