On Tuesday, December 21, 2010 after the market close, the board of trustees for the closed-end fund NFJ Dividend, Interest & Premium Strategy fund declared an INCREASE of the quarterly dividend from $0.15 to $0.45 per share. What was shocking about this development is not just the 200% increase in the quarterly dividend, but that the increase virtually re-instates the dividend from the fund's early years before the market meltdown. Why is this important and should NFJ's history be a guide for other option-income funds? First a little background.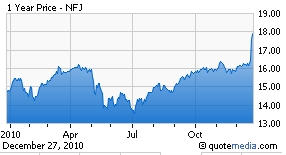 NFJ is a closed-end fund (CEF) that includes a mostly large cap domestic stock portfolio with approximately 23% of the portfolio invested in convertible securities. NFJ uses an index covered-call option writing strategy on its stock positions which, along with the convertibles, is structured to produce an income stream payable to investor's in the form of a high dividend. Capital appreciation is a secondary objective. NFJ came public back in February of 2005 at an inception price of $25 ($23.83 after a sales credit) and a regular $0.525 per share quarterly dividend begun in 2006. NFJ is managed by Allianz Global Investors and the fund represents about $1.8 billion in assets, large for a CEF.
During the bear market from the 4th quarter of 2007 to the 1st quarter of 2009, NFJ's portfolio was suffering along with just about every other asset class. Combined with a high quarterly dividend distribution and NFJ's Net Asset Value (NAV) dropped to roughly half its inception value during the 1st quarter of 2009. Then on March 13th, 2009 at close to the market lows, NFJ's Board decided to radically cut the quarterly dividend from $0.42 to $0.15 (there had been one smaller dividend cut in the interim) citing "To better align the Fund's current dividend rate with the earnings of the Fund's investments." Though just about every equity closed-end fund was forced to cut dividends during this period or later, no closed-end equity based fund that I'm aware of went as deep as a 63% cut.
This news sent NFJ's market price back to single digits, but more importantly, it sent NFJ's market price to a perpetual 15%-20% discount from its NAV. Other option-income CEF's which had not yet cut were able to narrow their discounts and even rose to all-time high premiums later in 2009 as investors flocked to their high yields. Investor's look to CEF's for yield mostly and the higher the yield a fund offers, the higher the premium valuation it earns even if the dividend is unsustainable. NFJ, because of its new low yield, was sent to purgatory for just the opposite reason.
However, the fund managers at NFJ seemed to have a plan in mind and while other option-income funds continued to overpay their dividends and suffered NAV underperformance even while their premiums grew, NFJ was busy building back its NAV. Many of these other option-income funds eventually slashed their dividends later in 2009 or early 2010 and combined with their lofty premium levels, the market price drops were steep. On the other hand, the market price for NFJ performed much better along with its NAV, which appreciated 64% from the market lows in March 2009. Still, NFJ was never able to shake its huge 15% or so discount to NAV with its low yield.
All of that may have changed now with the 200% increase in the quarterly dividend. Market reaction the following trading day after the declaration was swift as NFJ's market price, already at a yearly high, rose 7.25% on the day while the discount level narrowed to 9%, still wide compared to most option income funds considering NFJ's yield was still over 10% even after the day's rise. At week end, NFJ's total return gain on its market price was over 100% from the market lows in March 2009.
What does this mean for other option-income funds (also called covered-call or buy/write funds)? I believe it reinforces the viability of the option-income strategy compared to other high yielding CEF strategies which rely mostly on leveraged portfolios of income securities to pay their dividends. The market rise over the past 20 months has benefited the leveraged closed-end funds much more so than the option income funds, however, the risks associated with the leveraged funds in a down market are much greater than the risks associated with the option-income funds in an up market. Option-income funds excel in more trend-less up and down markets with higher volatility, however, a ramp-up market such as we have seen over the past 20 months generally means NAV underperformance for these funds as they are forced to buy back open option contracts usually at a loss. Combined with the reduced market volatility as measured in the CBOE Volatility Index (VIX) which leads to lower option premiums, and many option-income funds have had to re-balance their dividends downward. Still, with many option-income fund NAV's at 52-week highs when distributions are added back, this is not the end of the world and I believe the vast majority of dividend cuts are behind most funds. The only vulnerable funds going forward will be those that continue to have low or underperforming NAVs combined with overly generous dividends and yields.
It remains to be seen how 2011 will fare, but I believe the option-income funds will have a much better 2011 relative to the overall market than in 2010 for three reasons. First, I believe overall market performance will be more modest in 2011 than the past two years, which plays more into the option-income fund's strategy. Second, after one or more dividend cuts by most option-income funds, distribution levels are much more manageable for fund's to capture more market upside if 2011 proves to be another strong up year for the equity markets. And third, recent market price drops for many of the option income funds has resulted in discount levels not seen since the 2nd quarter of 2009.
NFJ's decision to raise its dividend in an environment where other option-income funds have belatedly cut their dividends only reinforces the fact that NAV and market price performance has more to do with how the fund is managed than whether or not the option-income strategy works. Certainly, NFJ's portfolio of stocks and convertible securities is distinct and their performance may not directly correlate with the performance of pure play option-income closed-end funds had these other funds utilized the same strategy. Still, the success of NFJ's approach is bound to be noticed by other option-income fund families and several are already taking a similar if much less radical approach. Eaton Vance's recent round of cuts for all of their option-income funds (their second of the year) was intended to position their funds to capture more market upside for 2011 while still offering significant distributions in the 8%-11% yield range.
Though NFJ may have maintained their dramatic dividend cut from March of 2009 too long during the recovery period resulting in a prolonged and perhaps unnecessary wide discount during that time, the end result was a much quicker recovery for the NAV of the fund. The fact that the Board of Trustees felt comfortable enough to raise the dividend back to virtually inception levels resulting in an even higher dividend yield than the inception yield says volumes about the effectiveness of this strategy. Of course, this could all end up being just a boom-bust cycle for NFJ. Time will tell but for the moment, investor's in NFJ can celebrate their wait.
Note: If you follow or invest in Closed-end funds and would like to see more articles on this often over-looked asset class, please register your interest by Following my contributions.
Disclosure: I am long NFJ.