By Todd Shriber & Tom Lydon
The iShares China Large-Cap ETF (NYSEARCA:FXI), the largest and most heavily traded U.S.-listed China exchange traded fund, will soon get a new index.
As of the close of U.S. markets on September 19, FXI will transition to the FTSE China 50 Index, according to FXI's hompage. The ETF currently tracks the FTSE China 25 Index, but that index is becoming a 50-stock index.
"In response to evolving market conditions and client demand, FTSE is enhancing the FTSE China 25 Index. The FTSE China 25 Index will be extended to become a 50-stock index, and will be renamed the FTSE China 50 Index. The changes will take place after the close of trading on 19 September 2014, effective from the start of trading 22 September 2014," said FTSE.
The index change could help temper some of the criticism that has been aimed at FXI over the years. Critics have pointed to FXI's shallow number of holdings (currently 26) as not being reflective of the massive Chinese economy and the ETF's 54.5% weight to the financial services sector as being excessive.
To aid in the transition, FTSE has created the FTSE China 50 Migration Index.
"The index weights of the 25 constituents added to the FTSE China 50 Index at the start of the migration process will be increased on a monthly basis after the close of business each third Friday. A migration factor is applied to the free float adjusted market capitalisations of the index constituents to adjust their index weights as part of the migration process," according to FTSE.
Last week, FTSE said China ETFs listed around the world that benchmark to the company's indices topped $20 billion in assets under management.
After FXI, the next largest China ETF tracking a FTSE index is the $650 million Hong Kong-listed Bosera FTSE China A50 Index ETF. The London-listed CSOP Source FTSE China A50 UCITS ETF, which launched in January, also tracks the FTSE China A50 Index and has raced to $413 million in AUM.
FXI's top-10 holdings currently include Tencent, China's largest Internet company, China Mobile (NYSE:CHL) and PetroChina (NYSE:PTR).
iShares China Large-Cap ETF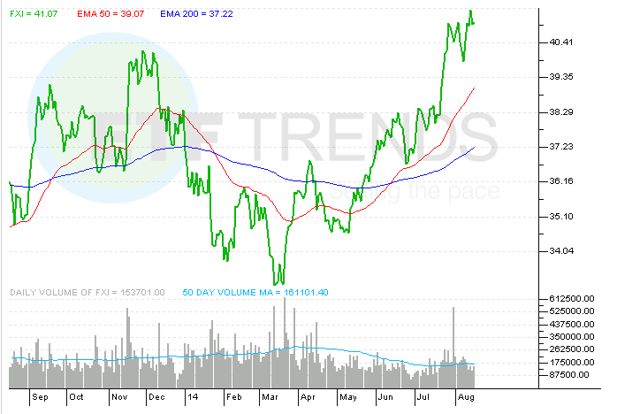 Disclosure: The author has no positions in any stocks mentioned, and no plans to initiate any positions within the next 72 hours.
The author wrote this article themselves, and it expresses their own opinions. The author is not receiving compensation for it. The author has no business relationship with any company whose stock is mentioned in this article.