A couple of weeks ago, the bears were out in full force, but a 4% rally off of the August 7th lows has certainly quieted things down.
As shown below, the S&P 500 is now back in overbought territory (>1 standard deviation above 50-DMA) after trading in oversold territory as recently as last week. As of the close Tuesday, the S&P is just 10 points away from its July all-time high. Is another break-out near?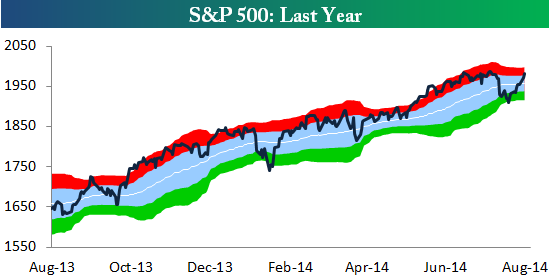 One area that has already broken out is the tech-heavy Nasdaq, which has blown out to new bull market highs this week. For further reference, below is a look at the performance of various asset classes since the market made its short-term low on the 7th of this month. Performance in the US has been pretty even based on market caps, with small, mid and large caps performing roughly in line. From a sector perspective, Health Care, Industrials and Consumer Discretionary have outperformed during this run higher, while Telecom and Energy have lagged.
Things have really quieted down in Ukraine/Russia, and Russia's stock market has benefited the most from this. As shown below, the RSX Russia ETF is up 8.7% since August 7th, which is the biggest gainer of any ETF in the entire matrix. As stocks have rallied during this geopolitical "quiet period," commodity prices have gone lower, led by oil (NYSEARCA:USO) with a decline of 4%. Both gold (NYSEARCA:GLD) and silver (NYSEARCA:SLV) are down as well, though.