Argentina (NYSEARCA:ARGT) has been under the spotlight lately due to the country's legal dispute with the so called 'vulture funds' (holdouts). This article will not focus on the vicissitudes of this battle, but rather on the state of present affairs and what the future may hold for Argentina's economy and its political scenario. My objective here is to try to shed some light into what's going on in Argentina in terms of economic and political variables.
Merval, the stock index, has been - at first glance - performing very well. The index has soared almost fourfold since 2009, but - keep in mind - this increase is in terms of Argentinean Pesos (ARS).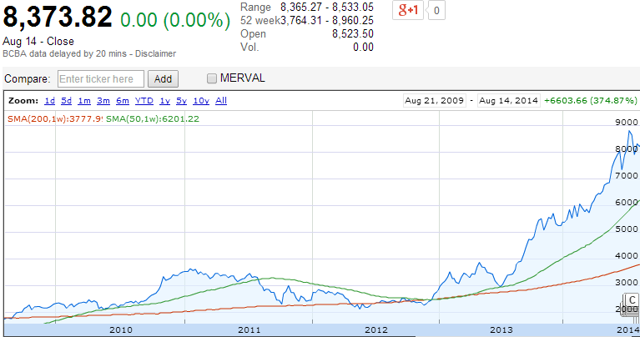 Source: Google Finance
When compared to the exchange rate in terms of US dollars, it's clear that the index works as a hedge against inflation. As we can see below, up to the third quarter of 2013, both the stock index and the exchange rate followed similar paths. During the last 12 months, the stock index has outpaced the exchange rate, supporting the notion that the official exchange rate may need adjustment (devaluation).
Source: Google Finance
Argentina's inflation, according to private consulting firms has clearly surpassed official data (image below; blue for official data and orange for private data). Of course this is controversial and has generated a media war between the government and opposition parties, private consulting firms et al.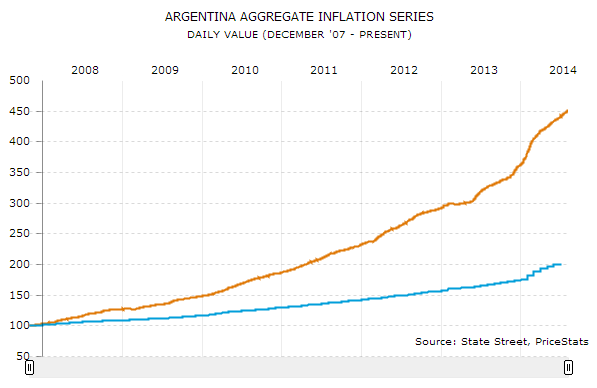 When we analyze these charts with the gap between the official exchange rate and its market driven counterparts, it seems that a devaluation should be right around the corner. As of August 15th, the official exchange rate stands at $8.29 (ARS), while stock market exchange rate index reached $12.60 (ARS). It's true that this index may include a 'fly-to-quality' premium, but there's little to argue regarding the gap between both rates.
The Central Bank has seen its reserves (USD) diminish, thus adding another layer of uncertainty to the whole scenario. The country's ability to pay down debt and finance its energy deficit will be dampened. The Central Bank had in its reserves - in Q1 2008 - approximately US$50B. The Bank's last report indicates a number closer to US$26B, which means that in just 6 years half of Argentina's reserves have evaporated. However, Argentina has settled several disputes, such as compensation made to Repsol for the forced buyout of YPF and other agreements and settlements with private creditors through the ICSID, plus a large debt treatment (US$9.7B) with the Paris Club. The legal dispute with the holdouts falls into this category. If we put the amount settled with the Paris Club into perspective, reaching an agreement with the holdouts shouldn't be that difficult. The total amount claimed by NML, Aurelius et al, is close to US$1.3B.
Furthermore, there's a media war taking place between Argentina's Chief of Staff and Judge Thomas Griesa, but it seems to be a maneuver from the Argentinean Government to divert attention rather than serious threats. Argentina has used these types of tactics before, so there's no need to take them literally. Facts matter, rhetoric doesn't. When we study the facts, we find out that Argentina has tried to reconcile its relation with foreign investors, maybe not due to a long term strategy, but rather based on necessity. ARGT needs money and direct investment to cover its energy deficit, expenses and to fuel growth, period. Settling disputes with Repsol, private equity firms, the Paris Club, holdouts, and so on, are positive signs.
Nonetheless, somehow real issues with Argentina's economy have been overlooked. While the financial community is talking about the holdouts and whether the default is technical or not, little is being said about what's happening with Main Street. Argentina has entered recession and inflation estimates for 2014 are north of 40%. Soybeans, Argentina's main source of US dollars, has tanked in the last few months. This means that the US dollar influx has receded, and can potentially worsen in the foreseeable future. Trade projections are negative, both for imports and exports, and the commerce surplus is shrinking (from US$12.5B in 2008-2012 average to US$6.3B in 2014). Energy imports will remain steady, which is inconceivable for a country that should have energetic surplus, given the quantity and quality of its natural reserves.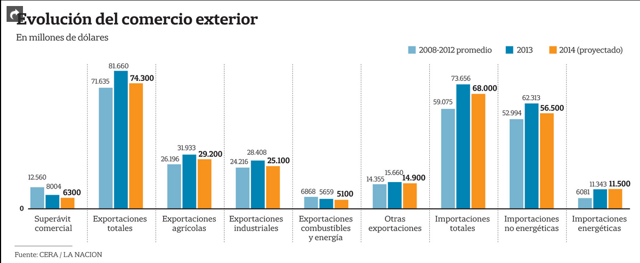 Source: CERA/LA NACION
Conclusion
For those risk-seeking investors, ARGT may be an interesting place to look at. ADECOAGRO (NYSE:AGRO), Telecom Argentina (NYSE:TEO) and YPF SA (NYSE:YPF) are all good options to play the rebound. However, I believe that it's still not the time to make a move. A devaluation will eventually happen, wiping out US dollar denominated earnings. For the local investor, the stock market works very well as an inflation hedge, but for the international investor, a devaluation of 20 to 30% would certainly punish NYSE based ADRs.
The current government has 1 year left in office, a year that may prove to be tumultuous, to say the least. Elections will take place in October 2015, and the scenario is cloudy. Surveys show that the current Governor of Buenos Aires (Daniel Scioli) leads the polls, closely followed by Sergio Massa (ex-Kirchnerist) and Mauricio Macri (D.C. Mayor). All three candidates have close ties with industrialists, banking and agribusiness leaders. These candidates are (Macri more than the rest) considered investor friendly. The party in power (FPV) is suffering a rupture, with some of its members switching allegiances. Kirchnerism is slowly giving up power, especially in Congress, and may not be able to pass legislation as easy as it has done in the past. A very controversial piece of legislation that aims to control and regulate market prices may not pass through Congress. If that is the case, the Government will suffer a loss not experienced since its own Vice President - back in 2008 - vetoed a Resolution that would increase export taxes on agribusinesses.
What to expect, then? ARGT will face a volatile year, especially months before the presidential election date. Economist Levy Yeyati believes in a rebound in 2016 and considers that 2015 will be a rough year. Rather than following default related news, a better investment strategy would be to focus on the country's economy and political scenario.
Disclosure: The author has no positions in any stocks mentioned, and no plans to initiate any positions within the next 72 hours. The author wrote this article themselves, and it expresses their own opinions. The author is not receiving compensation for it (other than from Seeking Alpha). The author has no business relationship with any company whose stock is mentioned in this article.