By David Russell
DirecTV (NYSE:DTV) has had a big pullback, and traders apparently think that it will seesaw in a range for the next year.

optionMONSTER's tracking systems detected the sale of 2,700 March 37 puts for $0.67 and 2,700 March 42 calls for $0.72 on Thursday. About three hours later, 5,000 January 2012 45 calls were sold for $2.02 and 5,000 January 2012 35 puts were sold for $2.18. Volume was more than twice open interest in all four strikes.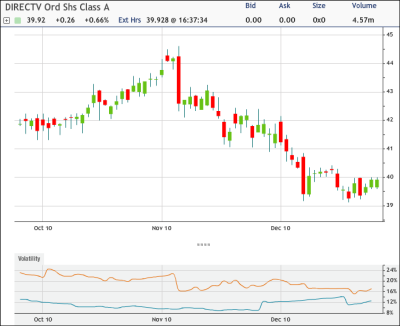 The activity resulted from the sale of two strangles--trades designed to earn income from the passage of time. For the strategy to work, DTV must remain in specific ranges for given periods. (See our Education section)

The first trade predicts that DTV will stay between $37 and $42 through March expiration. If the investor is right, he or she will get to keep $1.39 in premium.

The second trade gives the satellite-television company more room to move and will earn $4.20 if it stays between $35 and $45 in the next year.

DTV rose 0.66 percent to $39.92 on Thursday. On Nov. 4 it traded as high as $44.61, the highest price since the March 2000 tech bubble. But it reversed amid concerns about rising costs and has been falling ever since.

The shares have now returned to the same $39-$40 level where they peaked the spring and summer. Some chart watchers will likely expect support around this price area, protecting them against further downside.

The trades pushed total option volume in DTV to 12 times greater than average in the session.
(Chart courtesy of tradeMONSTER)