It often seems that Apple (NASDAQ: AAPL) investors are constantly looking to the horizon for new products, and Wall Street's anticipation of new Apple products seems to have recently reached a fever pitch (yet again). Although Apple's entry into new product categories is no doubt exciting for both consumers and investors, we must remember that a company's less prominent segments are often just as central to its stability and growth as its more prominent ones.
I make the case that Apple's iTunes, software, and services segment and its accessories and retail segment will grow over the next few years to become central pillars of the Apple financial edifice. I fully expect iTunes to expand to become Apple's second-largest segment, behind iPhone but dwarfing iPad and Mac. The accessories segment may well do the same in a few years, and has the potential for significant upside depending on the manner in which the growing accessories market develops. As a consequence, I take the opinion that it is impossible to speak responsibly about Apple - especially Apple as a growth stock - without reference to iTunes and accessories. Once we take the strength of these segments and their explosive growth into account, Apple could very well be a bargain even at currently all-time high prices - especially if Apple's promised new product categories are successful.
What iTunes and Accessories Have in Common
It has been longstanding Apple policy to enable its users to do as much as possible with their high end (and rather expensive) Apple hardware. For instance, Apple paid an arm and a leg in equity to bring Microsoft (NASDAQ: MSFT) Word over to the Mac. Similarly, Steve Jobs insisted on creating iTunes alongside the iPod to enable users to make the most of their hardware.
At the same time, Apple also has a longstanding policy of monetizing as far as possible the means through which consumers make full use of their hardware. It may have been necessary for Apple to create iTunes in order to sell iPods, but this never stopped Apple from also monetizing it. The same applies to the App Store, which helps Apple sell iPhones and iPads, but which also contributes to Apple revenues directly because Apple takes 30% of all App Store sales.
Apple's iTunes, software, and services segment (which includes the App Store) has been growing quite rapidly - for the June qurter, iTunes, software, and services revenue grew by 12% year-over-year to $4.48b. For comparison, in the same June quarter iPad shrank by 8% to $5.89b, and Mac expanded by 13% to $5.54b. Tim Cook gushed with praise during the most recent Apple earnings call on July 22, stating that iTunes, Software, and Services was the segment "that's actually growing the most." Central to this growth spurt is the App Store. Tim Cook explained that the App Store generated nearly $10b in sales in the previous year, and its revenues are "almost doubling year-over-year."
The App Store is one of Apple's greatest assets. Third-party apps have enabled Apple devices to do much more than they would were Apple the sole software provider for its mobile devices. Apple knows this, and proudly touts the fact that the App Store has created an entire industry around itself.
Nowhere are the fruits of the competitive spirit of the App Store more obvious than in what in my opinion has been a drastic increase in the quality of mobile games, especially paid ones. The most successful games reap great benefits, and the competition is stiff, especially for a design award or editor's pick from Apple. Some of the award-winning games are excellent - I have not played all of them, but in my opinion Monument Valley is one of the best games that I have ever played. In fact, the race for high quality games - combined with Apple's high end hardware - is finally even bringing console games to mobile devices.
Admittedly this extremely competitive App Store environment has made it rather difficult for app developers to earn a great deal of profits consistently, as evidenced by the declining stock prices over the past few years for mobile game developers like King Digital Entertainment PLC (NASDAQ: KING), Zynga Inc. (NASDAQ: ZNGA), and Glu Mobile Inc. (NASDAQ: GLUU). However, the intense competition has also unmistakably led to the availability of excellent apps at low prices. As a consequence, consumers have been only too happy to spend more on apps, as reflected in the explosive growth of the App Store. Because Apple gets a fixed proportion of total app expenditures, it thrives on the competition that pushes app developers to outdo each other.
I posit that an analogous situation is developing in the accessories market. The accessories market is becoming increasingly competitive, as signaled most clearly by Apple's own recent acquisition of Beats Electronics for $3b - Apple's biggest acquisition to date. Apple also recently updated the default headphones included with its devices to the Apple Earpods. However, headphones represent only one part of a relatively small but rapidly growing market in accessories. Of special interest are hardware accessories that make possible or complement new software applications on the iPhone and iPad, or that make extensive use of the capabilities of the iPhone and iPad. I will refer to these as "smart accessories" ("ancillary mobile hardware" would probably be more accurate, but it is rather a mouthful). I believe that Apple is extremely interested in this smart accessories space, and will see significant growth there over the next several years.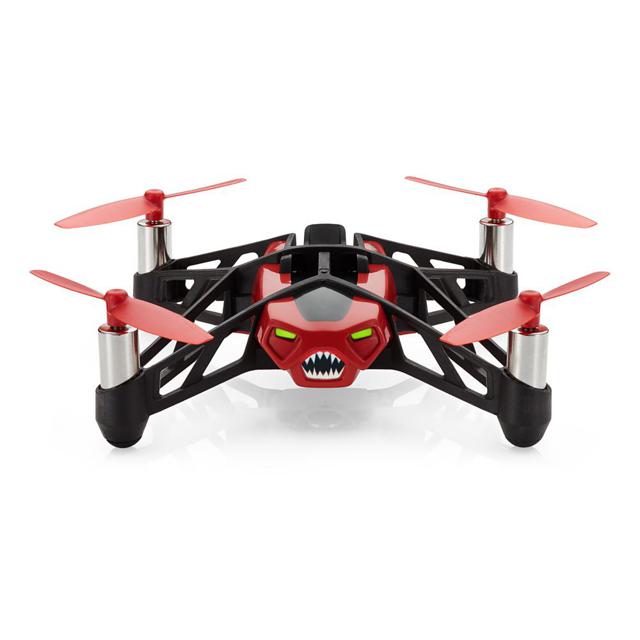 Parrot MiniDrones Rolling Spider Robot. Source: Apple Online Store.
The Changing Mobile Accessories Landscape
For its most recent quarter, Apple reports that revenues from accessory sales through Apple retail and online stores grew to $1.32b from $1.18b a year earlier (growing at the same 12% year-over-year clip as the iTunes, Software, and Services division). Beats' annual revenue is estimated at about $1b, so the Beats acquisition will further increase quarterly accessories revenues by about $250m or about 20%.
Apple has also been broadcasting its great interest in smart accessories through aggressive marketing of smart accessories in its television commercials and online store. Appleinsider reports that the following smart accessories were featured in Apple's recent "Parenthood" ad:
Appleinsider also reports that the recent "Dreams" commercial also features the Vaavud Wind Meter.
In addition to featuring them in commercials, Apple has also been featuring several smart accessories prominently in its online store. I have found the following smart accessories for sale in the Apple online store (US):
Only time will tell the fate of these particular smart accessories, but it seems to me that the accessories market will take off regardless. Apple and Tim Cook seem to be quite aware of this development and the great opportunity it offers for growth in Apple's top and bottom lines.
What Investors Should Look For
I think the moves outlined above signal clear intent on Apple's part to monetize the ancillary mobile accessories market. What remains to be seen is whether Apple will be able to directly monetize hardware accessories as well as it has monetized iTunes and App Store purchases. Whereas Apple has obvious control over app purchases, this is often not the case for iTunes purchases and it is unlikely to be the case for accessories - consumers are free to buy accessories from stores other than Apple's. Even then, some proportion of accessory sales will inevitably pass through Apple's online and brick-and-mortar stores, and Apple's monetization of hardware accessories will partly depend on success on this front. Apple retail is famously high-performing, so investors should expect to see them put up a hard fight on this front. Apple also has the option to manufacture its own accessories. It already makes Earpods and Beats headphones, iPad smartcovers, and iPhone cases. Finally, Apple could also enlist the aid of "Made for Apple" branding to monetize third-party accessory sales.
Successfully guiding Apple through these developments should be (and I expect is) high on Tim Cook's agenda. The growing ease of bringing simple and even complex hardware to market means that the ancillary mobile hardware space is poised to grow extremely rapidly. Cheaper batteries, processors, memory, and sensors mean that manufacturers are moving toward adding "smart" features to all kinds of products. Investors should watch closely as Apple navigates this new space.
New acquisitions in the coming months may also signal further action from Apple in the accessories segment. Apple has already acquired Beats Electronics, but it may well look to further expand its foray into the smart accessories market, particularly in response to Google Inc.'s (NASDAQ: GOOG) (NASDAQ: GOOGL) acquisition of Nest. And acquisition or not, firms on the forefront of robotics and accessories like iRobot (NASDAQ: IRBT) and Philips (NYSE: PHG) stand to gain a great deal from the smart accessory revolution.
Finally, investors should not underestimate the extent to which Apple's introduction of HomeKit - concurrent with the launch of iPhone 6 and iOS 8 - could catalyze explosive growth in the smart accessory space.
Conclusions
It is sometimes difficult to keep track of all aspects of a complex business like Apple, especially amidst all the current talk of new product categories. I have argued that a closer look reveals significant hidden value and growth opportunity among Apple's iTunes and accessories segments. I believe that the growing iTunes, software, and services segment will soon rise to become Apple's second largest segment by revenue - ahead of iPad (whose sales have been declining) and Mac (which has been growing but in a weakening overall market). Accessories may grow to become the third-largest segment by revenue in a few years, depending on how the smart accessory market develops and how well Apple is able to capitalize on its growth.
I believe that the markets have largely ignored iTunes and accessories as major sources of long-term growth for Apple. Nothing underlines this more than the fact that almost all analyst discussion of Apple centers on the iPhone, iPad, Mac, or future products. The market's focus on new product categories reflects the mistake of looking for Apple's growth outside of its existing product categories. New product lines are of course extremely important for Apple, but sometimes it is much easier to grow something that already exists than it is to bring something entirely new to market. As a consequence, I believe that Apple's current prices - even at all time highs - do not reflect the great value and potential of Apple's existing segments. The smart investor will not needlessly obsess over new product categories: Apple is also pursuing other opportunities for growth. Of these, the market for smart accessories and ancillary hardware may well be gigantic, and Apple is positioning itself to dominate.
Disclosure: The author is long AAPL, IRBT. The author wrote this article themselves, and it expresses their own opinions. The author is not receiving compensation for it (other than from Seeking Alpha). The author has no business relationship with any company whose stock is mentioned in this article.