In an effort to improve content for articles on Seeking Alpha regarding Business Development Companies ("BDCs") I sent out a survey to newsletter subscribers asking five questions including which types of topics regarding BDCs they would be interested in for my upcoming articles and below are the current results. If you would like to see the other results or participate in the survey please see "Survey Results for Q3 2014".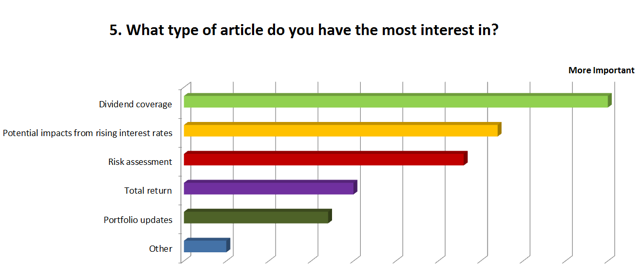 I have recently covered (at a high level) what seems to be the most important to BDC investors which is the amount of dividend coverage potential that each BDC has using various amounts of leverage to increase net investment income ("NII") in my "Dividend Coverage" series and interest rate sensitivity articles so far in Part1, Part2 and Part 3.
This article is an introduction to assessing risk for the 26 BDCs that I cover and a follow up to my other "BDC Risk Profile" articles. There are many reasons why assessing risk for BDCs is important including expected returns, valuations, and the potential loss of capital during an economic downturn or general business cycle. I use 'relative risk rankings' in many of my articles for valuation purposes because I believe BDCs should be measured on projected risk vs. return. This series will take into account new metrics and I will be adjusting my risk rankings accordingly as well as updating my suggested 'risk averse' BDC portfolio.
Portfolio Credit Quality
The credit quality of the portfolio investments for each BDC is critical when determining risk. This is not an easy task for an industry that invests in smaller private companies with minimal reporting requirements. The ultimate goal is to identify which BDCs have investments that can withstand a general economic downturn, rising interest rates that may increase debt burden or general declines in cash flow ("EBITDA"). Part of the problem when trying to compare BDCs is the inconsistency in reporting. Generally, higher quality BDCs go above and beyond to report credit quality measures, which is part of my 'qualitative' measure for the industry. Throughout this series I will most likely adjust the side-by-side comparison to accommodate the various metrics reported by each company and will discuss some of the more widely used in this article.
I found the following charts from Ares Capital (NASDAQ:ARCC) to be an interesting view of how yields in the industry have changed over the last three quarters especially with non-first lien senior debt which is where many BDCs focus their investments to deliver higher returns to cover dividends.

One of the major inconsistencies in BDC reporting is the definition or classification of debt investments that are not first lien senior secured. The various terms are used when describing these investments and some include first lien as well:
Second lien senior secured
Mezzanine
Subordinated
Unsecured
Junior
One Stop
Unitranche
The chart below is from Fifth Street Finance (FSC) showing its target yields by investment type.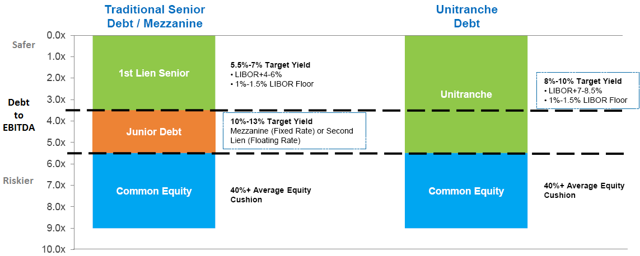 TICC Capital (TICC), KCAP Financial (NASDAQ:KCAP) and Prospect Capital (NASDAQ:PSEC) have structured product investments in the form of in collateralized loan obligations ("CLOs"). Many CLO investments use off balance sheet leverage to increase returns, which is why CLO investments have higher yields than other investments and are considered "unqualified". BDCs are allowed a maximum of 30% of the portfolio in these types of investments due to the amount of risk involved and many are described as "residual interest" that are the last in line to be paid, and the first to be cut off if the underlying investments default as discussed in "Is Prospect Capital Ready For Rising Rates?". The following disclosure is provided by PSEC regarding its CLO investments: "We expect that a majority of our portfolio will consist of equity and junior debt investments in CLOs, which involve a number of significant risks. CLOs are typically highly levered up to approximately 10 times, and therefore the junior debt and equity tranches that we will invest in are subject to a higher risk of total loss."
Debt-to-EBITDA
I will use indicators such as portfolio yield and debt-to-EBITDA to determine the level of risk for some of the more opaque BDC investments. 'Debt-to-EBITDA' is a typical lending ratio used to describe the amount of debt to annual cash flow for portfolio companies. There are other measures used to indicate debt service abilities for borrowers but this is the most commonly used. As discussed in many of my articles, debt-to-EBITDA multiples greater than 5 times (5x) usually indicates that a company is likely to face difficulties in handling its debt burden, and is less likely to be able to raise additional loans required to grow and expand the business and it can result in a lowered credit rating.
BDCs such as Fidus Investment (NASDAQ:FDUS) consistently trade at a higher multiple of net asset value ("NAV") per share for many reasons including the following statements from the earnings call this month: "The credit performance of the portfolio remained solid as well, with our portfolio company's combined ratio of total net debt to Fidus' debt investments to total EBITDA of 3.7 times. We believe this is a prudent level of risk for our portfolio. And finally, we track the combined ratio of our portfolio company's total EBITDA to total cash interest expense, which was 3.3 times in the second quarter. We believe that this level is an indicator that our portfolio companies as a whole, currently have significant cushion to meet their debt service obligations to us. Overall, these metrics reflect our longstanding cautious and deliberate investment approach. From a debt structuring perspective, we look to maintain significant cushions to our borrower's enterprise value, in support of our capital preservation and income goals. As we said many times, we seek to selectively invest in high quality, lower middle market companies that our market leaders and their respective niches, that operate in industries we know well, that generate excess free cash flow for debt service and investment, and have positive long-term outlooks."
As shown in the previous charts for ARCC and FSC, first lien debt investments usually have a leverage ratio less than 3.5x and the non-first lien debt investments are between 3.5x and 5.5x. CLOs are usually between 7x and 10x. I will be using these assumptions for comparison purposes in the following articles.
The following chart is S&P Capital IQ LCD's view on leverage multiples since 2000 with total leverage trending higher. This data is skewed toward sponsored deals that are syndicated and lean toward higher multiples but shows that leveraged lending in the middle market is changing. I will try to find a more appropriate and updated chart.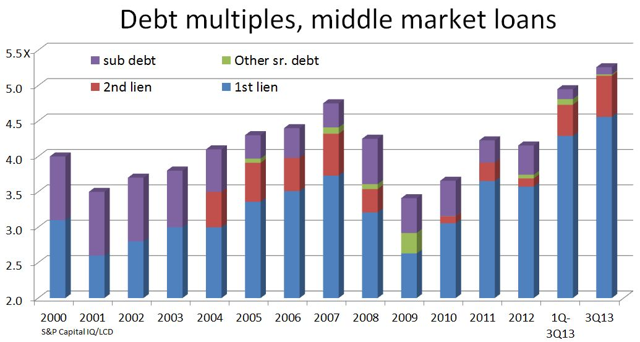 The following are the other indicators of portfolio quality that I will be discussing in this series:
Average investment amounts and portfolio concentration risk
BDC leverage vs. portfolio mix
NAV growth vs. declines
Fair value of investments as a percentage of cost
Dividend coverage and the need to reach for yield
Triangle Capital (NYSE:TCAP) provides the following chart to indicate portfolio concentration amounts of the top ten investments for each BDC (on a cost basis) with three or more years of operating history and currently paying dividends. It is interesting to note that three of the top (more diversified) four are internally managed BDCs including TCAP, Main Street Capital (NYSE:MAIN) and Hercules Technology Growth Capital (NASDAQ:HTGC). MAIN and Golub Capital BDC (NASDAQ:GBDC) are already included in my suggested risk averse portfolio and TCP Capital (NASDAQ:TCPC), Solar Senior Capital (NASDAQ:SUNS) and PennantPark Floating Rate Capital (NASDAQ:PFLT) are younger BDCs still in a higher growth phase. New Mountain Finance (NYSE:NMFC) and Medley Capital (NYSE:MCC) have recently been upgraded for many reasons including improved portfolio concentrations.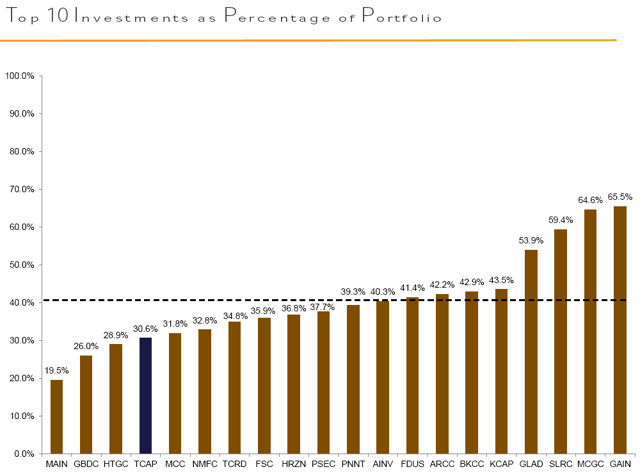 When investing in BDCs it is important to understand how the company uses borrowings (leverage) to enhance returns to its equity investors. Leverage is not necessarily a bad thing and I will measure how effectively each BDC uses borrowings that increases the amount of risk to investors especially after taking into account the leverage used by the companies within its portfolio. Using leverage and investing in higher-yield riskier investments are two of the standard levers to increase returns for higher dividend yields or capital gains. However it is important to look at these two metrics combined. The chart below is an example used in previous articles that I will update with the latest info including using a new method to measure portfolio credit quality.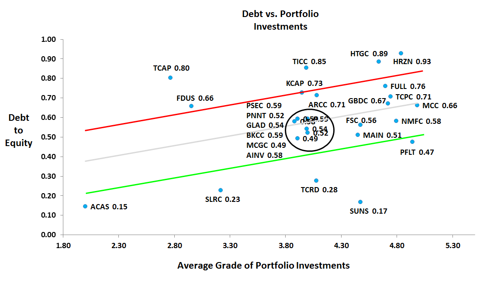 Previous Risk Rankings
The following table is the current relative risk rankings used for many things including deciding which portfolios each BDC is more appropriate for and the price targets used for both standard industry multiples of NAV and earnings as well as expected vs. projected total returns.

BDCs such as Apollo Investment (NASDAQ:AINV) and Gladstone Capital (NASDAQ:GLAD) have consistently been improving the quality of investments and I have upgraded accordingly but they will most likely have improved risk rankings through this series. THL Credit (NASDAQ:TCRD) has also been improving its portfolio as mentioned on the last call: "Over the last year, our asset mix has shifted from 54% in the first and second lien debt and 36% in subordinated debt, [to] 71% in first and second lien debt and 20% subordinated debt." FS Investment Corp (NYSE:FSIC) is newly-public BDC that will have higher rankings as it continues to report favorable results. American Capital (NASDAQ:ACAS), Full Circle Capital (FULL), MCG Capital (NASDAQ:MCGC) and Solar Capital (NASDAQ:SLRC) are all in the process of repositioning the portfolio and/or the direction of the company that will be considered when adjusting their profiles. KCAP and BlackRock Kelso Capital (NASDAQ:BKCC) have continually ranked lower from a risk standpoint (implying higher risk) but both have the ability for higher returns and improved dividend coverage that I will address. TICC will be moving lower due to maximizing its 30% unqualified investment bucket of CLO investments that have declining yields driving less favorable risk adjusted returns from the portfolio.
Important risk indicators that will not be covered in this series:
Vintage Analysis - As discussed in "KCAP: Will It Continue To Fall?", the finance industry often refers to the vintages of a loan portfolio to monitor and assess risk levels, using it as a starting point for further analysis based on the analysis of loans originated during a specific time period. Prior to the recent credit crisis, covenant light loans were popular among BDC investments and lead to the rise in non-performing loans and reductions in NAV. Recently these types of loans as well as CLOs have seen a resurgence and approaching record amounts set in the pre-Lehman market of 2007, according to S&P Capital IQ/LCD. Assessing which vintages are potentially riskier than others is an evolving art that I will cover in other articles taking into account historical market liquidity levels, default rates, leverage multiples, and covenant light trends.
Recession Resistant Investments - Many BDCs focus on industries or companies that rely on defensive or 'recession proof' types of cash flow. I will cover this and general portfolio diversification in other articles. On the latest earnings call the, Art Penn, the CEO of PFLT and PennantPark Investment (NASDAQ:PNNT) mentioned: "As a result of our focus on high-quality new investments, solid performance of existing investments and continuing diversification, our portfolio is constructed to withstand market and economic volatility."
For links to previous risk related articles on Seeking Alpha please check my "BDC Risk Profile" page as well as the "BDC Research Page" that I will continue to update as well as my "Index to BDC Articles" for more information on specific BDCs.
Disclosure: The author is long ARCC, FSC, FSIC, GBDC, HTGC, MAIN, NMFC, PFLT, PNNT, PSEC, TCPC.
The author wrote this article themselves, and it expresses their own opinions. The author is not receiving compensation for it (other than from Seeking Alpha). The author has no business relationship with any company whose stock is mentioned in this article.
Editor's Note: This article covers one or more stocks trading at less than $1 per share and/or with less than a $100 million market cap. Please be aware of the risks associated with these stocks.