By Brad Zigler
You'd think that after snagging an 18.6 percent gain for the year, investors in the Market Vectors Agribusiness ETF (NYSEARCA:MOO) be able to count their winnings and look forward to the new year with the hope that their good fortune continues.
MOO tracks an index of 46 global businesses involved in the production of agricultural goods and equipment.
No doubt, MOO's done well this year. Just look at the chart. It sure doesn't seem to be signaling any signs of weakness. If anything, MOO seems to have successfully tested support at its 50-day moving average as a set-up to its current wedge pattern. (We can argue about a break-out, but let's save that for another day.)
Market Vectors Agribusiness ETF (MOO)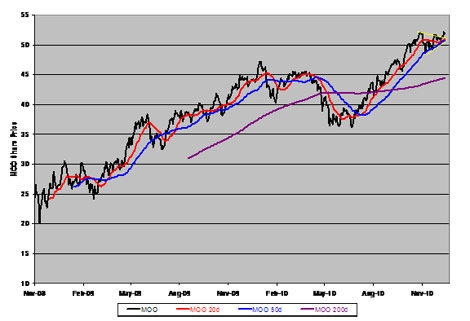 MOO's absolute price trajectory might not worry you, but a seminal change has taken place. Agribusiness is now flagging the very commodities in which its representative companies deal.
Earlier this year, it was ag stocks leading the way up, reflecting the oft-touted leverage in commodity stocks. We see this often when measuring the relative performance of gold mining stocks and bullion. Once the market price of goods exceeds a company's production costs, profits just tumble down to the bottom line in torrents.
And so it was in the ag sector until this spring. In April, though, agribusiness stocks' momentum wobbled -- well, stumbled, really -- only to recover by mid summer. Or so it seemed.
When you look at the performance of ag stocks to agricultural futures, you see the recovery's actually faltered. Futures, which had been just poking along behind equities, are now outgunning them. That's reflected in slump you see in the relative strength chart below.
Agribusiness Stocks' Relative Strength Versus Agricultural Futures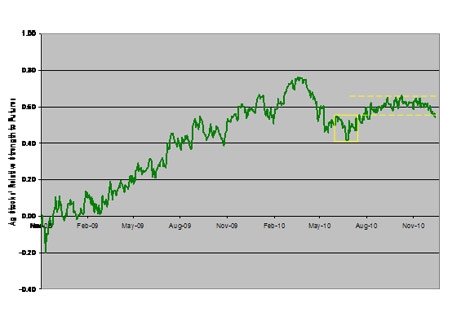 From an ETF perspective, that 18.6 percent gain earned by MOO is being trumped by a 21.2 percent year-to-date surge in the PowerShares DB Agriculture Fund -- a long-only portfolio of 11 commodity futures.
Stocks tried to regain primacy over futures through the summer and fall, but as winter approached, equity strength just petered out, reflecting a loss of leverage as rising costs cut into margins.
This is not to say that the agribusiness story's over. Rather, it indicates that ag-minded investors might find better prospects on the futures side rather than the equities side going forward.
Disclosure: No position