BCE Inc. (NYSE:BCE) is one of the leading telecom companies in Canada; in a competitive Canadian telecom industry, BCE is slowly making progress through its growth initiatives, which will help strengthen its position among peers in the long run. The company's consistent investments for enhancing and expanding LTE network coverage are well on track to deliver long-term growth for its wireless subscriber base, but in the near term, BCE is likely to face competition from its peers TELUS (NYSE:TU) and Rogers (NYSE:RCI). Also, the expansion of IPTV services will portend well for BCE in the long run. Furthermore, the company offers a sustainable dividend yield of 5%, which makes it a good investment for dividend investors.
Tough phase for Wireless Subscriber base
With the introduction of contract code regulations, competition among the three major Canadian telecom sector players, BCE, TU and RCI, has increased. In response to the contract code regulations, carriers like TU have ramped up their efforts to attract as well as retain customers, which remains a threat for BCE. TU's Share Value plan is constantly driving wireless postpaid subscriber traffic towards it. However, to cater to the competition, BCE has been undertaking investments to improve its services. In Q2'14, BCE's registered net wireless postpaid subscriber additions of 66,186 were lagging behind TU's net additions of 78,000.
Competition in the industry is likely to increase further in the future, as the Canadian government is willing to increase competition by bringing another (fourth) player in the industry. In an attempt to address the competition, BCE is making efforts to enhance and expand its LTE network coverage across Canada. Currently, the company's LTE network covers around 82% of the Canadian population, but with its plan to expand its network coverage across Atlantic Canada in almost a 100 communities by the end of 2015, BCE will serve approximately 98% of the Canadian population. Through the expansion of the network, BCE will serve the emerging demand of 4G LTE mobile services in rural areas, which will portend well for its subscriber base. Due to its strategic initiatives, BCE grew its wireless market share to 36% in Q2'14, as compared to 28% in Q1'14. I believe in the near term, the company will face competition, which could impact its subscriber base; however, in the long term, LTE network enhancement and expansion efforts will positively impact its performance.
Wireless Revenues = A game of smartphones
In the recent past, as the demand of smartphone usage surged among users, telecom carriers are driving significant revenues from increased data usage by smartphone users. To benefit from the increase in data demand, telecom carriers have been undertaking price adjustment initiatives. The company grew its wireless service revenues by 5.7% in Q2'14, as compared to 4.4% in Q1FY14, mainly driven by subscriber upgrading to smartphones and increase in data usage. Also, the company's ARPU increased by 4.6% year-on-year in Q2'14. Going forward, the increase in smartphone adoption will fuel BCE's wireless segment topline growth. Also, the company can undertake price increases to further strengthen its ARPU in the future. The following table shows the growth in BCE's wireless revenue and ARPU for the last six quarters.
| | | | | | | |
| --- | --- | --- | --- | --- | --- | --- |
| | Q1'13 | Q2'13 | Q3'13 | Q4'13 | Q1'14 | Q2'14 |
| Wireless Revenue (Y-O-Y Growth) | 6.6% | 5.6% | 4.1% | 3.5% | 4.4% | 5.7% |
| ARPU (Y-O-Y Growth) | 3.5% | 2.4% | 1.7% | 1.5% | 3.4% | 4.6% |
Source: Company's Quarterly Earnings Report
Wireline
Over the past few quarters, the wireline segment results of Canadian wireline carriers have been adversely affected by competition from cable operators. In an effort to address the competition from cable operators, telecom carriers have been improving their wireline services at a faster pace. BCE started growing its Fibe TV footprint at a faster pace, which helped the company increase its TV subscriber base by 8% year-over-year in Q2'14. BCE's efforts to improve its wireline services have positively affected its wireline subscriber base; however, TU outperformed BCE with its healthy TV subscriber additions of 25% year-over-year in Q2'14. I believe wider area coverage and bettered broadband speed of TU's Optik TV is driving TU's growth. The following chart shows the wireline subscriber addition comparison between TU and BCE for Q2'14.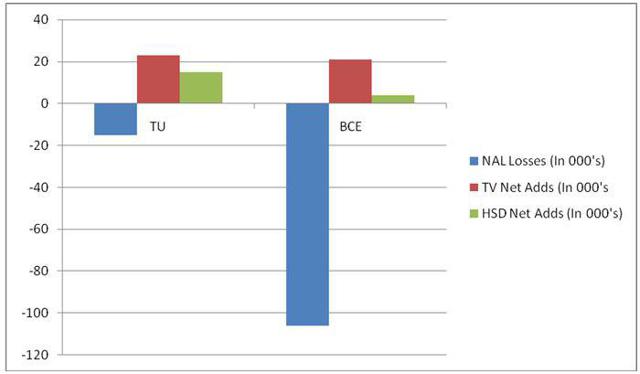 Source: Companies' Quarterly Earnings Report
Going forward, as BCE remains focused on expanding its fiber footprint at a faster pace and also commits to offer better Fibe TV services at competitive prices, BCE's wireline subscriber base and revenue will be positively affected.
Dividends = Key attraction for BCE's investors
BCE's attractive dividend yield of 5% makes it a good investment for dividend investors. Dividends offered by the company are backed by its operating cash flow yield of 17%. The company reaffirmed its FY14 cash flow guidance, and expects a dividend payout ratio to be in a range of 65%-75%. Also, as the company has announced to purchase all outstanding shares of Bell Aliant, it will positively affect the company's cash flows and bottom line results. BCE anticipates free cash flow accretion of $200 million and pre-tax annual synergies of $100 million per annum from the transaction.
Conclusion
The company is steadily progressing to improve its performance in both the wireless and wireline segments; however, competition in the industry could adversely affect BCE's performance in the short term. The company's efforts to increase service quality and network expansion will allow BCE to address competition and deliver healthy results in the long term. Also, the company's sustainable dividend yield of 5% makes it a good investment for dividend investors. Moreover, the purchase of all remaining outstanding shares of Bell Alliant will portend well for the company's bottom line and cash flows.
Disclosure: The author has no positions in any stocks mentioned, and no plans to initiate any positions within the next 72 hours.
The author wrote this article themselves, and it expresses their own opinions. The author is not receiving compensation for it (other than from Seeking Alpha). The author has no business relationship with any company whose stock is mentioned in this article.