In today's tough economic environment American consumers are stretching every dollar and increasingly turning towards retailers that offer outstanding value. With that in mind, we screened our database of 5000 stocks looking for discount retailers with a bullish Power Gauge rating, high ROE and positive Expert Opinions.
Our Power Gauge rating is based on a 20-factor model incorporating Financial Metrics, Earnings Performance, Price/Volume activity and Expert Opinions to determine a stock's potential over the next 3-6 months.
Here are 5 well known retailers whose stocks have thrived by being the consumer's friend in 2010 and should outperform in 2011 as well.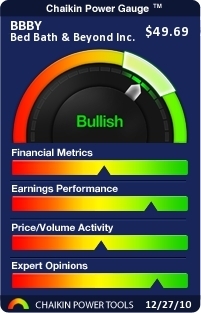 Bed Bath and Beyond (NASDAQ:BBBY): 49.69
The closing of Linens 'N Things in 2008 came as a boon to the then-struggling home-furnishing retailer BBBY and it has never looked back.
For the last year, the company has posted consistent earnings gains and has exceeded expectations every quarter resulting in a bullish Earnings Performance metric in our Power Gauge. This has led to increasingly bullish analyst opinions and upward earnings estimate revisions giving the company a very bullish Expert Opinions metric.
High profit margins and a very strong ROE reflect an efficient management team. In the most recent quarter ending in November 2010, the company repurchased approximately $211M of its common stock.
During its earnings call on December 22nd management announced an additional $2B stock buyback program showing a huge vote of confidence in the company's future. With more than a billion dollars in cash and no debt, BBBY is likely to take advantage of the current real-estate market and continue to expand its stores, including the bargain-consumer oriented Christmas Tree Shops, nationally.
Same store sales continue to grow at a healthy pace of 7%. The company has been trending higher since bottoming out on Aug 31st and we believe this trend will continue into the first half of 2011.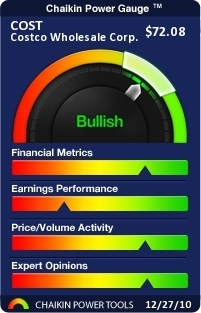 Costco Wholesale Corporation (NASDAQ:COST): 72.08
Costco is at its best when the economy is at its worst and consumers are looking to warehouse retailers to help them save money.
The company has posted consistent earnings gains for the past 7 quarters as it continues to attract consumers with its low-cost high-volume model. Costco works on razor thin margins but more than makes up for it by luring bargain-hungry consumers to join their club for an annual membership fee.
High gas prices have helped Costco's revenue growth since their stores sell gasoline at discount prices. Analysts have become increasingly bullish on the company's future earnings prospects and have raised their estimates for next year contributing to a bullish Expert Opinions metric.
Positive Money Flow activity and a strong price trend vs. the broader market contribute to bullish Price/Volume activity. Costco's pharmacy arm will continue to lure consumers looking for discount drugs. Currently trading at two year highs, we believe that any pullback from these levels would provide an excellent buying opportunity for Costco shares.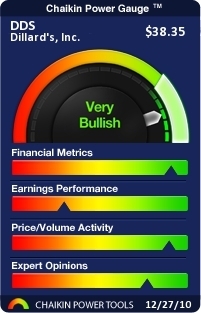 Dillard's Inc (NYSE:DDS): 38.35
Driven by improved margins, reduced costs and lower inventory, Dillard's posted a huge earnings surprise in its 3rd quarter ending in October followed by a strong revenue surge in same store sales in November.
Healthy cash flows and low valuation ratios contribute to a bullish Financial Metric. A very strong Price Trend and strong Money Flow contribute to very bullish Price/Volume activity.
Analysts have raised their estimates for 2011 EPS. Very positive price strength vs. its industry and vs. the broader market bolsters a bullish Power Gauge rating.
With all fundamentals pointing in the right direction and a very significant short interest, Dillard's is ripe for a short squeeze if current earnings trends continue and they close fiscal year 2010 in January with a strong 4th quarter.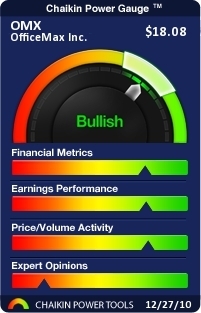 OfficeMax Incorporated (NYSE:OMX): 18.08
Despite weaker YOY revenues in Q3 2010, OMX posted a huge earnings surprise driven by lower customer acquisition and retention costs. This was followed by aggressive sales promotions during the holiday season beginning black Friday and has triggered optimism amongst analysts leading them to raise earnings estimates for the 4th quarter and for 2011.
The company shows positive price strength vs. its industry and vs. the broader market. Due to the weak revenue in Q3, OfficeMax has attracted significant short interest, which could fuel upside momentum and cause the stock to pop if the company posts a solid 4th quarter on stronger revenue numbers.
We believe OMX will continue its upward trend into 2011 as consumers and small businesses look for bargains to help them stretch their dollars, Having pulled back from recent highs with short-term price cycles bottoming this is an attractive spot to buy OMX.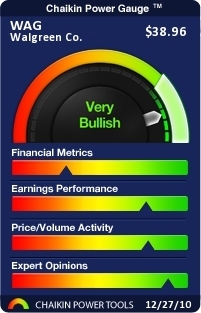 Walgreen Company (WAG): 38.96
In its most recent quarterly earnings report announced on December 22nd, the largest U.S. drug store chain reported a 19% increase in 1st quarter 2011 profits driven by tight cost controls while continuing to gain prescription drug market share from rivals.
The company has a very bullish Power Gauge rating fueled by a high ROE, consistent earnings gains, strong cash flow, a positive Price Trend and very bullish Expert Opinions. Analysts have raised their 2011 earnings estimates for WAG as the company has gathered momentum against its competitors.
The stock shows positive price strength vs. its industry and vs. the broader market suggesting that recent break-away gap in price (the second in three months) will propel the stock to further new highs. We believe the recent short-term dip is an opportunity to add this stable but growing drug retailer to a well-diversified portfolio of retail stocks.
Disclosure: I have no positions in any stocks mentioned, and no plans to initiate any positions within the next 72 hours.