There's truly something to be said for understanding how a company makes its money. A.O. Smith (NYSE:AOS) sells water heaters. Easy enough to understand? Yes. Exciting? Maybe not for some. But, that doesn't mean there's nothing heating up at A.O. Smith. Before the heat, an initial and basic overview of "who," "what," "when," "where" and "how" is necessary.
Who?
A.O. Smith's water heaters are sold to residential and commercial customers. The company estimates it has captured over 40% of the domestic residential market. That 40+% means A.O. Smith is outpacing its nearest competitor by almost 10%. On the commercial side, A.O. Smith estimates it has captured well over 50% of the market, double the percentage of its nearest competitor.
What?
A.O. Smith's branded products are sold under the names A.O. Smith, State, American, Reliance, GSW, John Wood, Lochinvar and Takagi. A.O. Smith offers gas/propane, electric, tankless, solar and hybrid models in residential markets. In commercial markets, the company offers water heaters, condensing and non-condensing boilers, storage tanks and tailored, specialty systems. A.O. Smith has also ventured into water purification
When?
Water heating systems are obviously purchased during the construction phase of both residential and commercial projects. In the United States, the residential new construction market peaked in 2006 and has had a rocky recovery. A.O. Smith states that, since 2008, less than 10% of its sales in North America are for residential new construction.
On the other hand, the replacement market in North America is thriving. Water heaters, simply, do not last forever. As well, in North America, the majority of sales on the commercial side are also for replacement systems.
Where?
Water heaters are sold worldwide and A.O. Smith records sales in over 60 countries. The majority of its sales (69%) in 2013 were made in North America. Sales to China and India represented 28% of the total. The remaining 3% of sales were made in Europe and the Middle East.
A.O. Smith's footprint in China is still expanding after twenty years of success. A.O. Smith was one of the first U.S. companies to recognize the opportunity in China. Initially, the company attempted a joint venture with a Chinese water heater manufacturer. However, after three years, it decided to build its own manufacturing plant. In the past ten years, sales in China have grown nearly ten-fold from about $59 million in 2004 to $581 million in 2013.
A.O. Smith expects India will be the next market capable of explosive growth similar to the growth in China. The company's target demographic is expected to more than triple by 2030. As the number of households in the target increases, A.O. Smith positions to build and deliver its brand.
In both China and India, A.O. Smith is also marketing water treatment/purification products.
How?
Reputation
As mentioned above, water heaters simply do not last forever. Average lifespans for residential products are reported to be anywhere from six years as a minimum to as much as twelve years maximum for electric and gas models. Some tankless models are purported to last twenty years. With the inevitability of repeat purchases, reputation is, therefore, a driving force in the industry.
To protect its 140-year reputation, A.O. Smith is focused on meeting its customers' needs, both residential and commercial. For both, saving energy and saving money are two current and primary concerns. On its corporate website, A. O. Smith has published numerous case studies where both objectives were accomplished. For example, imagine the utility company thinking its meter is malfunctioning because of a sudden drop in usage. When informed of the installation of a new A.O. Smith water heater, the utility company aborts its investigation. That is reputation.
Innovation
Saving energy and saving money are achieved with technology and innovation. In 1992, the United States Environmental Protection Agency established the Energy Star program focused on promoting energy efficiency. Products earning an Energy Star rating are third-party tested and certified.
An example listed on the Energy Star website refers to residential high-efficiency electric storage water heaters (HPWH) saving an average household $250 per year on its electric bill. One of A.O. Smith's versions of an HPWH (Voltex) estimates annual operating costs will decrease from $575 per year to $203 per year, 50% more than expected.
That same HPWH was used by the University of Georgia, Moultrie Technical College and the Tift County Foundation for Educational Excellence in a "net zero" demonstration house. A net zero home is basically meant to produce as much energy as it consumes. In addition to insulation, efficient heating and efficient lighting, highly efficient appliances are mandatory in such designs.
Yet another example of A.O. Smith's commitment to innovation is its latest commercial model introduced on July 1st, 2014. The gas water heater, named the Cyclone Mxi, delivers efficiency up to 98% as measured by the EPA's Energy Star program. The efficiency is a result of A.O. Smith's new modulating process related to adjusting the burner's firing rate. Other attributes of the latest model include built-in diagnostics, the ability to remotely monitor and a glass-lining process that protects the tank from corrosion.
The commercial boiler industry has also been transitioning from lower-efficiency boilers that are non-condensing to higher-efficiency, condensing boilers. In the ten years between 2003 and 2012, the sales of condensing boilers in the United States grew at a compounded annual growth rate of 26%. A.O. Smith projects by 2016, condensing boilers will be outselling non-condensing boilers.
Geography
With 140 years of history, A.O. Smith is a dominant mainstay in North America. With that dominance, A.O. Smith is targeting high-growth markets globally. In its summer investor presentation, A.O. Smith included results from a McKinney survey entitled Insights China. The survey projects Chinese households will transform from predominantly lower-income in 2010 (92% with annual income < $16,000) to predominantly middle-income and upper-income by 2020 (57% with annual income > $16,000). As well, the India Urbanization Economic Model from 2010 estimates its population will migrate from 84% in 2010 being lower-income (< 200,000 rupees) to 53% being middle-income and upper-income (> 200,000 rupees) in 2030.
The opportunity afforded with growing household incomes is not enough to guarantee a company's success. Branding and reputation are still key necessities in foreign markets. The 2012 McKinney Annual Chinese Consumer Survey found that, in 3 of 4 measured groups, Chinese consumers prefer, by a significant margin, purchasing foreign brands for household appliances. In 2013, A.O. Smith added a second manufacturing site in China. At its peak, capacity will increase by 50%. A.O. Smith is copying the steps that led to its success in China for India. It is building its brand and enlarging its manufacturing facility to support expanding markets.
Fiscal Responsibility
A.O. Smith's financial decisions signal an efficient and competent track record. Its cash provided by operating activities more than quadrupled from 2011 to 2013. The chart below displays the progress, maps a trend line and includes 2014's estimate compared to progress year-to-date.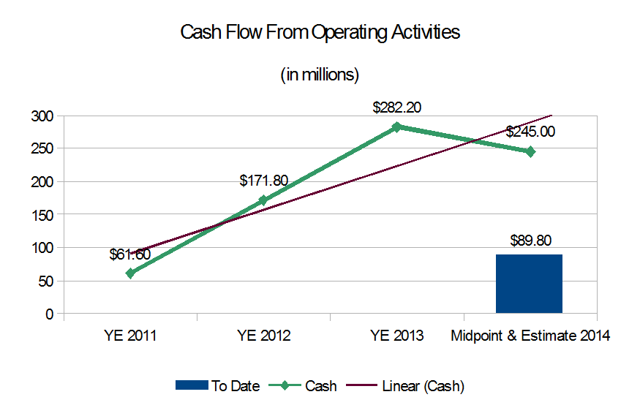 The inflow of cash from operating activities since 2011 tops $605 million. The cash asset on the balance sheet has improved nearly $275 million from $118.9 million at the beginning of 2011 to $393.7 million at the end of 2014's second quarter reporting. The remaining was allocated in the following shareholder-friendly ways:
Over 4 million shares of common stock repurchased for $180 million and

Over $270 million of long-term debt repaid and

Nearly $131 million of dividends distributed.
The current share repurchase program still has approximately 1.4 million shares authorized. The total debt to total capital ratio is 15.6, far less than the industry average of 61.96. A.O. Smith has paid dividends for 74 consecutive years and increased the amount for the last 22 years. In just the past 3-1/2 years, A.O. Smith doubled the dividend from $0.30 per share in 2011 to the recent bump in the 2014 first quarter to $0.60 annually.
Acquisition Strategy
With a current $497 million balance of cash and securities, A.O. Smith is positioned to employ its acquisition strategy. It is looking for value-creating opportunities. The situation must add to earnings in its first year, maintain or increase margins, and have growth capacity higher than the U.S. GDP. The ROIC must occur by the second or third year.
Its last acquisition in August 2011 of Lochinvar, a privately-held manufacturer of condensing boilers, water heaters and hydronic heating applications, was exemplary. The purchase price was $418 million. A.O. Smith used cash on hand and its credit facility to fund the purchase. The chart below depicts the breakeven on the purchase.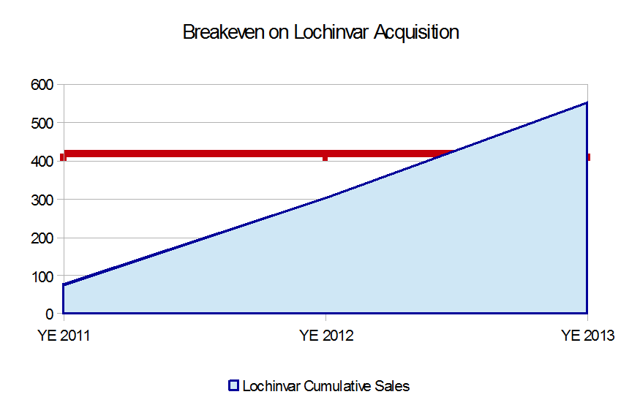 The Proof There's Heat
A.O. Smith set 2015 aspirations in the fall of 2012. The initial performance goal was to:
"Grow faster than the market and achieve greater than $3 billion in sales, with more than $1 billion from emerging regions and with a return of 14% EBIT in 2015."
In the spring of 2013, A.O. Smith further detailed its proposed path to the performance aspirations. Targeting the $3 billion in sales, the pie chart below segments the contributing factors.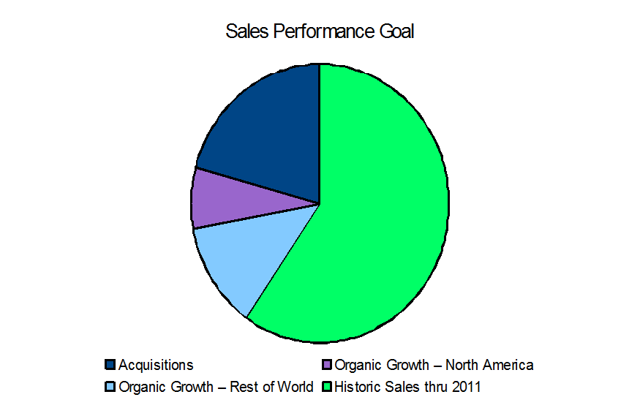 Further details of the path included:
expecting $775 million in revenue from China and India in 2015 and $1 billion from emerging regions

earnings before interest and taxes (EBIT) ratio being 14.5% for the North America segment and 13% for the Rest of World segment

EPS of $4.30 to $5.00 for 2015.
By the fall of 2013, A.O. Smith had revised its goals - positively. The EBIT ratio for the North America segment was increased to 15.5%. With a 2-for-1 stock split in May 2013, the 2015 EPS range adjusted to $2.15 - $2.50. By fall, the lower end of the range was bumped to $2.25 per share.
In March 2014, additional positive revisions were published. The revenue from organic growth was increased to over $2.5 billion. The EBIT ratio for the North America segment was revised again to 16%. The EPS, too, was bumped again to $2.50 per share.
In the 2014 second quarter earnings release, A.O. Smith adjusted the 2015 outlook favorably yet again. For the first time, the EBIT ratio for the Rest of World segment increased to 14%. And, EPS was increased for the third time to $2.60 per share.
The two components yet to come to fruition in the 2015 aspirations are:
$1 billion for emerging markets including $775 million of revenue for China and India and

an acquisition providing $640 million in revenue.
The trailing twelve months revenue for the Rest of World segment is $727 million. The chart below projects the growth through the last quarter of 2015 using both the most recent quarter's year-over-year growth and A.O. Smith's objective of two times China's GDP. As shown, the $1 billion is achievable.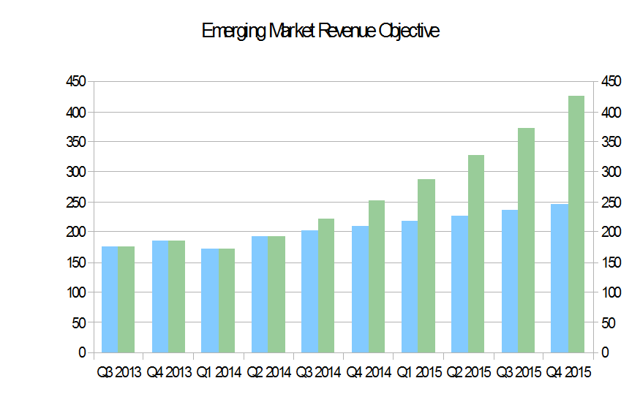 The chart below displays A.O. Smith's history for revenue and margins as well as the path toward its 2015 aspirations.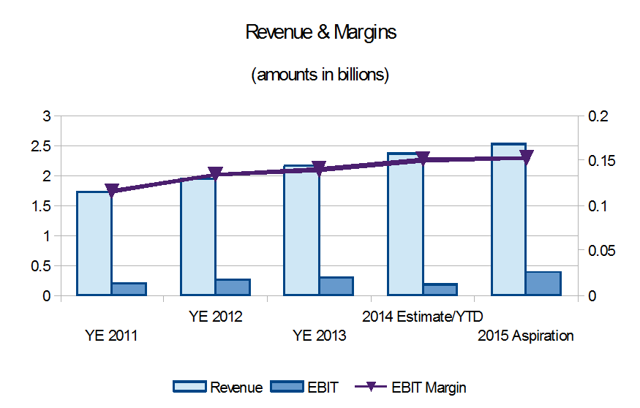 With increasing revenue, improving margins, solid progress on and repeated revisions of its 2015 aspirations and well-defined requirements for success, A.O. Smith still has heat after 140 years.
Why Now?
A.O. Smith has been trading in the high $40 range for months, a 10% pullback from the $50 to $54 range it traded in from October 2013 to January 2014. Considering a historical P/E ratio of 21.6 and the 2015 minimum EPS target of $2.60, A.O. Smith could easily be valued just over $56.00. Using the same P/E ratio and the midpoint of management's EPS guidance for 2014 at $2.37, A.O. Smith appears fairly valued in the high $40 range.
In many situations, with the simple turn of a faucet, a steady stream of hot water flows. A.O. Smith makes its living making that happen. A diverse portfolio has a spot for a steady company that provides a stream of profit to share with its investors. A.O. Smith is worth consideration to be that steady provider. Its most recent growth projections are believable and already proving true. With every aspiration update, every innovation, every efficiency, every dividend increase, every expansion and more, A.O. Smith turns up the heat.
Disclosure: The author is long AOS.
The author wrote this article themselves, and it expresses their own opinions. The author is not receiving compensation for it (other than from Seeking Alpha). The author has no business relationship with any company whose stock is mentioned in this article.
Additional disclosure: I belong to an investment club that owns shares of AOS.