Besides the obvious problems with the Winnebago (NYSE:WGO) business model and valuation, there are three other sticky wickets that people should be thinking about: the defined benefit obligations, the repurchase commitments, and inventory restocking pace. I will give some notes on each of them, below.

Postretirement health care
Winnebago provides certain health care and other benefits for retired employees hired before April 1, 2001, who have fulfilled eligibility requirements of age 55 with 15 years of continuous service. Retirees are required to pay a monthly premium for medical coverage based on years of service at retirement and then current age.

The total postretirement health care and deferred compensation benefit obligations were $79 million at the end of the most recent quarter. This is actually the biggest liability on their balance sheet. Importantly, this liability is an estimate, based on a projection of health care costs many years into the future. How would you like to be short baby boomer health care costs?

Repurchase Commitments
Most Winnebago dealers' inventory is financed on a "floorplan" basis under which a bank or finance company lends the dealer all, or substantially all, of the purchase price. Winnebago enters into repurchase agreements with these lending institutions, which provide that, in the event of default by the dealer on the agreement to pay the lending institution, Winnebago will repurchase the inventory. Winnebago's contingent liability on these repurchase agreements was approximately $170.3 million at November 27, 2010. [The aggregate contingent liability related to our repurchase agreements represents all financed dealer inventory at the period reporting date subject to a repurchase agreement, net of the greater of periodic reductions per the agreement or dealer principal payments.]

[Also, some states have laws that would require Winnebago to repurchase inventory if a dealership exited the business. Incremental repurchase exposure, beyond existing repurchase agreements, totaled $6.8 million at November 27, 2010.]
Winnebago establishes a loss reserve for these repurchase commitments, although it assumes that any liability is "reduced by the potential resale value of any products that are subject to repurchase and is spread over numerous dealers and lenders." Thus, the accrued loss on repurchases was $964,000 as of November 27, 2010.
Inventory Restocking Bounce
The blue line in the chart below is the ratio of "Retail Registrations" of Winnebago product (actual purchases by end users) to "Wholesale Deliveries" of product (shipments to dealers). I am calling this the Retail/Wholesale Delivery (RSD) ratio.
Click to enlarge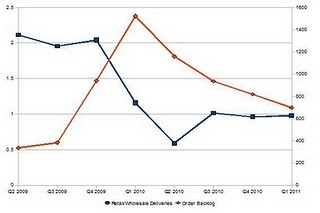 A high RSD is bullish for sales because it indicates that the dealers are selling product faster than they are receiving shipments. That means that the dealers' inventories are being drawn down. If they are to maintain their usual inventory levels, they will have to order more in the future to compensate - this is "pent up demand".
As you can see, at the beginning of the recovery dealers had pent up demand for Winnebago inventory. That resulted in the backlog increasing to almost 1600 units.
Now, the dealers have fully restocked. The RSD is around 1, which means that Winnebago will no longer be benefiting from pent up demand. The result is that the order backlog has plummeted.
Investors should be aware that Winnebago was only marginally profitable when it was shipping tons of product to restock dealers' drawn-down inventories.
Most investors are only proficient at linear extrapolation. They probably expect that not only will the inventory restocking pace continue, but that the implied growth in sales during the change from inventory drawdown to inventory restock will continue. They are making a crazy bet on a second derivative.
Disclosure: Short WGO.