In general, the full-service airline focuses on the premium-paying business traveler, whereas the price-sensitive traveler is targeted by the low-cost carrier. Business travelers are considered to be a homogeneous group, and are not segmented into sub-groups. This article discusses business traveler heterogeneity, and argues that short haul business travelers regard low-fare airlines as viable alternatives to full-service carriers.
Table 1 displays the mean importance given to various product elements by the two groups surveyed (10 is the highest level of importance). (If the reader is familiar with sophisticated statistical analysis, I recommend this article.) The data suggests that there exists two types of business traveler, and they are differentiated by their willingness to pay for amenities. The "luxury-loving" business traveler places significantly more importance on the quality of the business lounge, frequent flier program, and in-flight service. The "no-frills" business traveler values the aforementioned amenities to a significantly lesser degree, and is considerably more price-sensitive than the "luxury-loving" business traveler. Furthermore, research indicates that the premium-paying business passenger works for a large corporation, whereas the no-frills business traveler works for a small- or medium-sized firm. Provided that many frequencies are offered, the low-fare airlines are in a position to compete with full-service carriers for "no-frills" business travelers.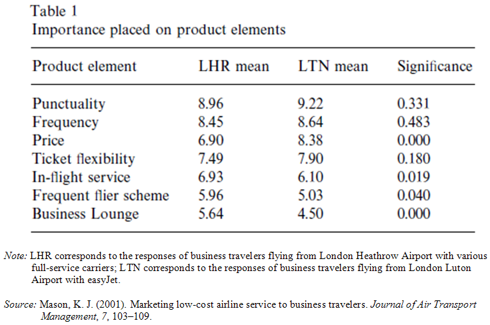 charts
Since 2007, Southwest's (NYSE:LUV) ratio of business passengers to total passengers has risen, whereas that of legacy carriers has fallen (see Figure 1). It is suggested that domestic business travelers have shifted to the low-cost carrier due to a recession-caused reduction in corporate travel budgets (see Figure 2). Moreover, it is unclear whether business passengers will return to legacy carriers once pre-recession travel budgets are reinstated. Business travelers have become familiar with the Southwest product, and may lower their valuations of the extra amenities provided by full-service airlines.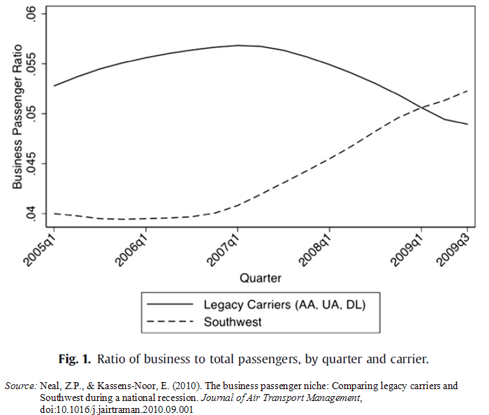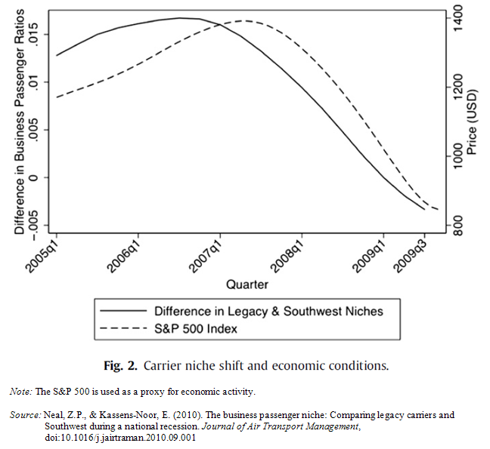 Contrary to the prevailing view, business travelers are heterogeneous, and may be segmented according to their willingness to pay for amenities. Low-fare airlines are in a position to compete with legacy carriers for "no-frills" business passengers. This indicates a fundamental change in the market targeted by low-cost carriers.
Disclosure: I have no positions in any stocks mentioned, and no plans to initiate any positions within the next 72 hours.