By Thomas Boccellari
In many markets, index investing is appealing because it takes a free ride on the collective efforts of active investors, offering comparable exposure at a fraction of the cost. As long as the index is representative of what active managers in the fund world are doing, it's a good bet that a low-cost index fund will beat the average manager in the category.
However, the Barclays U.S. Aggregate Bond Index has increasingly diverged from actively managed funds in the intermediate-term bond Morningstar Category during the past five years. At the beginning of 2000, funds that tracked the Aggregate Index held bonds that were similar to the category average in duration, credit quality, and performance. But that has changed during the past several years.
Following the global economic crisis, the federal government issued more debt at a more rapid pace than corporations in order to cover the growing deficit. Because the Aggregate Index weights its holdings by market capitalization, it has increasingly devoted a greater part of its portfolio to U.S. Treasuries. During the past 14 years, the percentage of U.S. Treasuries in the Aggregate Index increased to more than 40% from 16%.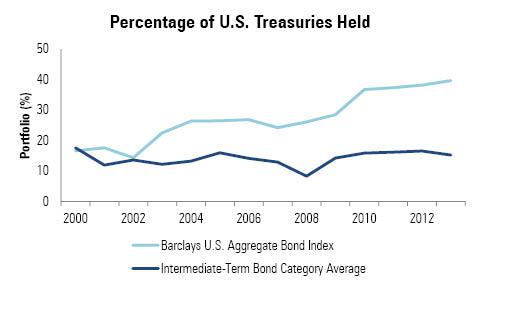 Source: Morningstar Direct; Data as of July 31, 2014.
Actively managed funds in the intermediate-term bond category were not constrained in this way and did not follow suit. On average, they devote only slightly more of their portfolios to U.S. Treasury bonds than they did in 2000. As a result, the Aggregate Index's yield declined relative to the category average.
Foreign governments, banks, and insurance companies tend to overweight Treasuries relative to the average active fund manager in the intermediate-term bond category. But they do not usually do so to generate more attractive performance. Banks hold Treasuries to meet capital requirements. Insurance companies and pension funds may use them to match the duration of their assets and liabilities and to maintain a conservative risk profile. Similarly, foreign governments finance Uncle Sam's spending spree because the U.S. dollar is the world's reserve currency, and Treasuries represent a relatively low-risk way for them to preserve capital.
Investors, on the other hand, may not find Treasuries to be the most compelling option. Currently, the yield of the 10-year Treasury is 1.9%. That's not much compensation for its interest-rate risk. Investment-grade corporate bonds are only offering a little more. The Bank of America Merrill Lynch U.S. Corporate BBB Bond Index, whose holdings have an average maturity of 10.5 years, is yielding 0.9% over the 10-year Treasury. But that extra yield can be appealing in a low-rate environment, despite the added risk.
Treasuries and government-backed bonds have historically provided poorer risk-adjusted returns (as measured by the Sharpe ratio) than investment-grade corporate bonds of similar duration. The table below shows that corporate investment-grade bonds have offered better bang for the buck over the trailing one-, three-, five-, 10- and 15-year periods.

Since 2000, active managers have held lower-quality investment-grade bonds than the Aggregate Index has held because of their larger allocations to corporate bonds. Active managers have the flexibility to buy a variety of different bonds and can purchase a greater number of investment-grade corporate bonds that may provide greater returns over the business cycle than Treasuries. The chart below shows the current portfolio composition of the Aggregate Index and the average intermediate-term bond fund.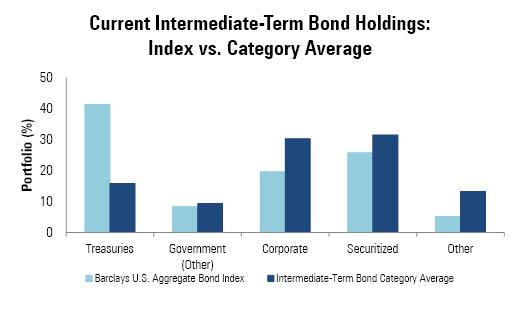 Source: Morningstar Direct; Data as of June 30, 2014.
Duration
The index also sports a longer duration than the intermediate-term bond category. Once again, active managers' flexibility is an asset here. They can change their duration profile to take advantage of their interest-rate forecasts. Index funds that track the Aggregate Index, however, lack this luxury. Because the government increasingly issued intermediate- and long-term debt while interest rates fell, the duration of the Aggregate Index increased nearly one-year during the past decade.
During that time, interest rates have fallen. Active managers in the top third of the intermediate-term bond category over the most recent 15 years were able take advantage by changing the durations of their portfolios. As the threat of interest-rate increases looms, active managers have, on average, reduced their duration profile to limit losses. In contrast, the Aggregate Index's duration has increased. It could be at a disadvantage to its active counterparts if rates increase.
Not All Bad
During periods of market turbulence, like 2008, exchange-traded funds that track the Barclays U.S. Aggregate Bond Index, like iShares Core U.S. Aggregate Bond (NYSEARCA:AGG) and Vanguard Total Bond Market (NASDAQ:BND) (1), were among the top performers because of their greater exposure to Treasuries--one of the only asset classes with positive performance that year. The index's lower risk profile could help when investors need it the most.
In a low-interest environment where bond yields are near all-time lows, rock-bottom fees can make a big difference. Currently, the yield to maturity of the average intermediate-term bond fund is 3.1%. Vanguard Total Bond Market Index (VBTLX) offers a lower 2.7% yield. However, it more than makes up the difference with its 0.08% expense ratio, which is 0.77% less than the category average (0.85%).
The chart below shows the relative monthly performance of Vanguard Total Bond Market Index against the intermediate-term bond category average. As expected, the fund performed well in the aftermath of the tech bubble in 2000-01 and provided superior relative returns during the global economic crisis in 2008. However, following the economic crisis, Vanguard Total Bond Market Index has underperformed the broader market because of its more conservative credit-risk profile and lower yield.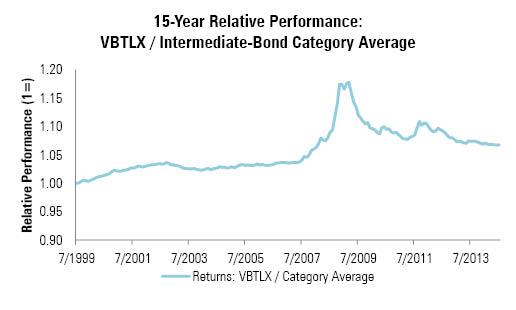 Source: Morningstar Direct; Data as of July 31, 2014.
If interest rates increase in the future, active funds with lower duration and greater exposure to corporate bonds will likely continue to outperform the Aggregate Index.
Gold-rated actively managed bond funds, such as Metropolitan West Total Return Bond (MWTIX) and Loomis Sayles Investment Grade Bond (LSIIX), may be a better choice for long-term investors than an Aggregate Index fund. Their ability to change with the market puts them at an advantage to the more constrained index because they can buy a greater variety of bonds to maximize returns in different markets, such as low-yield and rising interest-rate environments.
BND's more conservative risk profile may make it a better choice for the shorter term because of its 40% investment in stable-coupon and low-volatility U.S. Treasury bonds. Then again, funds that track a Treasury index, like iShares Core U.S. Treasury Bond (BATS:GOVT), may be an even better choice because of their lower volatility and greater potential downside protection during periods of market stress.
(1) Vanguard Total Bond Market BND and Vanguard Total Bond Market Index VBTLX began tracking the Barclays U.S. Aggregate Float Adjusted Index in July 2010. The new bogy is similar to the Barclays U.S. Aggregate Bond Index, except it does not hold securities held by the Federal Reserve.
Disclosure: Morningstar, Inc. licenses its indexes to institutions for a variety of reasons, including the creation of investment products and the benchmarking of existing products. When licensing indexes for the creation or benchmarking of investment products, Morningstar receives fees that are mainly based on fund assets under management. As of Sept. 30, 2012, AlphaPro Management, BlackRock Asset Management, First Asset, First Trust, Invesco, Merrill Lynch, Northern Trust, Nuveen, and Van Eck license one or more Morningstar indexes for this purpose. These investment products are not sponsored, issued, marketed, or sold by Morningstar. Morningstar does not make any representation regarding the advisability of investing in any investment product based on or benchmarked against a Morningstar index.