I sold a portion of my Brookfield Asset Management (NYSE:BAM) position yesterday for several reasons.
First of all, stock is up a lot. The stock shot up more than 50% since its yearly bottom in July. Second, I'm starting to dislike BAM. The company missed the last two quarters, it trades at almost 30 future P/E and projected PEG is way over 2. I'm going to do more research and determine if I want to get rid of position completely. But reducing it now looks like a good idea.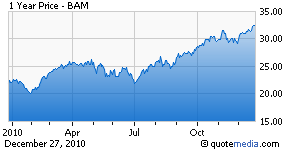 The third reason is that we are in a strong year end window dressing mode. It's a good time to sell.
Last but not least. This portion was bought long time ago at higher price. Selling it actually creates a tax loss, which isn't that bad to reduce tax profit for the year.


Full Disclosure: At the time of publication author had a long position in BAM. Positions can change any time.