Company Overview
Valmont Industries (NYSE:VMI) is a distributor of fabricated metal products to companies in the irrigation, infrastructure, utilities, mining, and other similar markets. Some of their products include steel poles for lighting and traffic equipment, a series of highway safety items, steel and concrete utility transmission poles, irrigation equipment, and protective zinc coating. The company, founded in 1946, has over 10,000 full time employees. Valmont's operations spanned over 24 countries last year and earned them $3.3 billion in revenue. The chart below illustrates that Valmont has found considerable success in continually becoming more profitable throughout the past ten years, with little more than a bump along the way: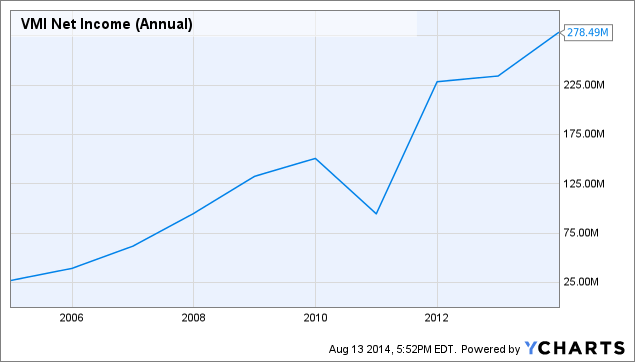 VMI Net Income (Annual) data by YCharts
A Quick Word On Management
Before jumping into the company's operations, it is worth making note of the exceptional leaders at Valmont. One point I would like to make is that the CEO, Mogens Bay, is incredibly competent and transparent. He has held the position of CEO since 1997, and the company has improved drastically since then. Also, he is still, to this day, very honest about the problems that the company may be facing. To avoid misleading investors, Bay often responds to questions by saying something along the lines of "it's too early to say". This is a much better strategy than providing an optimistic outlook and not having things fall through directly. And it's not a lack of confidence in the company, but rather a willingness to take problems head-on and combat them in the most effective way possible. The first step in combating a problem is to acknowledge that it's there, and Bay has not been shy in detailing company issues and describing a plan of action to take care of them. As investors, this is the type of leadership that we look for in companies. Overtime, this head-on approach should continue to allow Valmont to take care of their problems in effective ways and continue to create greater value for shareholders. The company has a very highly qualified Board of Directors that should lead them in the right direction. Other than Bay, a few more directors include:
Lead Director Kenneth Stinson, who has been a director since 1996.
Glen Barton, the former Chairman and CEO of Caterpillar, provides powerful connections in the industry.
James Milliken has been on the Board for about three years and is the President of the University of Nebraska.
Clark Randt, Jr. is the former U.S. Ambassador to China.
Walter Scott, Jr. has served on the Board for more than 30 years and is the Chairman of Level 3 Communications.
Effective Strategy
For past improvement, the company has relied heavily on leveraging multiple aspects of Valmont's strengths. At the base of the company is its high quality products that are produced and distributed widely thanks to expertise in engineering, high productivity manufacturing, and a global mindset to stretch the influence of Valmont. With such a vast array of markets that the company currently address, they fuel plenty of growth by bringing new products to existing markets. Furthermore, the company also leverages current product offerings by continually bringing them to new markets. This continual market penetration is driven by superior products, great customer service, and continued innovation. The combination of these factors differentiates Valmont from the competition. Going forward, this will help Valmont capture significant growth in markets they currently aren't even targeting. You simply can't have a world class product and not continually see increased demand for it. Of course, heavy market saturation can bring certain growth trends to and end at some point, but Valmont's innovation and global reach ensures that there is always demand somewhere. Growth isn't only fueled by product innovation, though. The company will often enter new markets and simply bring their existing products with them. For example, establishing a manufacturing presence in China has recently helped the company to increase demand for their pole structures for lighting and other utilities. As new markets are continually uncovered and entered, there will be new sources of growth for Valmont. As of right now, there are a few key growth opportunities that Valmont has stumbled upon, and I will address them in a moment. Additionally, this organic expansion is supported by acquisitions, which I will also provide some insight on. Thanks to this well established growth strategy, there is reason to believe that Valmont will maintain significant growth rates into the foreseeable future.
Various Growth Opportunities
Valmont appears to have a bright future among numerous portions of its business thanks to fantastic products and growing penetration across various markets. It benefits from a series of global trends including increased population, economic recovery, higher demand for infrastructure, and more. I will analyze these factors and how they drive certain parts of Valmont's business in the right direction.
Rising Population And Farmer Income Creates Irrigation Demand
The charts below show two critical trends. The first is continually rising farmer incomes, and the second is improving financial conditions for farmers (Source: Congressional Research Service).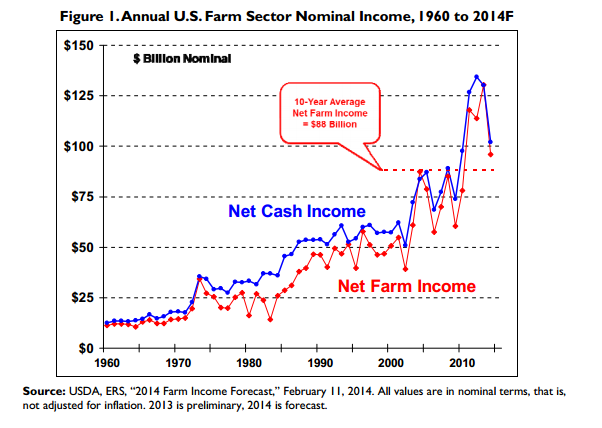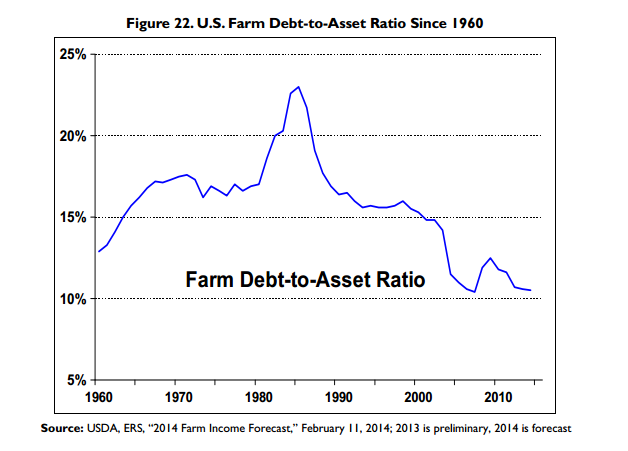 As farm incomes continue to rise and financial conditions improve, farmers find greater investments in their equipment to be more affordable. As a result, more and more farmers are able to afford the high quality irrigation systems and components that Valmont can provide. Additionally, rising populations across the world will drive higher demand for food, and thus the expansion of both the farming and irrigation industries. As a matter of fact, the United Nations estimated last year that the global population would be at 9.6 billion by 2050. With such high population growth creating greater demand for food and healthy farmer balance sheets allowing them to invest heavily in areas such as irrigation, Valmont's irrigation segment is looking at quite a profitable future.
Additionally, there are still many areas around the globe that are in need of further improvements in irrigation techniques. Valmont estimates that 84% of global irrigated acres still use flooding. One particular region that could benefit from greater investment in irrigation is Sub-Saharan Africa (this article goes into detail about the issue). According to the article, about 5% of global GDP comes from agriculture. In this region, though, estimates are around 20%-25%. Furthermore, about 25% of people in this region still aren't getting enough calories in despite the fact that the region has more arable farm land than Asia or Latin America. Nevertheless, 95% of farms in the region rely on a 4-5 month rainy season for their water. The economy of this region as well as the health of its people could drastically improve if greater investments were made in irrigation. This is just one example of the many potential markets that Valmont is targeting for this segment's growth.
One additional driver of growth for this segment is a global need for the agricultural industry to use less water. According to the United States Department of Agriculture, the agricultural industry accounts for about 80% of the nation's consumptive water use. The USDA put it best:
Efficient irrigation systems and water management practices can help maintain farm profitability in an era of increasingly limited and more costly water supplies. Improved water management practices may also reduce the impact of irrigated production on offsite water quantity and quality, and conserve water for growing nonagricultural demands.
As you can see, irrigation systems and parts are in high demand and can serve a critical purpose in multiple regions around the world. Being a world class distributor of irrigation equipment, Valmont should profit immensely from this growing demand. Going forward, Valmont benefits from their unique positioning in the agriculture market. With irrigation systems being a key area for farmers to invest in, Valmont might not be hurt so bad by the potential threat of falling commodity prices. Furthermore, it is likely that any damage that is done will at least be partially offset by heavy government investments in agriculture.
Economics Advancement Translates To Growing Infrastructure And Utilities Markets
The company's Engineered Infrastructure Products (EIP) and Utilities Support Structures (USS) segments will be benefited by a series of related trends. First of all, a growing population inherently calls for an infrastructure system to serve it. With population estimates being as high as the one I cited earlier, the infrastructure market is likely to grow rapidly to keep up with the world population. So where exactly will these investments be? The charts below, take from an OECD infrastructure report, show exactly that: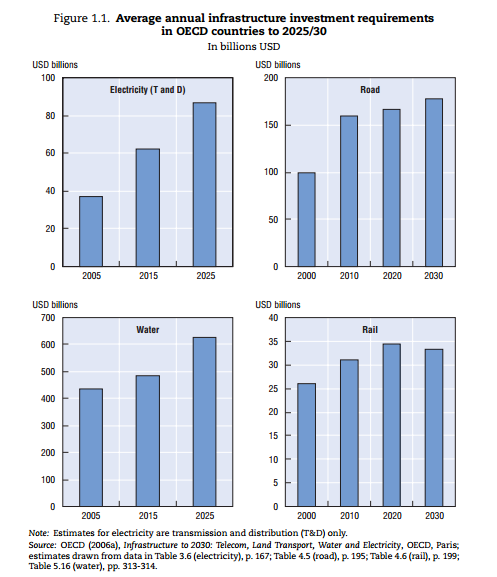 As you can see, this undeniable trends have been in place for quite some time, and growth in each area is critical for maintaining infrastructure systems that allow population to thrive. These trends, having been forecast by reliable sources, have more or less become well known "facts". Further proof of these trends and examples of similar ones can be seen in a series of points taken from the company's investor presentation:
"Rising Per Capita Roadway Miles Driven in Developed Economies."
"Increasing Vehicle Ownership in Emerging Economies."
"U.S. Energy Bill of 2005 Created Incentives for Utilities to Increase Grid Reliability."
The world's consumption of electricity will double by 2030.
1.4 billion people in emerging economies across the globe do not have electricity.
"Edison Electric Planned Capacity Additions Include $61.2 B of Large Projects to 2021."
Growing investments in highways.
The question, though, is whether or not Valmont will be able to profit from these trends. Because of their unique positioning that allows them to capitalize on each area of improvement, I believe that the company will see increased earnings for years to come. Not so much consistently increasing earnings year to year, but I believe that the general trend will definitely be one of growing profits. One of the reasons that Valmont should be able to profit is their unique strategy, which I have already described. With existing high quality products, Valmont is ready to enter new markets as the infrastructure and utility investments in certain regions start to rise. On the other hand, Valmont's expertise in these areas also allow the company to introduce new products that are capable of increasing the returns that governments and companies see on their infrastructure investments.
One example of Valmont profiting from major trends is the company's success with utilities due to regulatory requirements continually becoming more strict. As a result, the demand for Valmont's high quality steel and concrete poles increases, and they are able to capitalize on the growth of an existing product in an existing market. On a recent earnings call, the CEO said that there's a "number of large transmission projects in the pipeline" that are planned over the next few years. The real story, though, lies further down the road. The unforeseen growth comes from when Valmont makes further differentiations for their product and thus is able to serve customers more effectively, as well as when emerging economies reach a stage of stability and call for regulation. In both of these cases, Valmont will answer the calls of their current and potential customers.
An Examination of Acquisition Strategy And The Balance Sheet
The company's general acquisition strategy was described by the CEO in a recent earnings call:
Well every deal is a miracle. We have a number of activities going on and M&A and we can't predict when any of those may come to fruition but despite our repurchase program for our stock, we have plenty of dry powder to pursue acquisitions that we can get at the right value. There are plenty of companies out there that can be acquired, the question is can you acquire them at a value that not only do you get EPS accretion which is a short term benefit but what you really can beat your cost to capital, that's the only way you're going to create shareholder value over the long term and we're going to stay disciplined in doing the best we can to make sure that we can beat our cost of capital with those acquisitions.
Overall, this strategy is a fantastic one to have in place. Calling each deal a "miracle" is reflective of the thought and effort put into each potential acquisition. Like most companies, Valmont aims to cheaply acquire other business that will complement their operations nicely. An example of a key acquisition that has recently occurred was when the company bought DS SM A/S, which if now referred to as Valmont SM. Here are the key details of the company:
Valmont SM is a market leader in Northern Europe that manufacturers steel structures for use in a variety of markets including wind energy, offshore oil and gas, and electricity transmission.
Annual sales of about $190 million.
Two manufacturing locations in Denmark.
The enterprise was valued at $148 million.
The reason why this acquisition is such a fantastic example is that Valmont SM fits like a puzzle piece into existing operation and matches the company's growth strategy. With this acquisition, Valmont increased its geographical exposure, this time targeting Northern Europe. This will be yet another source of growth for the company, and Valmont can now reveal its expertise and capabilities to an even larger group of customers. This, in turn, will lead to greater sales for the company as it capitalizes on infrastructure development and continually increases their exposure to potential customers in the region. Additionally, the deal works out just as well for the seller. The company's CEO said, "we believe that Valmont provides the best strategic fit for DS SM and enables the next growth phase for our company". This much smaller company will surely benefit from Valmont's immense scale, engineering expertise, and customer/supplier relationships.
Going forward, it is important to note that Valmont's balance sheet has room for another acquisition. The chart below shows the company's rising financial health: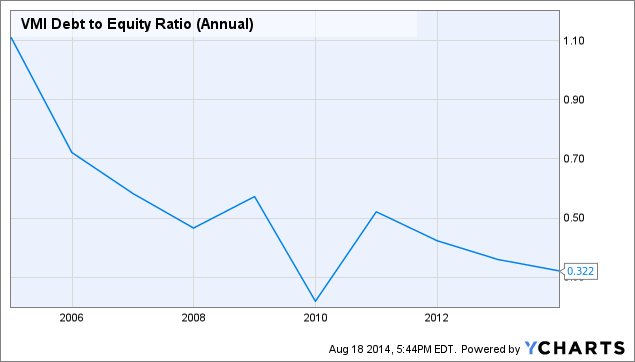 VMI Debt to Equity Ratio (Annual) data by YCharts
Furthermore, Valmont currently has $455.39 million in cash as well as a quick ratio of 3.59, indicating that meeting short term debt obligations shouldn't be difficult. Overall, Valmont's balance sheet can definitely handle another acquisition if management desires one.
Struggles Likely To Be Short Term
Although the long term story seems pretty optimistic to me, it would be unethical to say that there aren't short term risks:
Falling commodity prices: Commodity prices are significantly tough to predict, and you never know when they'll start to head down. Valmont could be adversely affected by falling crop prices, which would reduce farmer income and in turn reduce investments in irrigation.
Global austerity measures due to the Great Recession as well as the European debt crisis could delay significant amounts of infrastructure spending until these problems are dealt with.
The company's coating business derives significant revenue from the Australian mining market, which has been seeing serious struggles lately. Here are three articles that illustrate the nature of these struggles: Article 1 and Article 2.
Competitive pricing and shorter lead times have caused problems for the USS segment in recent quarters.
As a way of combating many of these issues, the company has focused on improving their cost structure. The company is trying to make savings wherever they can, whether that be in SG&A, consolidation, or focusing on different customers. For example, the company is going to consolidate the operations of a small factory in Texas into a larger one during the third quarter. The change will cost "about a couple of million dollars" and management expects savings to be about $2 million per year.
Valuation
The charts below show that Valmont's valuation on a historical basis.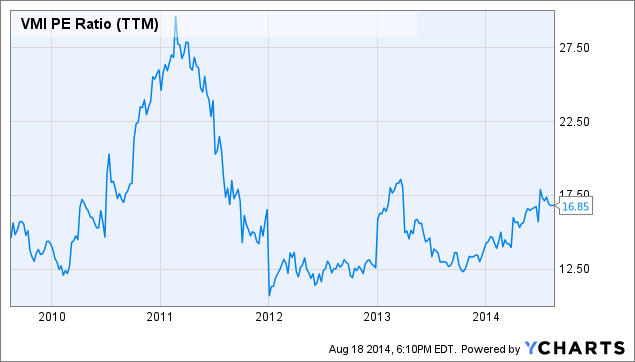 VMI PE Ratio (NYSE:TTM) data by YCharts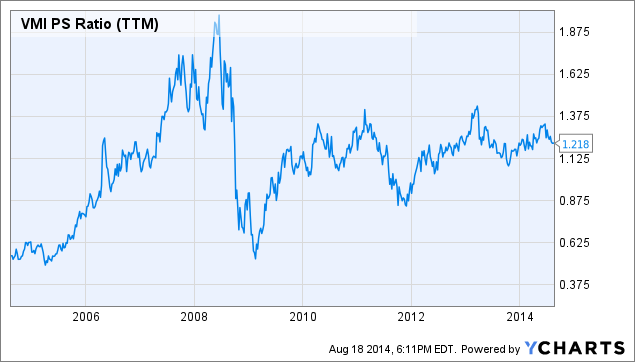 VMI PS Ratio (TTM) data by YCharts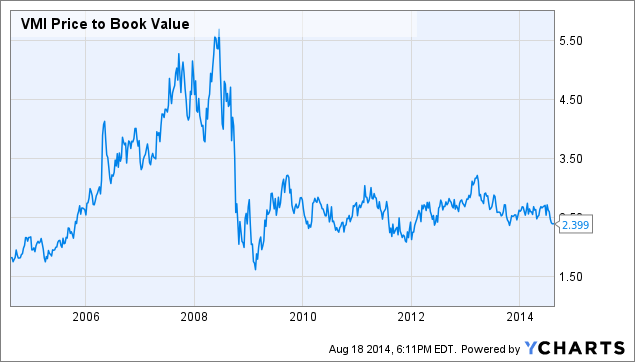 VMI Price to Book Value data by YCharts
As you can see, the stock appears to be undervalued based on historical metrics. If the company was trading at a PE of 20, which isn't something that has been all that rare in the past, the stock price would currently be $188 (based on TTM EPS of 9.54). This is an increase of about 30%. I believe that this scenario is possible, and maybe even likely. This is because the numerous growth opportunities I have addressed should increase earnings significantly over the next few years. As a result of sustained high growth rates, we could see considerable multiple expansion. For this reason, I believe that Valmont's stock is currently available at quite an attractive price. Due to the short term struggles, though, it might be a good idea to wait for a dip depending on your investment horizon. For investors that believe in buying and holding, Valmont is definitely worth doing some more research on and maybe pulling the trigger soon before the price gets much higher.
Sources
Disclosure: The author has no positions in any stocks mentioned, and no plans to initiate any positions within the next 72 hours. The author wrote this article themselves, and it expresses their own opinions. The author is not receiving compensation for it (other than from Seeking Alpha). The author has no business relationship with any company whose stock is mentioned in this article.