Youku's (NYSE:YOKU) 2Q14 result was anything but cool. Both the revenue of RMB959m (US$155m) (+27% y/y) and EPS of -RMB0.41(-US$0.07) missed consensus by RMB22m and RMB0.07, respectively. The miss in revenue was a function of an RMB40m in deferred revenue as the company was in the process of renewing a service agreement with a mobile carrier. Had the revenue been recognized this quarter, topline would have beat by RMB20m. The company also guided Q3 revenue of RMB1.09-1.13b, below consensus of RMB1.2b. The stock was down 8% after market following the Q2 print.
Shifting to a low gear
Net revenue continues to show signs of deceleration, +27% y/y vs. Q1's +36% y/y, and reflects the challenges of mobile transition despite the company's attempt to introduce bundled pricing to the customers. I note that mobile monetization again stood at ~30% of the total revenue in Q2 (flat q/q), indicating that advertisers continue to prefer single-screen service to multi-screen despite the bundled pricing.
Besides the challenges of mobile monetization, the decelerating revenue growth also highlights the competitive pressure from the larger players such as Baidu (NASDAQ:BIDU) whose iQiyi and PPS have been grabbing user time spent and traffic at the expense of YOKU. In my view, YOKU is in a difficult spot with slower than expected mobile monetization and the competition hitting the topline growth, while rising content cost is pressuring the margin. Unless revenue growth stabilizes and we see meaningful ramp up of mobile monetization, I would recommend investors to stay on the sidelines for now.
Mo money mo problem?
At the end of the quarter, YOKU has net cash of $1.64b, including restricted cash and short-term investment, which is equivalent of 44% of its market cap. With all the cash on the books, it would be wise for Youku to ramp up its original contents and/or pursue M&A. YOKU got to where it is by acquiring rival Tudou to become what it was then the largest online video platform in China. However, Baidu matched that strategy when it rolled out iQiyi and acquired PPS to become the largest online video platform in China today. While YOKU can focus on organic growth, I am skeptical that time is on its side. Instead, YOKU could acquire a rival or form a joint venture with a rival to compete against Baidu.
One probable partner could be Leshi (300104 CH) which also specializes in online video but also has a larger offline presence thanks to the popularity of its smart TV. Through this partnership, YOKU could enjoy higher traffic from Leshi's smart TV viewers and their collaboration on content could improve viewer time spent. I note that Baidu commanded 28% of online video and P2P time spent, per iResearch data, in June, compared with 20% in YOKU and 13% in Leshi. This implies that the combined time spent on Leshi and YOKU could be >30%.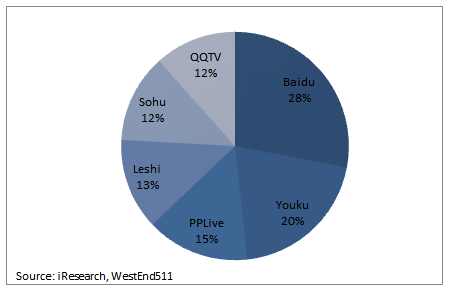 To conclude, YOKU's Q2 result once again showed that mobile monetization will be longer than expected and that the competitive pressure is intensifying. At 6x P/S, we could see further multiple contraction following this quarter as shares de-rate.
Disclosure: The author has no positions in any stocks mentioned, and no plans to initiate any positions within the next 72 hours.
The author wrote this article themselves, and it expresses their own opinions. The author is not receiving compensation for it (other than from Seeking Alpha). The author has no business relationship with any company whose stock is mentioned in this article.