Undervalued or overvalued? That is the question when comparing DepoMed (NASDAQ:DEPO) vs. InterMune (NASDAQ:ITMN).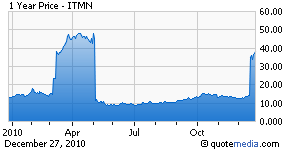 The market cap of InterMune is 7 times that of DepoMed. A closer look shows that for investors DEPO may be the better value of the two. A firm PDUFA date of Jan 30th makes the case even stronger when you think of the royalties that Abbott Laboratories (NYSE:ABT) has to pay DepoMed in the near term upon approval of DM-1796!

DepoMed is seeking approval of DM-1796 (gabapentin) which has 40 million US prescriptions worldwide. The market is large for Lyrica sales of $1.5 billion in the US and $2.8 billion worldwide in 2009.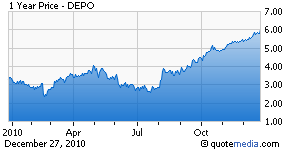 InterMune is seeking an indication for Esbriet for idiopathic pulmonary fibrosis in the first quarter 2011 (estimated). This is a smaller market relative to the market DepoMed is entering. InterMune is seeking European approval for Esbriet after the FDA rejected the drug in 2010. InterMune does not, to my knowledge, have a firm PDUFA date with the FDA. It could occur at any time.

Below are financial statistics through the close of 12/27/10 of two companies with pending approval dates from the FDA in the first quarter of 2011.

Share Price of DEPO is $6.00 and ITMN is $38.00

Market Cap of DEPO is $316 million and ITMN is $2.13 bilion

Revenue of DEPO is $73.14 million and ITMN is 24.24 million

Revenue per share of DEPO is $1.40 and ITMN is $0.47

Gross Profit for DEPO is $52.47 million and $41.7 million for ITMN

Diluted EPS for DEPO is 0.3 and -2.16 for ITMN

Total Cash for DEPO is $66.8 mill and $128.8 mill for ITMN

Total Cash per share for DEPO is $1.27 and $2.30 for ITMN

Total Debt for DEPO is $3.15 million and $128.8 million for ITMN

Book Value per share for DEPO is .39 and -1.21 for ITMN

Float for DEPO is 39 million and is 38.4 million for ITMN

Shares Outstanding is 52 million for DEPO and 56 million for ITMN

Insiders own 7% for DEPO and 18% for ITMN

Institutions own 60% for DEPO and 75% for ITMN

Shares short as of Nov 30th 2.5 mill for DEPO and 5 mill for ITMN

Short % of float 6.5% for DEPO and 13.5% for ITMN

DEPO is the screenshot below then ITMN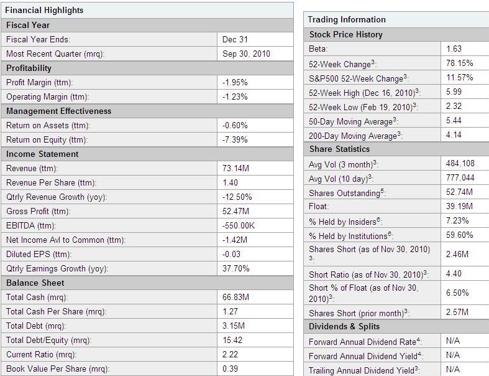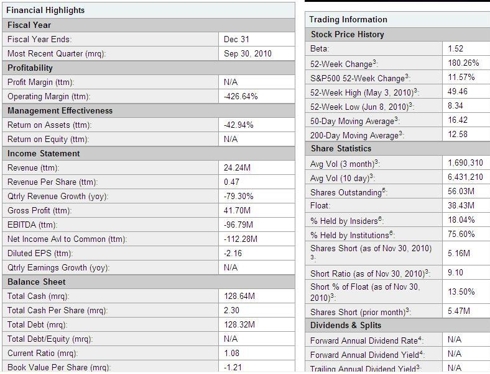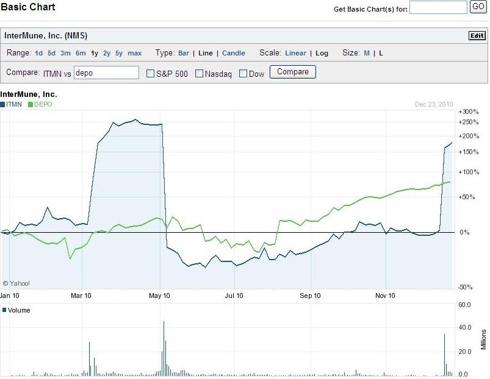 Both companies are looking for an approval in 2011 for their product. Looking at the financial statistics in trying to determine which one might look like a better position to own into an FDA approval (PDUFA) date, DepoMed is the most undervalued of all the PDUFA date stocks in the first half of 2011 based on their market cap of just over $300 million dollars.


Disclosure: I am long DEPO. My position in a stock can change at any time.