How many times have we all seen some unknown public company put out a press release promising to deliver a new disruptive technology that will create a paradigm shift in that technology? In my case, too numerous to count. How many ever deliver? One in a hundred? One in a thousand? How many deliver in less than a year?
China Based, NASDAQ listed Kandi Technologies (NASDAQ:KNDI) did it, and they did it in less than a year
On January 4, 2010, KNDI put out a press release promising to deliver just such a paradigm shift in the largest country in the world and in one of the hottest industries, Electric Vehicles. The claim was incredible, but for a fleeting moment, investors believed it. The morning of the press release, the stock gapped open $.45 to $4.85, hit an inter-day high of $6.16 and closed at $5.72, up $1.32 on incredible volume of 1.83 million shares, more then double its former highest days volume. Belief was still there over the following four days, but on rapidly declining volume, with the stock closing at its all time closing high of $6.51 on Jan. 8, 2010. But, quickly, reality set in. "Just another bogus announcement. There is no way this little unheard of Company can pull this off. They don't even have an EV approved for sale in China" said the "smart money and short sellers", and a month later the stock dropped to a low of $3.24, and over the next seven months the stock spent most of the time in the $3s as the short became larger.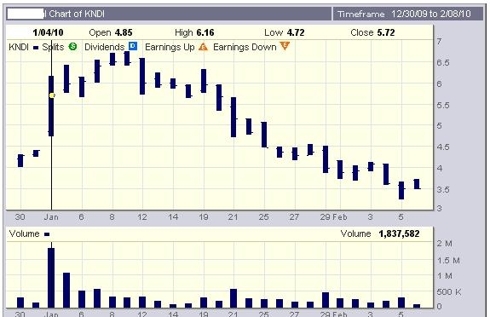 Now, what did the company claim that engendered all the initial excitement? Here are some of the highlights of that PR:
Innovative Open Architecture Business Model for Mass Adoption of EVs Reduces EV Purchase Costs, Eliminates Battery Maintenance Concerns and Substantially Increases Driving Ranges

JINHUA, CHINA--(Marketwire - January 4, 2010) - Kandi Technologies, Corp. today announced it has formed a strategic alliance with China Potevio/CNOOC New Energy and Power, Ltd. -- a joint venture of China National Offshore Oil Corporation (CNOOC) and China Potevio Co. -- and Tianneng Power International, Ltd., aimed at speeding up the commercialization and achieving mass adoption of Pure Electronic Vehicles (Pure EVs) in China. Working together with government support, the companies believe they are the first in China with an innovative automotive transportation business model that provides a comprehensive solution to overcome current obstacles to an oil free future…

The New EV Business Model

The new EV business model of the Alliance focuses on the specific transportation needs of China's rapidly growing urban centers and an anticipated high degree of government cooperation. Some of the current key elements of the model include:

* Building a comprehensive network of EV "battery stations" throughout each city for one-stop battery charging, replacement, recycling and rental

* Powering the battery stations with a centralized industrial "battery charging farm" in each city that can optimize electrical usage and costs

* Selling affordable pure electrical cars without batteries --equipped, however, with Kandi's patented (and patent pending) technology for easy battery removal and replacement

* Making traditional batteries available on a lifetime, maintenance free rental basis -- and replacing, maintaining, and recycling them at the battery stations ·

* Obtaining government support not only in the form of subsidies for car ownership, but also for operational requirements such as permits for battery station construction and operation·

* Reflecting the fact that most commuting in China is intra-city, covering relatively short distances, the model will be tested initially in Jinhua City and then in other mid-size cities.

* Expansion would be via the existing network of Alliance partners or by duplicating the model with other new partners.

Removing All Key Obstacles To Success

The advantages of this model to drivers of EVs are clear, starting first and foremost with the purchase price of their cars, which will be much lower without batteries, and with anticipated government subsidies. Further, they will never have to worry about owning, maintaining or disposal of their batteries. Significantly, they also will have no worries about safely driving too far away anywhere within or just outside their city limits. Over time, driving ranges will expand as the model is expanded to neighboring cities and regions…

Quote from the CEO

"Our new Alliance is committed to the success of its revolutionary business model on a large scale over time. Nevertheless, while many of the key elements for such success are in place, there are still several key issues to be resolved. In the weeks and months ahead, I'm sure each member, including Kandi, will be providing periodic updates and new details on the progress of the Alliance, as we work diligently to bring to fruition what we believe will be one of the most important chapters in the commercialization of electric vehicles in China.
Yup, the buzz words are all here.
Launch New Electronic Vehicle (EV) Era in China

Innovative Open Architecture Business Model for Mass Adoption of EVs

The first in China with an innovative automotive transportation business model
Anticipated high degree of government cooperation, Removing All Key Obstacles To Success
Over time, driving ranges will expand as the model is expanded to neighboring cities and regions
We believe it will be one of the most important chapters in the commercialization of electric vehicles in China
How could anyone NOT want to own this stock? After all, we are talking China here. You know, the country with over 1.3 billion people, with only four households out of a hundred owning a car. If you believe the hype, this should be a slam dunk for a ten or twenty fold move over the near term; Right? Well, now for a reality check. Let's look at the published facts at the time:
While KNDI may have been a small though somewhat successful exporter of ATVs, UTVs and a few thousand Low Speed Electric Vehicles (LSEV) to the US, they didn't even have an Electric Vehicle approved by the Government for sale in China and other than a few LSEV Postal test cars never had reported a sale of any product in China.
They had only made a few cents a share in net in 2009, had little cash and a $13 million working capital deficit.

While the Chinese Government may have made some "noises" about throwing around some subsidy money to build EVs and Infrastructure, no hard dollar amounts had been published at that time.
Competition from China's Auto giants such as BYD (OTCPK:BYDDF), Geely (OTCPK:GELYF), SAIC, FAW, Donfeng and several others would bury KNDI. In fact, in mid 2009, ten of the largest had already joined forces to do just about what KNDI was claiming it was going to do.
KNDI's "Quick Battery Exchange" model wasn't anything new. Heavily VC financed, US and Israeli based Better Place, Inc. was already globe trotting with a similar high tech product and would soon be announcing a partnering with Chery Auto to bring it to China.
Slam dunk short, right? Well, not so fast. Let's "fast forward" to the present.
While the China auto "Big Ten", and Better Place have been floundering and fiddling, KNDI has been performing and burning them all and they did it, plus a lot more in less than a year.
In fact, they did it so well that not only did they catch the attention of the PRC and local Governments, but the PRC through its wholly owned Electric Utility, State Grid, which services 90% of the Country. State Grid (the world's eight largest corporation), jumped in and muscled out one of KNDI's original announced partners, China energy giant, CNOOC (CEO) to become a 40% partner to KNDI's 30% in the earlier announced Alliance.
They did it so well that it appears that Better Place Inc. and State owned auto giant partner Chery Automotive, with their April 24, 2010 announced Quick Battery Exchange model, have given up in China. Hardly a word since in China, and even when given the opportunity to address their QBE model in China on MSNBC last month, their flamboyant CEO Shai Agassi took a pass. And no wonder. In Better Place's model, which loads the battery from underneath, you have a real problem if you run out of juice away from a station. In KNDI's patented system, the battery loads from the side in around two minutes manually, and one minute robotically.
They did it so well that they have now become China's only "Ground Up" Auto Manufacturer to receive "Fast Track" PRC, nationwide approval for consumer sales of not one, but three consumer EV builds, a China version of its US Coco LSEV, a faster street speed car with Quick Change feature Lead Acid Battery model (KD5010EV) and a Lithium Battery model (KD5011EV), with the former being approved for a 20,000 RMB ($3000 US) local Government Subsidy and the latter just being approved for inclusion in the full PRC 60,000 RMB ($9000 US) subsidy program. This is particularly noteworthy when considering the full cost to the consumer before subsidy for the KD5010EV is around $6,000, and the latter a few thousand dollars more. All three were approved between May and December of this past year.
They did it so well that not only did they deliver sales and Express Change in the City of Jinhua with a population of 4 million as mentioned in the original PR, but as of a recent PR, have delivered the second City of Hangzhou with its population approaching 10 million and one of the original 5 PRC approved cities for the full $9000 PRC subsidy. Hangzhou is looking to add 20,000 EVs by 2012, a number three times what Tesla (TSLA) expects to produce in 2012, yet TSLA has a current Market Cap 20x higher then KNDI's. If this is all delivered by KNDI, this alone would add approximately $180 million in new revenues.
They did it so well that the China Postal Service has purchased, at over $10,000 each, an initial 60 modified KD5010EVs to test for possible inclusion in their 300,000 vehicle fleet.
They did it so well that last year's $13 million working capital deficit should swing some $35 million thanks to strong cash flow, an earlier $10 million equity funding, and a recently completed $16.7 million perfectly timed institutionally placed stock funding. That later became $5.50 a share, which was fixed at a premium price to the close just three days prior to the offering. With the above, KNDI should report a year end positive working capital of close to $25 million, and this with no long term debt on their books other than a non-cash item having to do with warrant amortization. This should finally quiet continuously expressed concern by funds over the company's balance sheet. Pair all this with exceptional government subsidies, which are paid directly to the company and leverage for growth becomes incredible.
So, with all this, why is the stock still at the same price as a year ago?
Well, it hasn't been a great year for China stocks in general. As you can see from this chart, compared to other China auto related stocks such as China Automotive Systems (CAAS),Wonder Auto (OTCPK:WATG), BYD Auto (OTCPK:BYDDF) and Geely Auto (OTCPK:GELYF), KNDI has not done badly.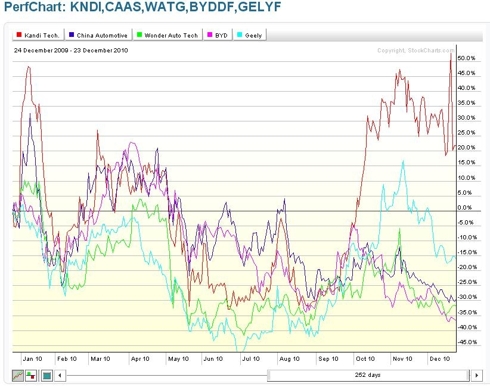 Short selling in China stocks still continues at a record pace. KNDI has not been immune as computer programs keep selling baskets of sector stocks. Unfounded rumors spread by admitted short sellers claim that as many as a third of all US China stocks have fraud involved, scaring ignorant retail investors out of the sector, while long funds hurry to clear China stocks out of their portfolios by year end. This is a trend that in my opinion, will reverse right after the New Year as smart investors realize what really is happening in China. And for those who are concerned about whether KNDI's "books" might not be accurate, remember one big difference between KNDI and most other US China Stocks: KNDI's major partners are the PRC and local governments - powers that no CEO would want to mess with in China.
Why the stock should not stay at this current level for long
I recently returned from an eight day China trip with five other investors, covering some 3000 miles and visiting six cites. If China's growth is slowing down, you could not tell it by visiting with the people. Two days and a night were spent with KNDI and its CEO at their massive manufacturing facility. While there we learned that the company currently has dedicated existing space that will ultimately increase overall capacity to 300,000 EVs annually, with the first automation upgrade to 100,000 vehicles annually expected to be completed by Summer 2011. However, this was before the recent approval of their new Lithium powered car and the surprise addition of the City of Hangzhou. Due to this, with the proceeds of last week's financing, the increase to 100,000 annual capacity has now apparently been accelerated. At current pricing levels, which should average out in excess of $6,000 per vehicle to KNDI, and gross profit to the company of over $2000 per vehicle, 100,000 cars per year would generate net profits to KNDI based on existing capitalization in excess of $5 per share. This is an interim goal that could easily be reached in two to three years. This would be from the cars alone. At current pricing, each battery exchanged in the Joint Venture creates a profit of around $.60 to KNDI's share.
I defy anyone to visit this incredible operation and not come out totally impressed, both with the company, and management. While only carried on their books at less than $10 million, the current facility's land and buildings alone now have an estimated replacement value of some $70 million, which alone is more than half the total current market cap of the company. Additionally, while in Jinhua, I was taken to the recently completed $8 million, government funded State Grid Battery Changing/Charging facility. Seeing this facility eliminates any doubt in my mind that the PRC Government is fully committed to the future success of KNDI and their "Express Change" technology.
Let me finish this for now by stealing a quote from Seeking Alpha's most well know EV Bear, who recently broke precedence and recommended KNDI, John Petersen:
In the final analysis, it's [What KNDI has accomplished is] a lot like the business dynamic that might have developed if Henry Ford had partnered with John D. Rockefeller or one of the other oil barons in the early 1900s.
Regrettably, pictures that were taken on the trip were lost, leaving only these cell phone video clips of the facility. So please excuse the quality.
Kandi Technologies KD5010EV Manual Battery Quick Change
Kandi Tech EV QC/Finishing Building with various EV's
Kandi Tech 5010EV Test Drive
Kandi Tech Non-EV Manufacturing area.
Disclosure: I am long KNDI.