Original Publication Date: July 24th, 2014 by Matt Margolis - Updates Added based on related news from August 11th, 2014 and August 13th, 2014.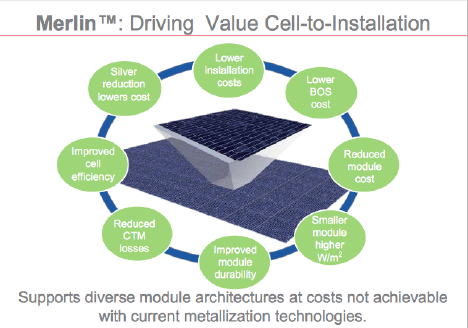 GT Advanced Technologies (GTAT) provided some updates during an interview on July 8th related to its Merlin technology offering.
Merlin is "ramp ready" for solar scale volumes in early 2015
Merlin technology is a mature manufacturing solution
Aligns well with industry roadmap
Easy retrofit into existing cell/module lines
12 patents filed, several in the pipeline
Merlin is targeted to create a recurring revenue stream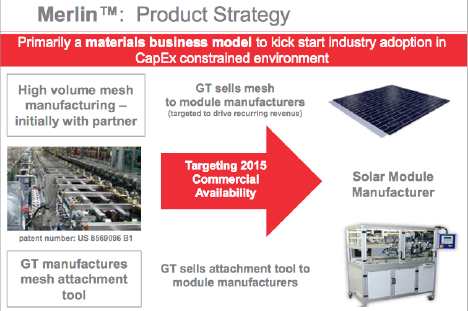 GTAT is manufacturing mesh in high volume, "initially with a partner" in Thailand. GTAT will manufacture the mesh attachment tool and sell both tool and mesh to module manufacturers directly.
By qualifying its relationship with the Thai manufacturer with the words "initially with," GTAT is signaling that Merlin's market potential is much greater than one manufacturer can fulfill. During the March Technology conference, CEO Tom Gutierrez actually described Merlin's potential as "staggering." He also said in developing Merlin, GTAT "worked with customers first." GTAT asked its customers what they wanted and developed it for them. Gutierrez also said, "Everyone that sees it wants it.... I can guarantee you we are ready."
Merlin is being prepped and will hit the ground running by early 2015
How ready is Merlin? According to a video interview filmed at the Intersolar North America conference and published July 17, GTAT is preparing to deliver Merlin in volume beginning in early 2015.
GTAT is currently working with its "elite customers to customize Merlin to each customer's particular needs" so that when "they ramp, they ramp at full speed"
Merlin commercially available in early 2015
GTAT can "actually deliver (Merlin) material at a volumes that will meet the actual expectations of our customers"
GTAT wants to service multiple customers at a fast ramping volume
GTAT has a master agreement with a partner in Thailand
Merlin's $1B+ Market Potential by 2018 (Image Source)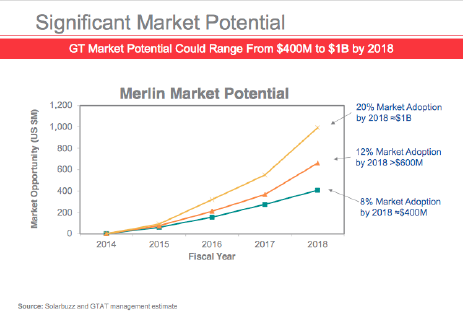 Investors are often too focused on the near or immediate future - 2014 sapphire screen production, for instance. While short-term events and the market's interpretation of them drive stock prices up and down daily, resulting in profits (or losses) for traders, the key to successful investing is understanding the probable impact of business initiatives whose success (or failure) must evolve over a longer timeframe. During GTAT's last two earnings conference calls, management tipped us off as to how excited they are about the Merlin technology. GTAT also laid out the potential Merlin annual sales based on three different rates of market adoption (as depicted above), beginning in 2015 and extending to 2018. Merlin requires very little capex because it works with existing cell manufacturing processes, so it is not unreasonable to expect a high rate of adoption. Nearly five months have gone since GT's March technology update. 2015 is only five months away.
As a whole, 2015 is setting up to be an amazing year for GT, supported by revenue from sapphire materials, old (DSS, SDR) and new (HiCz) solar technology, Hyperion, and finally Merlin. Today's update clearly indicates that GTAT is on track to deliver Merlin in high volumes beginning in early 2015. I believe Merlin will be the first catalyst outside of Apple to push GT's shares to new heights as we head into 2015.
Merlin is worth $12 per share
I'm modeling Merlin revenue at $100m in 2015 and $300m in 2016 with 35% gross margin. I model Merlin's EPS contribution at $0.74 in 2016, or $12 per share assuming GTAT enterprise forward PE of 16.64X FY2016 EPS. However, the video interview above clearly indicates that GTAT expects Merlin to hit the ground running in 2015. Depending on how this plays out, I may have to increase my Merlin EPS estimates.
GT's CEO during the Q1 2014 conference call in May:
"If my enthusiasm didn't show through for the Merlin low CapEx approach and that business as we go to 2015, I want to emphasize my incredible optimism there."
Update on 8/11/14
GT Advanced Technologies Inc. announced that solar modules incorporating its new Merlin metallization and interconnect technology have successfully met the requirements of several important PV industry certification standards, including IEC 61215, IEC 61730-1 and -2, as well as UL1703. The certification testing was performed by RETC (Renewable Energy Test Center), an independent certification testing provider. Conformance to the certification standards was verified by the Canadian Standards Association and TUV-Sud.
Update on 8/13/14
GT attended Cannacord Genuity's Annual Growth conference and provided some major updates related to the progress of its Merlin technology during the presentation.
Merlin - "Response has been phenomenal" from "Mega Customers"
GT's strategy is to select "three to four mega customers" that have "giga watts" of capacity related to Merlin. GT currently has the "whose who" of vertically integrated module and project businesses at its doorstep.
Between here and the end of the year we will be talking about what customer partners are working with the company. GT expects to be able to ramp this into high volume at the beginning of 2015.
GT reiterated Merlin sales could reach $400m to $1B a year at a penetration rate of 8 to 20% by 2018. GT also indicated that Merlin would be the cornerstone of its solar business along with the return of PV and Polysilicon.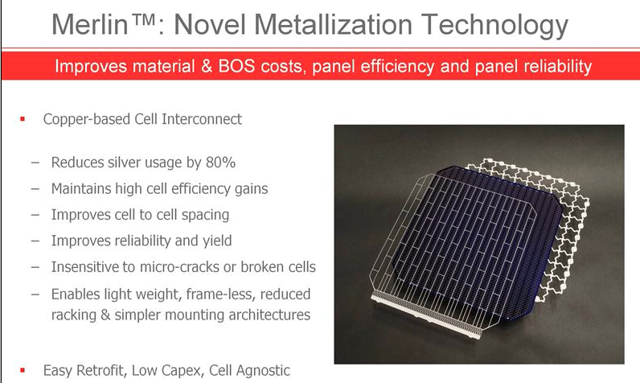 PTTResearch.com, PoisedToTriple.com, WallStreetForensics.com, SolarStockIdeas.com, and The PTT Insider are property of PTT Capital, LLC. This information is confidential and for the information of the addressee only, and may not be reproduced, in whole or in part, copies made or circulated, or disclosed by the addressee to another party, without the prior written consent of PTT Capital, LLC. Our content should not be consumed without reviewing our latest Methodology, which discloses our investment philosophy and trading practices. Mark Gomes' Methodology is subject to updating, but publicly available at PoisedToTriple.com or upon written request. Information and opinions presented herein have been compiled from sources believed to be reliable, but PTT Capital, LLC makes no representation at their accuracy or completeness. This communication reflects PTT Capital, LLC's opinion as to the securities mentioned herein, but is neither an offer to sell nor a solicitation to buy them. Copyright 2014 PTT Capital, LLC. All rights reserved. Past performance does not indicate or guarantee future results.
Disclosure: The author is long GTAT.
The author wrote this article themselves, and it expresses their own opinions. The author is not receiving compensation for it. The author has no business relationship with any company whose stock is mentioned in this article.