American Movil (NYSE:AMX) is one of the world's largest telecoms, but also one of the more underrated. Perhaps it's because it offers a mere 1.5% dividend yield, when most telecoms pay yields in excess of 5%. Regardless, the Latin American telecom is ran by the second-richest man in the world, Carlos Slim.
The company owns 70% of landline and mobile markets in Mexico and while this has been great for the company through the years, the regulatory bodies are putting their foot down. They have labeled the telecom as a "preponderant economic agent," which brings substantial and restrictive measures, terms, conditions and obligations. Something American Movil doesn't want.
In response, American Movil decided to reduce its market share in Mexico's telecom market to less than 50%. But only under certain conditions, one being that its assets are sold at fair market value. The second is that its its Telmex and Telcel subsidiaries would be able to offer other services, such as pay-TV.
American Movil is also going beyond the required asset sales and is looking to separate its cell sites -- including infrastructure and towers. American Movil's plan and proactive response is a positive, as it allow the company to evaluate its own assets and minzie the regulatory impact. And by getting out in front of the asset sales, American Movil can speed up its entry into the pay-TV market.
Despite being up nearly 20% over the last couple months, shares are still just flat year to date. However, over the last year it's up 21% -- a return that's nearly triple both AT&T and Verizon.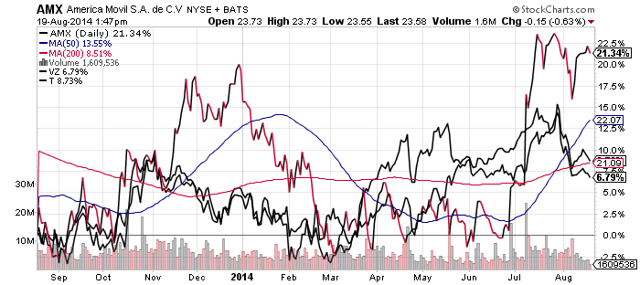 Given the company's presence in some of the fastest growing markets, it could easily continue outperforming its peers over the long-term. But it's valuation is likely being capped by the preponderant overhang, which might not be addressed for another couple quarters.
In any case, South America remains on the fastest and hottest emerging markets in the world. Latin America and the Caribbean together represent the fourth largest economy in the world.
The two largest economies in South America are Brazil and Mexico. This year, Mexico's economy is forecast to expand 3.98%, while Brazil's is forecast to grow 3.4%. The best way to play this growth is by investing in telecommunications, primarily mobile. As incomes rise, the first thing most want is a smartphone and that benefits the carriers that own the networks.
Although American Movil is decreasing its control of the of the landline and mobile markets in Mexico to below 50%, the company still has a strong presence in other parts of Latin America. Where over the years, Slim has expanded American Movil into other parts of Latin America and the Caribbean as he has sought to make the company the dominant telecommunications company not only in Mexico, but all of Latin America.
As the company has come to dominate the Mexican market, that is no longer a growth market for the company. But rather it is the cash cow that Slim uses to fund other high-growth areas. In Latin America, American Movil has seen strong growth in Colombia and Brazil. Brazil, though, remains its fastest-growing and prime growth driver.
Bottom line
Although it's fairly underfollowed and underrated, it has a $80 billion market cap, which is above both Sprint and T-Mobile. American Movil is the largest provider of wireless services in Latin America.
Should you forget AT&T or Verizon and own this telecom? Probably not, because chances are you're investing in the former two for dividends. American Movil only offers a 1.5% yield. However, it could be a growth story. It also generates a return on assets (ROA) of 10.4%, compared to both AT&T and Verizon's ROA of 6%. Shares trade at 12.1x next year's earnings estimates, meanwhile, its historical average earnings multiple is closer to 16.
Disclosure: The author has no positions in any stocks mentioned, and no plans to initiate any positions within the next 72 hours.
The author wrote this article themselves, and it expresses their own opinions. The author is not receiving compensation for it (other than from Seeking Alpha). The author has no business relationship with any company whose stock is mentioned in this article.