Priceline Group's Financial Results: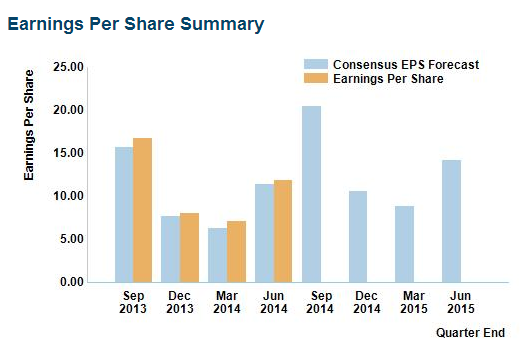 Priceline Group Inc. (NASDAQ:PCLN) reported gross profit increased 36% to $1.9 billion for the second quarter of 2014. According to the company, its net income was $667 million or $12.51 per diluted share up by 31% compared to the previous year. Priceline beat the analyst's estimate of $12 per share by delivering marginally higher earnings.
Source: NASDAQ
Priceline's gross travel bookings rose 34% to $13.5 billion over a year ago, 32% was on a local currency basis. The company generated $2.12 billion in revenue, an increase of 26% for the second-quarter because of the summer travel season kicked off to a solid start for its brands.

Furthermore, Priceline delivered market-leading growth from both the top line and profitability perspective. Globally, its accommodation business booked 90 million room nights, up 29% over the same period last year.
Source: Yahoo Finance
Third-Quarter Estimates:
For the third quarter of 2014, Priceline expected to achieve growth of 19% to 20% in total gross travel bookings. The company estimated that its international travel booking will increase to between 22% and 32% and domestic travel bookings will go up around 10% to 15%.

Priceline estimated its revenue would increase around 15%, gross profit would climb to the range of 21% to 31% and its net income is expected to reach $19.60 to $21.10 per diluted share.
Source: NASDAQ
But if we compare Priceline's estimates and the analyst's estimates then it looks like analysts are confident about the success of Priceline's future plans.
Future Growth:
Priceline's future prospects are very bright considering its expansion plans and expected growth in the global online travel market.
According to Euromonitor International, the global online travel markets are continuing their steady growth in all travel categories and in all regions driven by the emerging markets but also by healthy performances recorded in the developed economies. North America was the leading region for online travel sales in 2013. However, the region will record the lowest growth over the next five years though its annual growth rate is still healthy at 7%. By the end of 2017, Western Europe is forecasted to replace North America at the top of the ranking and the Asia Pacific region is expected to be the fastest growing region over the next five years in terms of online travel sales which are set to double from US$78 billion in 2012 to US$155 billion in 2017. Considering the facts, I am quite sure that U.S. and European travel markets are very difficult due to intense competition and limited growth but these markets are still Priceline's main geographical segment; therefore, Priceline should maintain its competitive edge and gain benefits from these markets.
China's Online Travel Market:
China is the one of the biggest markets of the online travel industry. In 2013, Chinese online travel transactions hit USD 33 billion with 29.0% growth over the year and the revenue of the online travel market reached USD 1.9 billion reflecting an increase of 26.2% compared to the figure reported last year. It is expected that this year the Chinese online travel market will grow at the rate of 27% and transactions will hit around USD 42 billion.
I believe that the increasing transaction of online air tickets, hotel bookings, and package holidays were the main causes of the growth of the Chinese online travel market. So Priceline should enhance its focus on the Chinese travel market because its other leading geographical segments are facing intense competition.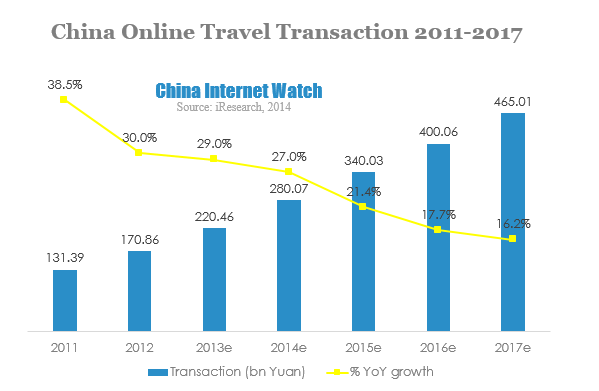 Source: China internet watch
Acquisition of Open Table:
Priceline recently announced that it spent $2.6 billion in cash for Open Table (NASDAQ:OPEN), a fast-rising Internet company that deals in online reservations for some 31,000 restaurants. It reserves tables for more than 15 million diners per month.
Despite the expensive acquisition, this seems like a positive step towards further expansion in the e-commerce business. Priceline already deals in flight and hotel reservations so this diversification in the restaurant reservation business seems like a great plan. I believe that the customers who are using its online booking service for airline tickets and hotel reservations to explore a totally new place on vacations or business trips, will also try booking restaurant reservations online. Furthermore, there are not many places left for the online travel business to expand into. Priceline and its rivals that include Expedia (NASDAQ:EXPE) and Trip Advisor (NASDAQ:TRIP) have already exploited nearly every avenue in the hotels and flights reservation business. I think this acquisition of Open Table is another tool to compete with Expedia . It is another way to build client loyalty and it is a natural fit for travelers who want to book reservations on a one-stop basis. By purchasing a running business, Priceline has the ability to quickly integrate the service from a strategic marketing perspective without having to focus on infrastructure development. This strategy is a smart one. Domestic travel sales trail global travel sales so expanding into the domestic and international food reservation businesses would help Priceline to fill the gap. Also, the company's enhanced relationship with Ctrip will support the company's already strong domestic and international travel numbers.
Rival for Top Position:
Priceline's biggest rival, Expedia was the top performer amongst global online travel agencies with gross bookings of US$39.4 billion in 2013. Priceline's gross bookings were US$39.2 billion in the same year. However, this year in the first two quarters both the competitors are in close competition for the position of top performer. As you can see in the table below, in the first six months of 2014 Priceline is leading by 0.3 billion gross travel bookings.

Source: Financial Statements
Furthermore, Chinese and Indian players such as Ctrip (NASDAQ:CTRP) and MakeMyTrip are also growing rapidly and are now starting to target international markets such as the HotelTravel brand that was recently launched by MakeMyTrip to capture international customers. In this constantly changing environment, a new generation of companies coming from the mobile and peer-to-peer sectors and from emerging economies may compress the Priceline gross bookings by snatching away its existing customers. Priceline is already fighting with Expedia for first position in the online travel market but these new market players are also a big concern for the company.
Conclusion:
My recommendation for Priceline is to go long after considering its strong financial background and awesome future growth in China, North America, and Europe. Furthermore, its recent expensive acquisition of Open Table also has great future prospects. Priceline is currently trading at $1,294.36, which is far lower than its target price of $1,488. I strongly believe that this stock is worth far more than its current price, considering its future prospects.
Disclosure: The author has no positions in any stocks mentioned, and no plans to initiate any positions within the next 72 hours.
The author wrote this article themselves, and it expresses their own opinions. The author is not receiving compensation for it (other than from Seeking Alpha). The author has no business relationship with any company whose stock is mentioned in this article.