As income investors continue to muddle their way through the challenges of a ZIRP environment, the term "yield chasing" has made its way into everyday investment vernacular. Along with "bubble," "yield chasing" is probably the most common critical comment thrown at equity-income and bond investors.
On a similar note, there's been periods of market history where investors have been accused of chasing returns, an implication that a stock or index was overheated price wise. I recall pretty vividly the tech./Internet bubble of the late 90s and the accusations and warnings of chasing returns back then - I issued some of them myself. We know how that all ended.
QQQ chart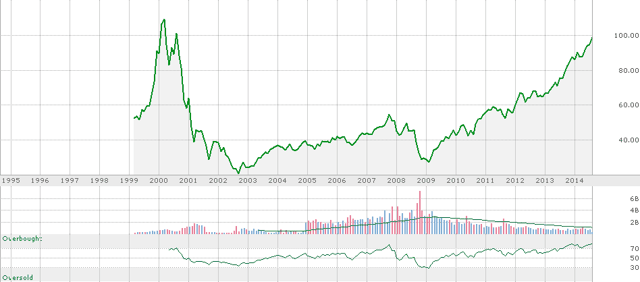 Source: Ameritrade
The term "yield chasing" somewhat confounds me, although I have used the term myself. Is it an implication that an asset is too risky because the yield is too high? Is it an implication that an asset is overvalued because the yield is too low? Is it an implication that yield sustainability is in peril? Perhaps it's a combination of all the above.
The Thrill Of The Chase
About two years ago, I noted that high-yield closed-end funds (CEFs) were trading in some cases at double digit premiums to their net asset value. I wrote:
My main speculation in this case is, unfortunately, that yield starved investors are starting to chase certain asset categories absent mindedly
After the Fed's taper announcement last year, the premiums quickly disappeared from that group. Today, almost all high-yield CEFs trade at discounts, some of them in the double-digit discount range. Buying bond assets at a visible, tangible premium to their worth did not make a whole lot of sense - to me, a clear case of yield chasing. Here's a chart typical of what has happened to high-yield bond CEFs over the past couple of years.
Wells Fargo Income Opportunity (NYSEMKT:EAD) 3Yrs.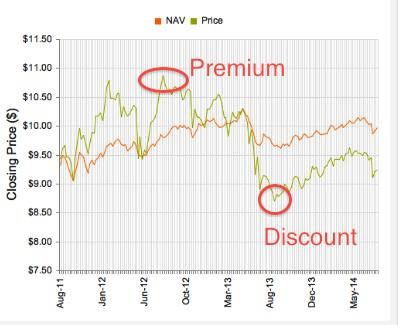 Chart Source: CEFconnect.com
And in the Spring of 2013, I offered caution towards REITs because of a rather fluid run-up in stock prices and consequent drop in yields. While I stopped short of saying that investors were chasing yield, if we look at the price chart of IYR, a REIT index vehicle, it might be fair to say that's what, in fact, REIT investors were doing.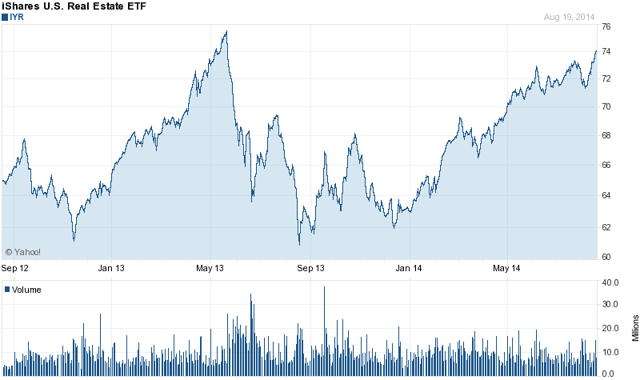 So I would opine that the "yield chase" moniker is appropriate in instances where an "absent-minded" buy spree seems to be taking place to garner yield. However, the broad brush that some have painted over the dividend space, whereby all income producing securities seem to be herded into one yield chase chute, I believe to be fallacious. In my view there is no categorical dividend bubble, and for fixed income investors , I'm suspect to believe that this era will be looked back at as a bond bubble. Having said that, I still would be hesitant to lock into longer-term bonds at the moment.
There are undoubtedly income securities that pose more cash flow risk than others. Mortgage REITs, BDCs, and 2X levered offshoots of various indices fall into the higher risk income sustainability category, while low payout dividend growth stocks do not. Most mortgage REITs saw income interruption last year, while BDCs did not. Equity REITs that payout a huge portion of AFFO may also fall into the higher cash flow risk category. Many bond funds have pared their distributions as older higher-yielding pieces of paper are replaced with lower-yielding ones, ergo they also fall into a higher cash flow risk category.
Fellow writer Bob Wells in the thread of my last article made a comment that may well best describe the yield chase on an individual portfolio level. Bob wrote:
pushing too hard for income from yield if you don't need to is just another form of greed.
Indeed, if one is investing in higher-yield securities and is not in need of the cash flow, it could well be viewed as a chase, especially if the investor deep down knows there is greater risk in doing so. On the other hand, if an investor has a need for the elevated cash flow and perceives the risk to be acceptable, then arguably there is no chase involved. Of course a "fallacious chase" will only be evident if and when cash flow interruption occurs and/or there is a substantial realized loss of capital.
I would even opine that if the cash flow interruption, valuation, and/or capital risks one perceives in income producing securities are thought to be too high, then it may be a wiser decision to relinquish the focus on income and look at ways to grow capital, and yes, create your own dividend.
Conclusion
Since it is a term utilized generally by income security antagonists, I'm not sure that there is a valid, sure-fire definition for "yield chasing." In many cases I think the application has been an appropriate one by pundits, but in most cases it has been not. Just like any negative prediction, whether a specific asset, sector, or entire group of securities is deemed a yield chase or not, will only be determined when a temporary or permanent "blow-up" occurs.
Diversification is the income investor's best defense against the unanticipated blow-up, whether you are a dividend growth investor, bond investor, or high-yield investor. Finally, if you are under the impression that any fluctuating-value equity or fixed-income asset or sector is immune to a blow-up, that could be a sign that you are chasing yield.
Disclaimer: The above should not be considered or construed as individualized or specific investment advice. Do your own research and consult a professional, if necessary, before making investment decisions.
Disclosure: The author has no positions in any stocks mentioned, and no plans to initiate any positions within the next 72 hours.
The author wrote this article themselves, and it expresses their own opinions. The author is not receiving compensation for it (other than from Seeking Alpha). The author has no business relationship with any company whose stock is mentioned in this article.