Initiation Summary
Rig operating companies have witnessed a challenging year on relatively difficult market conditions. Seadrill (NYSE:SDRL) stock is down 6.5% for 2014, Ensco (NYSE:ESV) is down 12.8% for the year, Transocean (NYSE:RIG) is down 19% and Ocean Rig is down 3.7% for the year.
What I believe is that the downside in offshore drilling companies is temporary and the long-term fundamentals are strong. In the last few years, some of the biggest oil discoveries have been offshore and this trend is likely to continue.
Further to this, oil prices will remain firm as geo-political tensions around the world are high. This will support drilling activity as break-even is achieved for oil & gas companies. As a broad conclusion, I therefore believe that the recent correction in offshore drilling companies is a good buy opportunity.
In this investment thesis, I will discuss Paragon Offshore (PGN), a recent spin-off of Noble Corp. (NYSE:NE). Post the spin-off, Paragon Offshore had a quiet listing and it is understandable as the sector is relatively out of favor. I am initiating Paragon Offshore as I strongly believe that the downside in the sector is temporary and Paragon Offshore is currently undervalued.
This initiating coverage will discuss the company's likely revenue and EBITDA in FY15, the forward valuation and potential risk factors.
Industry Dynamics Support My View
I mentioned in the summary that I believe that industry dynamics will remain strong. I will therefore discuss the positives related to the industry, before discussing more on the company. The points discussed in this section will back my claim that the relatively challenging conditions in the offshore industry are temporary.
According to the TechNavio's analysts forecast, the global offshore drilling market will grow at a CAGR of 10.9% over the period 2013-2018. One of the key factors for offshore market growth (according to TechNavio's analysts) is an increase in drilling of offshore oil reserves due to the maturing of onshore oil reserves.
Also, according to the company's prospectus, Infield predicts that global offshore E&P spending between 2013 and 2017 in water depths of less than 4,900 feet will total more than $400 billion, representing approximately 74% of the global offshore E&P capital spending.
I second these views and I believe that the biggest discoveries in the future will continue to come from offshore locations.
Another very critical factor, which will support the growth of the offshore rig industry, is the amount of development of offshore reserves discovered in 2010-2013. According to a latest investor presentation from Ocean Rig, less than 1% of the identified reserves are in production mode and only 11% of the identified reserves are currently scheduled for development. As global oil & gas consumption swells, development in discovered reserves will accelerate and this will be long-term positive for offshore rig companies.
Also, as companies talk about relatively challenging market conditions, it is to be noted that offshore drilling day rates have remained firm and so has the utilization. This link from IHS gives the three-year day rate trend along with utilization. While day rates for worldwide drillships and semi-submersibles have declined marginally, the utilization is robust and the day rates are still in-line with the average day rate in the last 3-4 years.
Very importantly, the chart in the above link shows that the day rate for jack-ups has remained firm and this is positive in context to Paragon Offshore. The reason will be clear when I discuss the current assets of the company.
Taking all these points into consideration, my conclusion is that the temporary challenge in the offshore rig industry is a great opportunity to buy some good companies in the sector.
About Paragon Offshore
Paragon Offshore is a pure-play global provider of standard specification offshore drilling rigs. The company's drilling fleet consists solely of standard specification rigs and includes 34 jack-ups and eight floaters (five drillships and three semisubmersibles).
The company's operating locations are diversified globally with presence in Mexico, Brazil, the North Sea, West Africa, the Middle East, India and Southeast Asia. As of December 31, 2013, Paragon Offshore had a contract backlog of over $3.0 billion with over 75% of the contract backlog attributable to customers with investment grade ratings.
As of December 2013, Paragon Offshore had pro-forma revenue of $1.7 billion and a pro-forma operating income of $345 million.
Is Paragon Offshore Undervalued?
The industry dynamics are likely to be robust over the long term and Paragon Offshore has a contract backlog of $3 billion, giving a 1.8 year revenue visibility based on December 2013 revenues. The valuations are therefore a key consideration and in this section I will look at the current EV/EBITDA valuation for Paragon Offshore and peers. In the next section, I will also discuss the FY15 EV/EBITDA valuation for the company and peers. This will form a good basis for the initiation.
Paragon Offshore is currently trading at a market capitalization of $805 million and the company has a pro-forma debt of $1,561 million. For FY13, the company reported a pro-forma EBITDA of $742 million. Considering these numbers, Paragon Offshore is currently trading at an EV/EBITDA valuation of 3.18.
In terms of peers, I would be looking at companies that own a large percentage of jack-ups. Rowan Companies (NYSE:RDC) perfectly fits in with a current fleet of 30 jack-up rigs and four ultra-deepwater drillships. Rowan Companies currently trades at an EV/EBITDA valuation of 9.54.
I believe other competitors can be pulled from the chart below, which clubs the fleet of different companies as per the age and rig capability.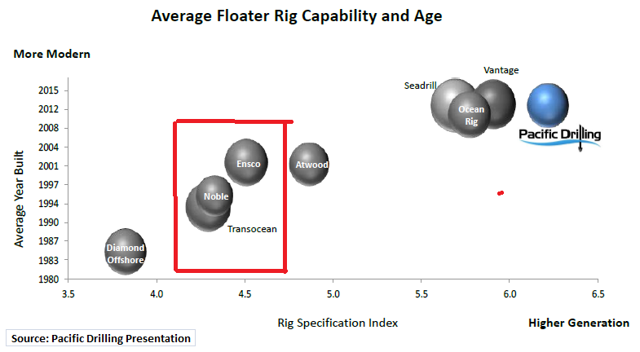 With Paragon Offshore being a spin-off from Noble, the other peers that can be considered are Ensco and Transocean. Ensco currently trades at an EV/EBITDA of 6.66 and Transocean trades at an EV/EBITDA of 5.78.
Therefore, if current valuations are considered, Paragon Offshore is definitely trading at very attractive levels and is a strong buy. I will however also look at the forward valuations as it is of more significance.
Estimating Revenue And EBITDA For FY15
For forward valuations, I will be looking at the EV/EBITDA for FY15E. I believe this makes sense as markets are in the third quarter of 2014 and stocks are likely to discount FY15 earnings.
The table below gives a detailed revenue summary for all the company's operating rigs.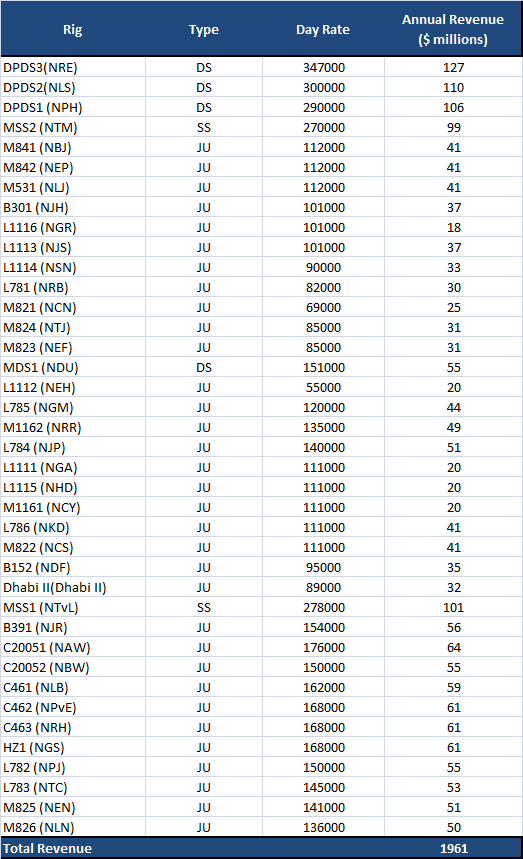 For rigs that are contracted through 2015, the same day rates have been taken as per the contract. For rigs that will go off contract during 2015, it is assumed that they are re-contracted at the same day rate. Further, there are un-contracted rigs as of August 2014 when the company published its latest rig status report. For the un-contracted rigs, it is assumed that they are operational for at least half of 2015.
With these assumptions, the likely revenue for FY15 will be $1.96 billion. For FY13, the company's EBITDA margin was 44% and I believe that EBITDA margin will remain largely the same with no significant fluctuation in day rates. Assuming an EBITDA margin of 44%, the company's EBITDA for FY15 works out to $863 million.
Forward Valuation And Valuation Gap
Paragon Offshore has not talked about any new rig plan and I have therefore not considered any capital expenditure related to new rigs. I believe that maintenance related capital expenditure will be taken care by the company's operating cash flow, which is likely to be in excess of $700 million for FY15.
Therefore, considering the same level of debt and assuming that the OCF is used in maintenance capital expenditure and dividend payout, the EV for FY15 end would be the same at $2.4 billion. The EV/EBITDA for FY15 works out to 2.74 considering an FY15 EBITDA of $863 million.
Looking at the peers, Rowan Companies is trading at an FY15 EV/EBITDA of 4.39, Transocean is trading at an FY15 EV/EBITDA of 6.69 and Ensco is trading at an FY15 EV/EBITDA of 6.60. Considering a peer average EV/EBITDA valuation of 5.9, Paragon Offshore is trading at a discount of 115% as compared to average peer EV/EBITDA. Just considering Rowan Companies (since it is the closest peer based on number of jack-ups), Paragon Offshore is trading at an EV/EBITDA valuation gap of 60%.
I believe the potential upside for Paragon Offshore is around 60%-100% over the next 12-18 months. As sentiments turn bullish for the sector and as markets take note of this stock, which is currently not covered by brokerages or analysts, the stock will start to trend higher.
Paragon Offshore Pays High Dividends
Another factor that adds to the attractiveness related to Paragon Offshore is the fact that the company is currently intends to pay an annual dividend of $90 million and that translates into a dividend yield of 11%.
With 75% of the company's contract backlog with investment grade clients and a contract backlog of $3 billion (giving 1.8 years revenue visibility), the dividend is likely to sustain and if day rates trend higher again in 2015 and 2016, dividends will increase. Paragon Offshore therefore offers strong upside potential along with stability in dividends.
Risk Factor
The only risk factor that needs to be considered is the company's contract status for FY15. The company's August 2014 fleet status report shows that there are several jack-ups, which go off-contract in FY15. In my assumptions, I have considered that these jack-ups are re-contracted at similar day rates. However, if the jack-ups are contracted at a lower rate or are idle for some period of time, the company's EBITDA will be negatively impacted.
As a stress case, even if it is considered that the rigs going off-contract are idle for 3 months, the EBITDA for FY15 works out to $771 million and the EV/EBITDA works out to 3.06. This would still imply an upside of 43% as compared to the company's closest peer (Rowan Companies) and an upside of 92% based on the average peer EV/EBITDA valuation. I therefore believe that Paragon Offshore has very limited downside risk and has a significant upside potential.
Conclusion
Paragon Offshore is an under followed stock in a relatively depressed industry condition. The big positive is that the long-term outlook for the industry is robust and Paragon Offshore also has strong revenue visibility. Both these factors combine to make the stock an attractive investment option to consider.
Paragon Offshore's dividend yield also makes the stock attractive and revenue inflow from investment grade clients makes the yield sustainable.
While I have assumed an upside of 60%-100% in a base case scenario, even if the current bearish scenario continues, the valuation gap points to a 43% upside on the most conservative case. Paragon Offshore is therefore a "Strong Buy" at current levels.
Disclosure: The author has no positions in any stocks mentioned, and no plans to initiate any positions within the next 72 hours.
The author wrote this article themselves, and it expresses their own opinions. The author is not receiving compensation for it (other than from Seeking Alpha). The author has no business relationship with any company whose stock is mentioned in this article.