As other authors have articulated investment suggestions, I thought it would be interesting to introduce the "Conservative Total Return" or CTR portfolio. The general philosophy of this method has allowed me to cumulatively beat, since 1999, the S&P 500 by a wide margin. The basis for my data was the one investment account, not subject to withdrawals or commingling with earnings, I actively managed. The method has evolved, as I have progressed through different life stages (and markets) and entered its present form post-2008.
The Conservative Total Return Philosophy
The essence of the CTR method is to combine a strong value bias with flexibility, opportunism and an ability to assimilate and respond to new information. Over time, as well as during periods of high valuations, dividends have become increasingly important. I believe in PEG (PE/Growth). I appreciate a broad industry thesis, and occasionally will "hedge my bets", by selecting multiple positions within an industry. I don't love labels, but in the parlance of the investor, my philosophy is generally consistent with growth-at-a-reasonable price (GARP).
I also dislike rigid formulas. Stocks, like people, are individuals and need to be evaluated as such (given the time and inclination). Therefore, I don't have minimum yield thresholds or put much significance in the number of consecutive years dividends have been paid (or for how many consecutive years they have been increased). A trend of a couple of years is relevant to me; what a company was doing in the Clinton (let alone the Reagan) administration is not (to me). I respect every investor's personal strategy, and do not mean to be dismissive.
Important to me are catalysts for appreciation, a strong sense of the stability or risk of the business (and cash flows), competitors, external influences (weather, government, currency, etc). My goals are to outperform the market on a risk-adjusted basis. In other words, the same things that are important to you (except my bias is total return and yours might be income).
Personal Background
Writing this article is part of the investment journey I am on, which has been enhanced since I began documenting my research and opinions through Seeking Alpha articles. Though my articles have covered firms in diverse industries, they generally have shared a fondness for companies with strong value attributes, robust upside potential, and support from an attractive-to-robust dividend.
I am several years away from retirement. Like most of us, I'd prefer more over less. That being said, I am not willing to take (what I view as) an imprudent amount of risk to get "more". I am also comfortable "dating" my stocks- I don't believe in marrying an investment. As of this writing, for me, all of the positions listed are worth owning. In the name of disclosure, the positions listed are only the individual stocks I own. Other investments are owned, but not listed, providing diversification and other value.
The Individual Stocks
The core stocks I hold are (alphabetically): Apple (NASDAQ:AAPL), Blackstone (NYSE:BX), Ford (NYSE:F), General Electric (NYSE:GE), General Motors (NYSE:GM), International Business Machines (NYSE:IBM), JPMorgan (NYSE:JPM), Noble Corp (NYSE:NE), Seadrill (NYSE:SDRL), Siemens (OTCPK:SIEGY) and Tupperware (NYSE:TUP).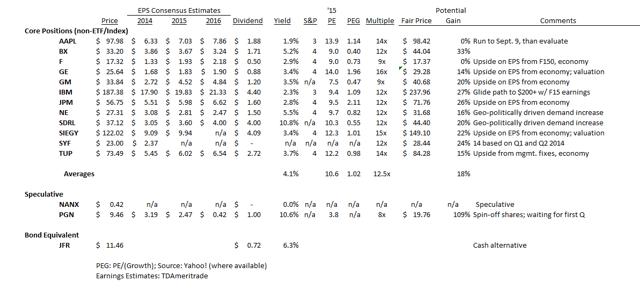 As the above chart confirms, my positions have a strong bias toward dividends, reasonable valuation and a moderate (in most cases) PEG. Below, I will provide (very) brief comments (in the interest of space; if interested, many of the stocks have separate articles). Obviously, the qualitative statements are my opinion, not fact.
Investment Rationales (Brief)
Apple- Apple continues to impress, with its ability to churn out highly anticipated products, maintain its brand and innovate. The stock, for a fairly long time, has been exceptionally undervalued. Currently, APPL is approaching fair value. There will almost certainly be momentum up to the September 9 launch of the new iPhone (and maybe the iWatch). Post-launch, I will likely consider whether the appropriate valuation (in my opinion) should be increased.
Blackstone- The best and most clever private equity firm. Strong income from assets under management and a significant amount of unrealized gains. Dry powder, great leadership and a healthy (though variable) dividend. PE firms have traditionally traded at a discount, which may be a risk in achieving my target valuation of 12x (which normally would be considered quite conservative).
Ford- Part of an American auto industry investment (with GM). F boasts strong products, is a leader in highly profitable pickups, its core market (NYSE:USA) is an expanding economy with generous credit availability, and the Company's prime competitor is reputation-challenged. Valuation is close to full.
General Electric- This conglomerate is once again becoming an industrial conglomerate. As financial and non-core assets are shed, multiple expansion should occur reflecting (close to) GE's pure play status. I also like GE's quasi-oligopoly position in many/most of its sectors. The Company also benefits from a growing world economy that has seen under-investment for close to a decade. GE boasts a nice dividend that should be materially increased later this year.
General Motors- Part of an American auto industry investment (with F). Under fire in the short-term; medium-term, products, valuation and PEG are highly compelling. Fully/over-reserved on recall issues. GM is finally free of government interference (though some still say "Government Motors"). Strong dividend.
International Business Machines- Facing business challenges with the rapid growth of cloud computing. However, management committed to achieving $20/share by 2015, which puts a "floor" of $200 on the stock, with 20% upside. Smart management, key relationships with governments and major corporations globally, and significant technology suggest a significant upside if any new initiatives, such as its recent deal with Apple, "click".
JPMorgan- The second best bank, behind Wells Fargo (NYSE:WFC), but the best combination of value and potential. The Company has put most housing-related litigation behind it. JPM has a strong franchise that will materially benefit when rates rise (likely in 2015). Dividend has room to grow.
Noble Corp- Part of an underwater driller investment (with SDRL). This underwater driller spun-off many of its older rigs (to Paragon (PGN)) and is in a strong position to benefit from a geo-politically driven shift to more underwater drilling (as areas like Iraq and Libya are viewed less desirably, and producers seek to replenish reserves). Analyst estimates for 2015 and 2016 have already dropped significantly, reflecting the industry's short-term over supply of rigs. NE is riskier than other investments and pays a handsome dividend.
Seadrill- Part of an underwater driller investment (with NE). Proactive management invested heavily in state-of-the-art deepwater rigs, which leaves it well positioned for the short-and-medium term. Best contracting position of the major underwater drillers. High debt, but expanding operating cash flow and a management team that is experienced and heavily invested in the stock suggest high dividend is secure. Recent success in refinancing rigs and garnering incremental capital also suggest SDRL possesses financial flexibility.
Synchrony Financial- Spin-out from GE, which still holds over 80% of SYF's shares. Priced attractively, with support from underwriters. Strong franchise of private-label credit cards. Focused company will benefit from capital investment and ability to "shine". Upcoming analyst "Buy" reports provide short-term catalyst; valuation and Q4 dividend provide medium-term upside.
Siemens- A German GE (and a European dividend aristocrat), with a lower valuation, lower PEG and strong product portfolio). The Company should benefit from the overall growth in the global economy, and the (longer-term) recovery in Europe. Recent European tension with Germany has been factored into the price.
Tupperware- A truly global company, with developing-country expansion opportunities. TUP trades at a discount to consumer products companies, reflecting a recent poor quarter and Venezuela issues. PEG, at less than 1, is attractive. TUP has a strong, sustainable dividend, which eases investor pain while waiting for management fixes to take hold.
Position Summary
All of the discussed positions share, in my opinion, the potential for material price appreciation supplemented by dividends. None of the positions can be considered "expensive" under traditional PE or PEG ratios (I use other metrics, but those two are "universal"). CTR companies generally have one or more of the following attributes: 1) an upcoming introduction and/or sale of a superior product, 2) participation in an expanding or changing economy or 3) prospects for multiple expansion. Though none are currently owned, CTR will consider a position that, strictly from a core value perspective, is just too cheap.
As mentioned earlier, under the CTR philosophy, stocks are not "married". Stocks can be dated, sometimes for several years. If the underlying investment thesis changes, a break-up may be quickly initiated.
Most Seeking Alpha readers are certainly intelligent enough to make investment decisions based on multiple factors (if that is their desire), as opposed to a simple formula. I sincerely hope readers will find a nugget of useful information from the CTR approach, a technique that has worked (knocking on my desk) for me.
This article reflects the personal opinions of the author and should not be relied upon or used as a basis in making an investment decision. Investors should always do their own due diligence prior to making an investment decision.
Disclosure: The author is long AAPL, BX, F, GE, GM, IBM, JPM, NE, SDRL, SIEGY, SYF, TUP.
The author wrote this article themselves, and it expresses their own opinions. The author is not receiving compensation for it (other than from Seeking Alpha). The author has no business relationship with any company whose stock is mentioned in this article.
Editor's Note: This article discusses one or more securities that do not trade on a major U.S. exchange. Please be aware of the risks associated with these stocks.