It's portfolio review time. The first portfolio was formed on 18 June 2014 and so is 8 weeks into a 12-week holding period. The results are shown below, with stocks returning below index highlighted in red: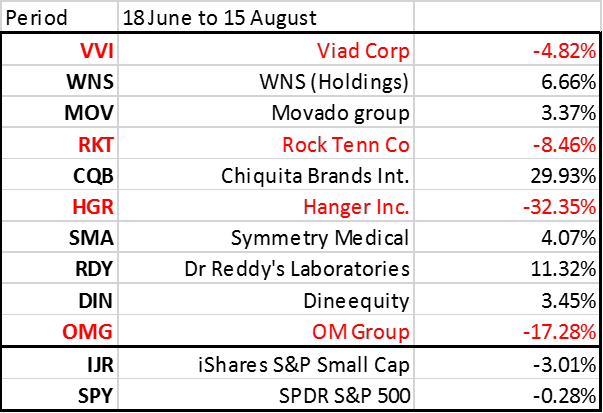 The next portfolio was formed on 9 July, about 5 weeks into a 12-week holding period, and the results for that are: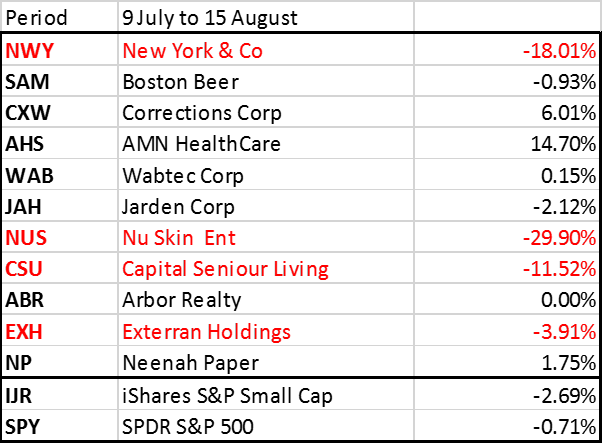 These results have a dumbbell feel to them, with massive losses in four stocks, which need explanation. To re-iterate, my methodology was to pick stocks, which have exhibited periods of outperformance, which have slipped to a low ranking, and which are expected to outperform again. So it is a relative selection process. We were banking on better performance on the basis that recent research articles, which are publicly available were positive about the future prospects of all of these stocks.
So what happened? In some instances, the story changed especially so with Nu-Skin (NYSE:NUS) and Hanger (HGR). The latest articles on NUS hone in on serious working capital issues, namely inventory management and then the company announced reduced earnings. At HGR, claims have surfaced that prosthetic use is falling due to advances in medical science, and that the company is growing through overpriced acquisitions. Cash flow certainly took a beating in the last quarter's results.
With OM group and New York Company, the underlying business conditions and company performance didn't cut the mustard, simple as that.
And then, what to do about it? My view is that there are two choices. If, on reflection, the issues, which negatively impact a stock, could have been foreseen by a greater personal research effort, then I would be inclined to do it. If however it appears that the negative issues are really surprising, then there is not much alternative but to put in trading stops, and admit that that is the best and possibly only option.
In the case of NUS, the fact that it has legal issues with Chinese authorities could have been "the red flag." In a world of uncertain economic growth, stocks such as OMG, which have large exposure to Europe, might also have caused a second thought. Of the stocks selected, these are about the only ones, which might have been flagged at the time the stocks were selected.
If…and I know it's always a backward looking justification…I had put in a loss limit of 10%, which is not an outrageous assumption, then the 18 June portfolio would be meeting expectations, the 9 July portfolio would be below expectations.
What about the stocks that have done OK? While it is easy to beat up on the poor selections, there have also been some winners, one of which is AMN Health Care (AHS), and some which have held their own one of which is Boston Beer (NYSE:SAM). I took a closer look at these two because a glance at their earnings profile suggested that both were good. Why would AHS outperform SAM? For that, I did some attribution analysis.
Rather than screen on base measures such as P/E or P/B or the like, I tend to use a valuation model, which incorporates a number of important valuation parameters into the analysis, including NTA, earnings, growth assumptions, ROE and cost of capital assumptions. This makes it a useful methodology for "what if" analysis and performance attribution. To isolate seasonality effects, I have looked at 2 Qtr prices and earnings and varied the discount rate to match valuations to the actual stock price. Thus, the discount rate becomes the proxy for investor sentiment. The results are shown in the following graph.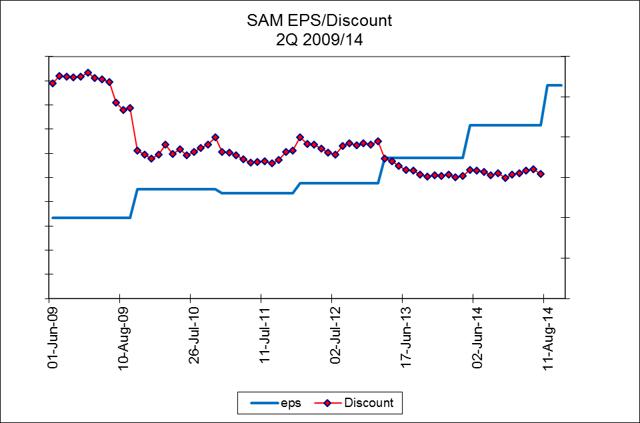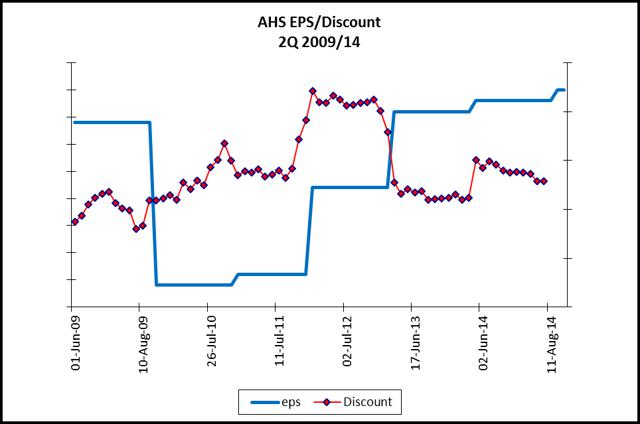 From these graphs, my view is that SAM exhibits the more stable earnings growth profile, and the fact that the discount rate is steady and declining shows that investors in this stock are likely to have a stable outlook for the company as well. Since 2013, it appears that investor sentiment went one better, which indicates that they are expecting solid growth into the future, fuelled no doubt by the fact that earnings were already accelerating. The increasing investor sentiment was a significant contributor to the share price appreciation, and perhaps that is now plateauing. Had that not occurred, SAM would be trading closer to $190/share than $230/share. That may be responsible for putting a cap on future performance.
Things appear different at AHS, which had a bit of a hard time around 2009/10. While AHS has recovered from a downturn in earnings since then, it has taken a while for investors to accept this, as evidenced by the high discount rate in 2012. In 2 Qtr 2014, the share price has benefited from both an earnings surprise and improved investor sentiment. Having said that, the current discount rate is on par with the longer-term trend, even if erratic. If AHS gains greater investor confidence, and more stability in outlook, then $17/share might be achievable. Despite recent outperformance and dependent on continuing strong earnings, AHS looks like a good bet.
Lord Keynes opined that investors need to consider not so much what they think, but what other investors think and this little exercise makes that clear.
Where to from here? I will continue to work on lists of prospective stocks. I intend to automate the analysis used above for AHS and SAM, and if that is possible, then I would expect to see an incremental improvement in portfolio performance.
Disclosure: The author has no positions in any stocks mentioned, and no plans to initiate any positions within the next 72 hours.
The author wrote this article themselves, and it expresses their own opinions. The author is not receiving compensation for it (other than from Seeking Alpha). The author has no business relationship with any company whose stock is mentioned in this article.