A strategy that beats the S&P 500 by 20% a year.
That sure sounds like a pompous claim, I know. Is there anyone good enough to pick stocks over the past decade that would allow 20.5% annual returns per year while the S&P 500 returned only .5%?
If you had followed a select group of what we consider the world's best stock pickers and their top picks, you would have. By searching through 13F reports of the greatest investors of our time, and investing in their top picks, an investor could have produced amazing returns this past decade. Think about it. You are an individual investor with limited resources and limited information. Doing a lot of homework, you come up with good investment ideas that you think should pan out. Some work, others do not. With 13F investing, you get the best research and investing minds this world has seen, for free. Let them do the work for you. Just piggy back off their best ideas, find a handful of managers that you know and love, and combine their top picks to create your portfolio.
The logic behind the idea is simple. After putting in the research and gathering information on all the stocks in their portfolios, for whatever reason, there is always one stock in which they have invested more money than every other stock they own. Coco-Cola (NYSE:KO) is Warren Buffett's top holding, for example. Currently, Bruce Berkowitz of the Fairholme Fund (FAIRX) has chosen American International Group (NYSE:AIG) as the stock he thinks is worthy of more investment dollars than any other he has chosen. I realize these guys have more information and relationships than I can ever dream of, thus giving them a potential edge that I do not have. So what I do is try to piggy back off some of the best.
For disclosure purposes, we have built a hedge fund out of this idea and we follow up to 50 stocks at any given time for diversification purposes. In this blog, I plan to give a portfolio of eight stocks rebalanced every quarter, for you to track. Keep in mind this is not a buy or sell recommendation, nor is it wise to invest in only eight stocks at a time. But you will see over time that the portfolio should beat the markets as long as these "gurus" continue to beat the overall market. Their top holdings should be a big part of that out-performance. We will not disclose the 50 guru's that we are following in order to protect the partners in our hedge fund. We also use leverage to short the overall indexes in the hedge fund to reduce risk of such a focused portfolio. So you can imagine the risk you would be taking just buying these eight stocks. But as you can see by the results below, the past decade of following these eight managers would have been a decent one:
Tim's Guru Index
YTD: 9.2%
3 Yr Annualized: 9.05%
5 yr Annualized: 19.20%
Since Jan 2000: 20.80%
(These results are hypothetical based on 13F filings of the eight chosen managers' top reported stocks during the testing period. Past performance is not indicative of future results, and this index is being published for tracking only, not as a buy or sell recommendation. The results were created with the benefit of hindsight and do not reflect actual trading.)
So in 11 years of data, this is an annual 20.80% return compared the S&P 500 returning 0.5% as stated above.
We also use AlphaClone.com to quickly backtest our ideas and portfolios. As you can see below, this same strategy using its backtester shows over 1000% returns or 24.5% during the same time. We backtested our data set above manually using the SEC website. Our results show over 700% gains. Either way, 20.8% from our backtest or 24.5% from AlphaClone shows that the method might have merit. I can tell you that I like AlphaClone's results much better. If you can find it in your budget I highly recommend you find the money to subscribe to this site.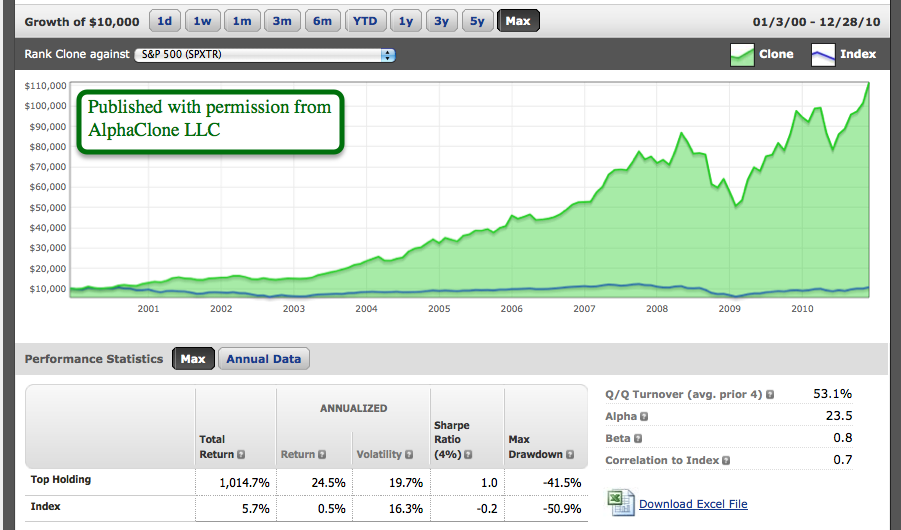 The way our guru index will work is that we will rebalance the eight holdings every quarter to equal positions. The results above do not include dividends, taxes or transaction costs, so bear that in mind. These are "gross profit" numbers. When we rebalance, we will use the opening price for the tracking of the day following our rebalance.
With that in mind - let's take a look at the current portfolio that was put around 45 days after the end of the quarter, which is when the 13F filings come out:
Long:
Bristol Myers (NYSE:BMY)
American International Group (AIG)
Tyco Electronics (NYSE:TEL)
Apple (NASDAQ:AAPL)
Jones Lang Lasalle (NYSE:JLL)
Atlas Energy (NYSE:ATLS)
VALE SA (NYSE:VALE)
Potash CP (POT)
There is the current portfolio and the prices at rebalancing for the index. Going forward, will will update this site with the new stocks. It doesn't get much easier to manage stocks than this!
See you in two months.
Disclosure: I am long KO, AIG, BMY, TEL, AAPL, JLL, ATLS, VALE, POT.
Additional disclosure: I am either long in my own personal account or long in the hedge fund that I manage for each of the stocks listed in the article. This is not a full list of the stocks we own for this strategy. The stocks in this article are for tracking the "Guru Index" that we are establishing for this series.