On June 28, I wrote that Lowe's was overvalued, since its sales and net income growth significantly trailed the growth in its share price. The company has boosted EPS significantly ahead of earnings through share repurchases. Since my call, Lowe's (NYSE:LOW) stock has risen 7.69%, comfortably outpacing the 1.57% gain on the S&P 500 in the absence of any real news. In spite of an underwhelming earnings report, the stock price continues to rise. Relative to its results and growth potential, the stock remains overvalued.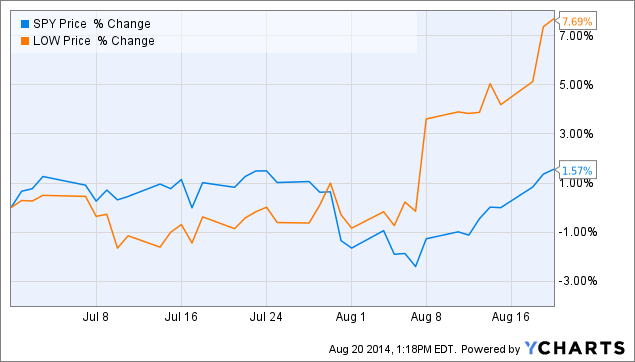 Business performance
Lowe's reported second quarter earnings today, with sales increasing 5.7% YoY and comparable store sales growing 4.4%. In my valuation model, I assumed 7% sales growth for LOW for FY14, so this number is lower than my expectations. I also assumed 5% compounded comp growth from FY14 through FY20, which will be hard to achieve. Year-to-date gross margin is at 35%, which is exactly in line with my valuation model. Lowe's expects sales growth of around 4.5% for FY14, with comps growing 3.5%. Operating margins are expected to grow around 65 basis points, slightly higher than my assumption of 50 bps.
Valuation and summary
Lowe's operating metrics came in at or slightly below my valuation model assumptions. As a result, I updated my valuation model to take into account the lower expected sales trajectory for FY14 as well as the slightly higher operating margin. This results in a slight increase to the fair market value from $44 to $45, indicating that the shares are still overvalued by around 13%. As a result, I stick with my recommendation to avoid the stock at these prices.
Disclosure: I am short LOW $30 and $33 puts. The author has no positions in any other stocks mentioned, and no plans to initiate any positions within the next 72 hours.
The author wrote this article themselves, and it expresses their own opinions. The author is not receiving compensation for it (other than from Seeking Alpha). The author has no business relationship with any company whose stock is mentioned in this article.