Breathing aid and respiratory device producer Resmed Inc. (NYSE:RMD) finished off FY 2014 ending June 30, 2014 with a higher net profit, yet revenues within its largest market- North and Latin America- were slightly down.
Sales up outside of North and Latin America
The company experienced a small increase in full year sales, about 3% to $1.55 billion. Weakness in its North and Latin America market, which makes up a little over half of total sales, was offset by a rise in its combined Europe and Asia-Pacific markets.
Factors that affected the sales were pricing competition partially brought on by changes in US government policy designed to reduce public healthcare costs, as well as a possible delay in orders by distributors waiting for new product releases.
Earnings aided by cost savings
Despite weak sales growth, net profit for the financial year was up about 12% to $345 million. Gross profit margins rose 1.5% to $63.7%, thanks to cost savings from supply chain improvements and more sales amongst the higher margin products.
In its fourth quarter, the company launched its new generation of life support ventilators called Astral, and initial sales in Asia and Europe indicated a strong uptake.
New products expected to come out soon, buyers possibly delaying orders
US FDA clearance for the Astral platform was received in the fourth quarter as well, so it is expected to be launched there by the end of the calendar year.
Resmed also has another flow generator platform which soon may be on the market that would be the first new product in its range over the past four and a half years. The company suggests that part of the lower sales growth may be due to distributors holding back on sales in anticipation of the upcoming launch.
Resmed's track record for profits, dividends
The earnings increase maintains its steady growth uptrend. Since 2009, net profits have doubled for a compound 15% annual increase. In FY 2013, the company began paying a dividend, with a payout ratio of 42% in FY 2014. The dividend yield is 2.1% unfranked.
Resmed Inc. stock chart 2009 - 2014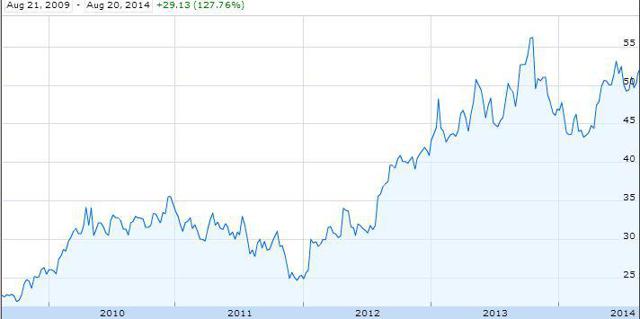 Source: Google Finance
Capital management
FY 2014 may have been a tough year in sales, yet part of the cause seems to be in timing with the upcoming product launches. Business growth in Asia and Europe are promising. The company conducted a share buyback that for the year ending June 30, 2014 saw 4.4 million shares repurchased.
The number of outstanding shares has been falling since 2010, going from 154.5 million to 140.3 million. With a cash position of $905 million and long-term debt around $300 million, the company's net gearing is a -34.4%. Its FY 2014 net profit of $345 million puts its LT debt-to-earnings ratio at 0.87 times, so the company is quite financially strong.
From what I see
Resmed is well-performing company with a strong earnings growth track record. The short-term sales weakness will need to be addressed, but long-term investors should see past that, and concentrate on the durable competitive advantage that it has. Timing issues for both business and product launches are unavoidable, yet they can be managed over longer periods of time.
I would look to see what kind of growth potential its Asia-Pacific market has as its highly populated countries become more modernized and require more healthcare products and services. North and Latin America is still a big market, yet how much more can the rest of the world demand over the next decade.
The company is financially sturdy and produces specialized products that attract premium prices despite some short-term pricing competition.
With the company now paying a dividend since 2013, income investors will be attracted to the stock more. I would recommend the stock as a steady grower for a long-term portfolio.
Disclosure: The author has no positions in any stocks mentioned, and no plans to initiate any positions within the next 72 hours.
The author wrote this article themselves, and it expresses their own opinions. The author is not receiving compensation for it (other than from Seeking Alpha). The author has no business relationship with any company whose stock is mentioned in this article.