Major shareholders of Molycorp, Inc. (MCP) have registered to sell up to 23.8 million shares (nearly 10%) of outstanding shares. According to a registration statement filed April 4, 2014:
We have entered into a registration rights agreement, dated as of April 15, 2010, with Resource Capital Fund IV L.P., Resource Capital Fund V L.P. (collectively, the "RCF Funds"), PP IV Mountain Pass II, LLC, PP IV MP AIV 1 LLC, PP IV MP AIV 2 LLC, PP IV MP AIV 3 LLC (collectively, "Pegasus Capital"), TNA Moly Group LLC ("TNA Moly"), MP Rare Company LLC ("MP Rare") and KMSMITH LLC, pursuant to which the stockholders party thereto were granted certain demand and piggyback registration rights. MP Rare subsequently distributed its shares of common stock subject to the registration rights agreement to its members, which included Alan Docter and Mark S. Kristoff, and TNA Moly subsequently transferred its shares of common stock subject to the registration rights agreement to its members, which included Traxys S.à.r.l. ("Traxys").

In February 2014, the RCF Funds initiated a demand registration right under the registration rights agreement. This prospectus supplement is being filed pursuant to the exercise by the RCF Funds of the demand registration right.
The following table sets for the names of the selling shareholders and the amount of shares that may be offered:

Buyout Believers Now "Non-Believers"?
In 2008 Resource Capital, Pegasus Capital, Traxys Group and Goldman Sachs (NYSE:GS) acquired Molycorp, then a forgotten unit of Chevron Corporation (NYSE:CVX). The investment group made history in February 2011 when it turned its total investment of $200 million into paper profits of about $2.3 billion. The investment was one of the fastest windfalls in private equity history. Since, Molycorp has generated consistent losses. The sale of shares pursuant to the shelf registration could potentially reduce the original buyout group's holdings to as little as 2.4% of shares outstanding.
Below are the company's most recent quarterly financial results: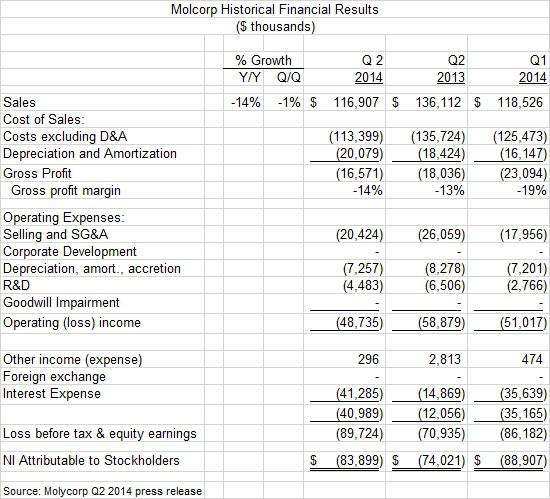 The thesis that made Molycorp such a great investment - the need for additional rare earth suppliers after China's 2010 embargo - is no longer in play. Other providers like Lynas Corporation (OTCQX:LYSDY), (OTCPK:LYSCF) have entered the marketplace, and China has relaxed its embargo. Rare earth prices have since plummeted, and so have Molycorp's business prospects. Molycorp's recent $400 million bootstrap financing from Oaktree Capital is its third capital raise in the past 18 months. Lastly, its Q2 2014 cash burn of $80 million may be a harbinger of things to come.
Though the original shelf registration was filed in April, a supplement to that registration was filed on August 16th and hit the news wires earlier this week. The stock sold off from $2.15 per share on August 18th to as low as $1.93 today (10% decline) as the market began to digest news about the selling shareholders. Whether the stock re-tests my original $1.60 valuation remains to be seen.
Conclusion
The shelf registration to sell nearly 24 million shares has created a sell-off in the stock. The fact that the selling parties include Molycorp's original investor group speaks volumes for the company's business prospects. Given operating losses and cash burn gone unabated, I advise investors to avoid Molycorp.
Disclosure: The author is short MCP.
The author wrote this article themselves, and it expresses their own opinions. The author is not receiving compensation for it (other than from Seeking Alpha). The author has no business relationship with any company whose stock is mentioned in this article.
Editor's Note: This article covers one or more stocks trading at less than $1 per share and/or with less than a $100 million market cap. Please be aware of the risks associated with these stocks.