The Dogs of the Dow strategy has proven that simple isn't always bad, just simpler. In the era of pairs trading, algorithms and far too complex derivative strategies, the average investor still hungers for a strategy that's easy to understand and delivers results. Capital weighting vs. equal weighting is easy to understand. Buying companies with dividend growth is easy to understand. Contrarian investing is also easy to understand.
After a sizeable run up over the last several months and the majority of the indices at the top of their ten week trading bands, finding value in the market today is a challenge. Finding an exchange traded product that will also fit that bill is even more challenging. Javelin Exchange Traded Shares may have come up with exactly the right solution for the value oriented securities analyst in all of us: The JETS Contrarian Opportunities Index Fund (NASDAQ:JCO-OLD).
Defining Contrarian
Contrarians are probably best defined by the famous Baron Rothschild quote "The time to buy is when there is blood in the streets". The worse the news, the better the buys. Contrarians also exist as sellers. The most recent rally has placed a great many candidates into the over extended category.
The JETS Contrarian Opportunities Index Fund (JCO-OLD) employs a passive approach and is designed to track the performance of the Dow Jones U.S. Contrarian Opportunities Index. The index methodology is as follows:
Semi-annually - January and July - screen for stocks by total return of the DJ US Broad Market Index (top 2500) based on 3 year total returns.

The selection list is the bottom half, 1250 stocks.
Sort the list by market cap and remove the bottom 5%.
Rank these by 10 screens; the screens are quantitative in nature and include EPS, price to cash flow, PE, enterprise value to EBIDTA and others.

Graham and Dodd would be proud.
The remaining components are then selected by composite rank until there are only 125 components, subject to maximum sector weight of 30%.
In the end you end up with the best 10% of the worst performing stocks over 3 years.
Although JCO debuted in April of 2010, the underlying tracking index has an available history of dating back to 1991. The index has a live performance history dating to November 11 2008.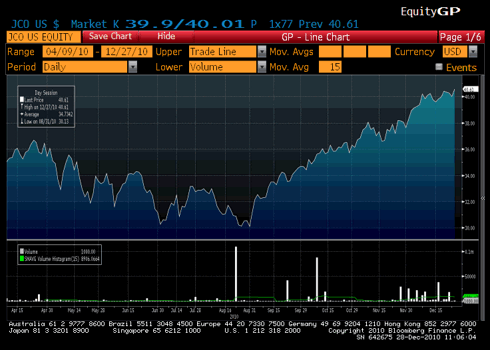 Presently the largest contrarian mutual funds are Fidelity Contrafund (FCNTX) and Dodge and Cox Stock Fund (DODGX) with a combined $100 billion in assets. While JCO has outperformed these funds on a since-inception basis, the major advantage is a passive alternative that is transparent and rules-based when compared to its mutual fund counterparts.
If the low trading volume in JCO is a concern, I would suggest you reference the recent Seeking Alpha submission by Paul Weisbruch of Street One Financial.
Disclosure: I am long JCO-OLD.