With all the publicly listed Net Lease REITs to consider, finding the ones best suited to your long-term income portfolio requirements may be a bewildering exercise. An investor might buy one on a recommendation and quickly see another that he likes. How should a long-term investor distinguish the best relative buying opportunity from a lesser one? In this article, a process is discussed for selecting the best REIT for your long-term income portfolio. This is illustrated using 6 REITs; 2 in the retail sector (National Retail Properties Inc. (NYSE:NNN) and Realty Income Corporation (NYSE:O)) and 4 in the health care sector (Health Care REIT Inc. (HCN), Omega Healthcare Investors Inc. (NYSE:OHI), HCP Inc. (NYSE:HCP) and Ventas Inc. (NYSE:VTR)). These equities were selected to be illustrative only and are not intended to restrict the reader in the selection process.
Quantitative Selection Process
As a minimum, there are four parameters that should be compared before making a stock selection. These are the most telling and should be the ones a potential investor is most keen to review. They are:
Dividend yield
Historical increase in the dividend yield
Historical changes in revenue
The companies' credit rating
The criteria for selecting a REIT are similar to those an individual choosing to become a landlord would use when selecting properties to rent. Just as a rental property owner would try and optimize his rent minus expenses when choosing properties to own, the REIT buyer would want to optimize dividend yield. When buying properties that were previously rented, he would look at the past landlord's ability to raise rents and control expenses similar to a REIT owners' history of being able to increase dividends. Similarly, just as a person going into the business of owning rental properties would evaluate his ability to grow his business by acquiring new properties and turning those properties into increased revenue without endangering his financial situation, a REIT owner would want a REIT that can increase revenues quickly in a way that translates into increased dividend income without weakening his balance sheet and having his credit rating downgraded.
The Dividend Yield
The dividend yield is perhaps the most important consideration for a long-term investor. The re-invested dividend is critical to growing the portfolio. In the case of a REIT, since 90% of profits are distributed to the investor, the company is paying you the lion's share of its profit each time it distributes its dividend. By definition the dividend yield is inversely proportional to the Price/Earnings ratio with an approximately 0.9 proportionality constant. In this way, the dividend yield is also telling an investor about the Price/Earnings multiple or, as REITs more commonly report adjusted funds from operations, the Price/AFFO multiple. (For a REIT, the dividend issued is usually a smaller fraction of the AFFO, varying from 0.65 to 0.9. For a given REIT, the fraction is usually in a tighter range.) That is why the dividend yield is more important as a criterion for the purchasing decision on a REIT than a dividend yield would normally be for a non-REIT equity.
For our 6 contenders we have: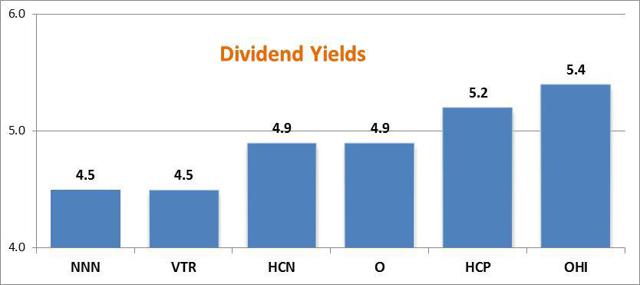 The Historical Increase in the Dividends
It is also important to know how the dividends have progressed over time. A record of increasing dividends tells the investor that the company has been successful at increasing earnings over that time period. Rapidly increasing dividend yields indicate that the company management has been aggressive in improving earnings or AFFO and is distributing more of it to the investor as a REIT must. It is a reflection of the company's strategy to enhance revenue and its earnings or adjusted funds from operations either via increasing its leasing rates, acquisitions of other properties or other REITs, etc., and providing the investor with more return on initial invested dollars. Generally, a history of increasing dividends indicates a management philosophy that is likely to continue over the long term.
Here are the change in dividend yields for our 6 REITs from 2003 to 2013. The ratio of the 2013/2003 dividends is included in the table as a quantitative measure of the extent of the increase.

OHI has increased the dividend the most aggressively of these REITs going from $0.64 to $1.90 so that the 2013 dividend is nearly triple the 2003 dividend. VTR and O have also been highly successful in increasing the dividend.
The Historical Increase in the Revenue
The companies' increase in revenue should also be reviewed as an indicator of company strategy towards growth. A REIT investor should want to support a company with a management team that has demonstrated a growth strategy that does not compromise the integrity of its balance sheet or increase risk for the company. Revenue growth for the 6 REITs considered here is shown in a similar format to the growth of dividends table above.

Here you can see of the REITs considered, HCN has grown the most rapidly increasing revenues from $184.3 M to $2,880.6 M so that the 2013/2003 ratio is 15.6. (Just recently, HCN announced another acquisition for $950 M Canadian of HealthLease Properties.) VTR has grown revenue almost as rapidly as HCN.
The Companies' Credit Rating
As a company is growing its revenue and dividends, an investor wants to know that the company management is funding the implementation of these plans responsibly. Each investor can go through the details of the REIT balance sheets or it can obtain a judgment from professionals at a credit rating agency like Standard and Poor's. The S&P ratings for our 6 companies are: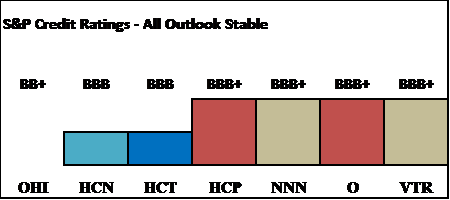 The BBB ratings are given to companies with adequate capacity to meet their financial commitments and adding the + to the designation suggests an upgrade is possible. The BB+ rating for OHI indicates that Standard and Poors considers it less likely to be able to meet its financial commitments.
Summary and Review
In the table below, there is a comparison of each of the 4 parameters for each REIT. The lows in each row are highlighted in red and the highs are highlighted in green to help the reader make the assessment.

Looking at the table, an investor can make a good judgment on what looks like the best investment opportunity depending upon what he deems most important and what his risk tolerance is.
As an investor who values high dividends and expects rapid revenue and dividend growth and does not like taking undue risks, I would rule out NNN and OHI quickly. (Another investor who is willing to take a little more risk but likes the quick growth of OHI might select that stock. I am long OHI, but if I did this analysis first I would probably not have purchased it. I will continue to hold it for a while in the hopes they are able to improve their credit rating.) Personally, I would also eliminate HCP from consideration because of its lackluster dividend increases. That leaves VTR, HCN and O. These all look like attractive investment opportunities, but if I could only select one I would select VTR as it is has the second best rate of increasing its dividend and has been aggressive delivering revenue growth while maintaining a solid credit rating. HCN has been better at delivering revenue increases, but it has not been as effective in translating those gains into dividend increases. As a long-term investor, I want to own a company that knows how to grow its revenue and use that increased revenue to provide more dividend income. VTR has done a better job of that than HCN has.
Other Parameters
After the investor makes his choice based on the comparison table, it is recommended that the potential investor first look into the holdings and strategic issues specific to the company. As the summary table suggests to this long term investor that VTR is best aligned with his investment goals, before I make the final selection I would investigate the holdings of this particular REIT to make sure it contains properties that I am comfortable with. In this case, VTR is made up mostly of senior housing facilities and hospital-affiliated medical office buildings, both of which I consider to be good stable properties to own due to their low turnover and growth markets. That concludes the selection process for me. VTR would be my choice. Again, not all investors have the same goals and an alternate investor might look at the summary table and select an alternate. My point is that the type of information gathered in the table is mostly what an investor needs to make the selection process an intelligent one.
Additional Disclosure: Past results may not be indicative of future performance. Please consider the information provided, but always make your own decisions when investing in securities.
Disclosure: The author is long O, OHI, HCN.
The author wrote this article themselves, and it expresses their own opinions. The author is not receiving compensation for it (other than from Seeking Alpha). The author has no business relationship with any company whose stock is mentioned in this article.