Intel's (NASDAQ:INTC) shares are up 33% over the last quarter, 41% over the last six months and an astonishing 62% up over the last year. The company's dividend yields at 2.6%.
Nevertheless the company's shares are not overvalued at current prizes... they even seem slightly undervalued.
Comparison to market
With EPS (TTM) of $2.02 and a current price of $34.34, Intel offers a P/E of 17.00. EPS are expected to be $2.29 in the next fiscal year, leading to a forward P/E of 14.99.
In comparison, the broad market, represented by the S&P 500 index, offers a P/E of 19.65. This means Intel has an upside of 16% to the market's multiple.
The P/E in the technology sector of the market lies slightly above at 19.90, indicating an upside of 17% for Intel's shares.
If we look at the Shiller P/E ratio (P/E 10), Intel's 18.30 again compares favorable to the market as a whole (PE10 of 26.22) and the technology sector in particular (PE10 of 29.60), indicating a huge discount for Intel's shares.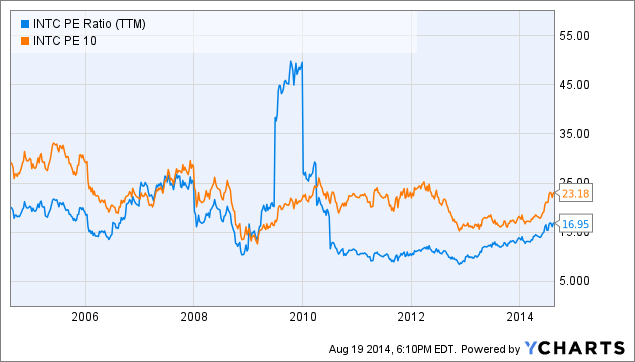 INTC PE Ratio (TTM) data by YCharts
Also, if we compare the company's multiples to those of the past, shares don't seem to be overvalued today. Although both multiples are higher than two years ago, they are both at a relatively average level compared to the last ten years.
Growth opportunities
Over the past few years, Intel lacked growth compared to competitors like Qualcomm (NASDAQ:QCOM) due to its exposure mainly to the PC market, where sales were reluctant compared to other markets such as tablets and smartphones.
Intel took some steps toward expanding its presence in these growing markets. With its new 14nm Core M chips, which will be used in tablets (as well as notebooks), it could start gaining shares from Qualcomm. With its immense R&D expenditures it is very likely that Intel will gain more and more traction in the mobile market due to superior technology.
Another factor pushing EPS are the share buybacks. Intel's current program allows $20 billion of share repurchases, about 12% of the market capitalization. Of these, $10 billion are expected to be spent on buybacks this calendar year.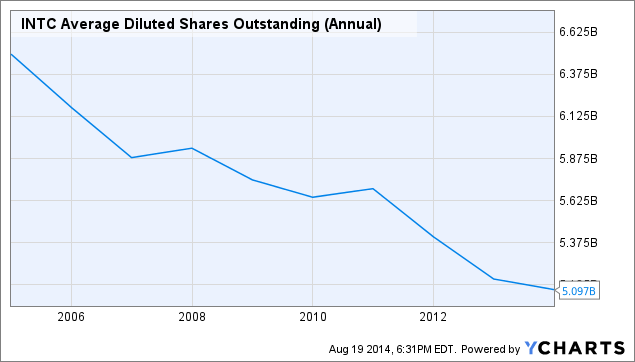 INTC Average Diluted Shares Outstanding (Annual) data by YCharts
Intel has been continuously reducing outstanding shares, and this trend will probably continue as cash flows allow considerable amounts of cash spend in addition to the dividend.
Fair value
There are several possible ways to calculate the fair or intrinsic value of a company's shares, I will use Graham's revised formula from 1974 as well as the DCF (Discounted Cash Flow) method.
Graham's formula for calculating the intrinsic value is:
V = EPS * (8.5+2*G)*4.4/Y
wherein
V = Intrinsic Value
EPS = Earnings per Share of the last twelve months
G = Estimated EPS growth rate over the next five years
Y = Yield on AAA corporate bonds
By applying Intel's numbers to this equation we get a value of
$2.02*(8.5+2*8.83)*4.4/4.2 = $55.36.
The DCF method sums up the value of a company's free cash flows from now until infinity (but discounts them to present value). I make the assumption that FCF per share and earnings per share are equal over a long time since it's much easier to get EPS numbers.
If we use the current EPS of 2.02 and the estimated growth rate of 8.83% over the next five years and an EPS growth rate of 5% after that (which in my opinion is rather conservative, since EPS should increase due to increase in volume, increase in prize per unit sold (inflation) as well as share buybacks), and calculate with a discount factor of 10% (meaning we are aiming for a 10% capital return per year), the fair value is $49.99.
A slightly less conservative assumption of an EPS growth rate of 5.5% from year 6 on would equal a fair value of $54.67, very consistent with Graham's formula.
Both approaches come up with a fair value clearly above current share prizes (around 60%), so, even if being conservative and applying a margin of safety of 20-30%, it looks like it's still a good idea to buy Intel's shares.
Disclosure: The author has no positions in any stocks mentioned, and no plans to initiate any positions within the next 72 hours.
The author wrote this article themselves, and it expresses their own opinions. The author is not receiving compensation for it (other than from Seeking Alpha). The author has no business relationship with any company whose stock is mentioned in this article.