Despite news that Lowe's Companies (NYSE:LOW) beat revenue and earnings forecasts for the second quarter of its 2014 fiscal year on Aug. 20, shares of the home improvement retailer inched up just 1.57% for the day. While the fact that shares aren't doing much after reporting stronger performance on both the top and bottom lines might come across as shocking, the underlying reason is likely that investors feel a bit disenchanted with the business. Yes, management did report better than expected results, but with The Home Depot (NYSE:HD) consistently demonstrating its ability to perform better than Lowe's, investors are probably left wondering why they haven't made a transition over to its rival.
Lowe's did pretty good this quarter
For the quarter, Lowe's reported revenue of $16.60 billion. In addition to coming in nearly 6% above the $15.71 billion management reported during the second quarter of 2013, the retailer's top line narrowly surpassed the $16.55 billion analysts anticipated. According to its press release, this rise in revenue was driven, in part, by a 4% jump in store count from 1,758 locations last year to 1,837 this year, but the retailer also benefited from a 4.4% increase in comparable store sales.
Earnings Overview

| | | | |
| --- | --- | --- | --- |
|   | Last Year's | Forecasted | Actual |
| Revenue (billions) | $15.71 | $16.55 | $16.60 |
| Earnings per Share | $0.88 | $1.02 | $1.04 |
From a profit standpoint, Lowe's did even better. For the quarter, the retailer reported earnings per share of $1.04. This represents an 18% jump compared to the $0.88 management reported the same quarter a year earlier and was 2% greater than the $1.02 analysts hoped to see. While some of this increase can be chalked up to increased sales, investors also have to give credit to the fact that share count dropped nearly 7% year-over-year and its cost of goods sold dropped from 65.7% of sales to 65.5% while its selling, general and administrative expenses declined from 21.7% of sales to 21.3%.
But is Home Depot better?
Over the past five years, Lowe's has done alright but can't compare to rival Home Depot. Between 2009 and 2013, Lowe's saw its revenue climb just 13% from $47.2 billion to $53.4 billion. Although this may seem acceptable for a mult-billion dollar corporation, Home Depot, a much larger business, reported sales growth of 19% from $66.2 billion to $78.8 billion.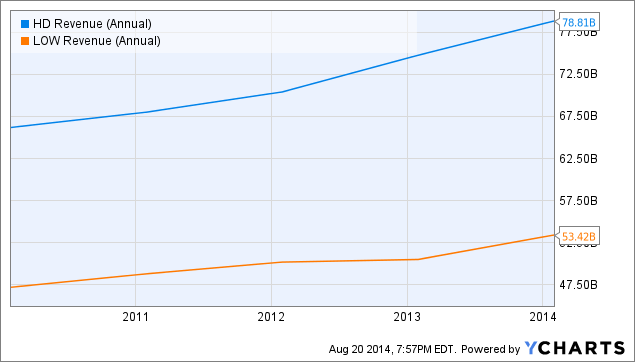 HD Revenue (Annual) data by YCharts
One thing that helps Home Depot significant is the fact that its sales per square foot are vastly superior to Lowe's. In 2013, Home Depot's sales per square foot measured $334, 25% above the $267 Lowe's reported for the year. This was largely driven by 1.4 billion transactions for the year compared to the 828 million seen by Lowe's but was partially offset by a lower average ticket of $56.78 while Lowe's' ticket was considerably higher at $64.52.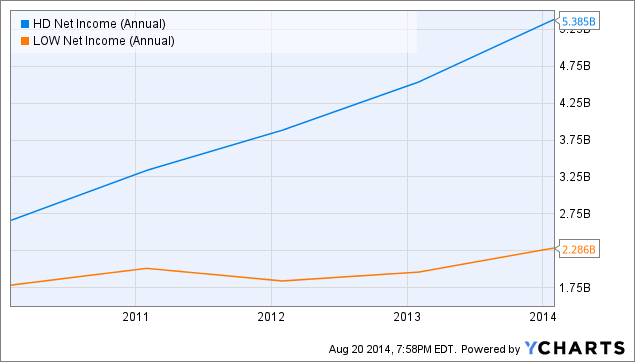 HD Net Income (Annual) data by YCharts
Looking at profits, the disparity between the two home improvement retailers is even greater. Over the five-year period, Home Depot's net income soared 102% from $2.7 billion to $5.4 billion while Lowe's saw its increase just 28% from $1.8 billion to $2.3 billion. In addition to the disparity in revenue growth contributing to the divergence in profit growth between the two, Home Depot also benefited from a decline in costs in relation to sales that was greater than what Lowe's posted, especially in its selling, general and administrative expenses, which dropped from 24% of sales to 21.1%.
Takeaway
Right now, Lowe's is doing alright but the company could be doing better. Yes, management did report revenue and profit growth that exceeded expectations, but with rival Home Depot posting a stronger long-term track record, investors should consider taking a closer look at it instead. Moving forward, Lowe's could see a great deal of upside if it can increase its revenue by raising its sales per square foot, but absent evidence that this is taking place, the 20.3 times earnings Home Depot can be bought for might make it more of a bargain, relatively speaking, than Lowe's, which can be acquired for 20 times.
Disclosure: The author has no positions in any stocks mentioned, and no plans to initiate any positions within the next 72 hours.
The author wrote this article themselves, and it expresses their own opinions. The author is not receiving compensation for it (other than from Seeking Alpha). The author has no business relationship with any company whose stock is mentioned in this article.