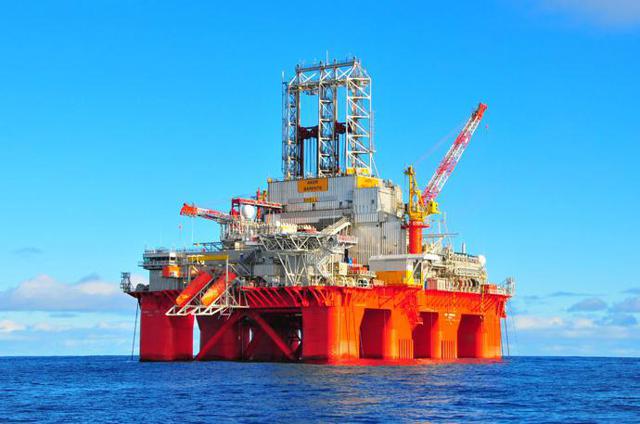 Source: Offshoreenergytoday.com
The complete list of the 12 offshore drillers is:
I chose these 12 companies, mainly because they represent the entire play in the offshore drilling sector, which trade actively in the different American stock exchange markets (NYSE, Nasdaq, etc.)
Few other companies are also traded with others international exchange, as the Norway exchange market called the Oslo exchange (Songa offshore (SONG.OL), Archer Ltd. (ARCHER.OL), Odfjell Drilling (ODL.OL), SEVAN Drilling (SEVDR.OL) and others); others as a North Atlantic Drilling (NYSE:NADL) owned in part (70.36%) by Seadrill Ltd. Or Seadrill Partners owned in part (53.20%) by Seadrill Ltd., which is indicated fully here; and finally few others as Parker's drilling (NYSE:PKD), Nabors Industries (NYSE:NBR) or Helmerich & Payne (NYSE:HP) which are not totally pure Industry play and will be treated separately later. At last, Noble Corp. Has recently spun off Paragon Offshore (PGN), however, I indicated the consolidated results for the two here.
Furthermore, I have been covering the sector very recently, and most of the companies indicated below. You will be able to get a more personal inquiry and complete diagnosis of any of these stocks, indicated in the table, that you find particularly attractive and believe they deserve a further in-depth scrutiny for a possible future investment.
What is called Offshore Drilling Industry?
Offshore oil drilling is an oil extraction technique which allows oil companies to access deposits of oil buried under the ocean floor. Most typically, offshore drilling sites are situated over the continental shelf, although advancements in drilling technology have made platforms even further out to sea economically and physically feasible.

There are several ways in which an offshore oil drilling operation can be run, and the type of oil rig used is usually dependent on the depth at the location, the type of oil, and prevailing conditions. Classically, fixed rigs are built into place on the ocean floor, with multiple well heads and adjustable parts to allow engineers to extract oil from the surrounding area. Floating rigs are also used, in some regions, and in some areas offshore oil drilling is conducted on ships for even more mobility.

Source: Wisegeek
Rigzone gave a general classification which is based on eight main rig types:
Drill barges (48/25.) ESV owns a few of them.
Drillships (174/93.)
Inland barges (70/20.) Bay Water drilling LLC owns few, but is not really an offshore drilling sector.
Jackups (656/404.)
Platform rigs (250/136.)
Semi-submersibles (248/167.)
Submersibles (2/0.) Noble Corp or now Paragon owns the two rigs and are both cold stacked.
Tender (48/22.) SDRL owns two tenders and one semi-tenders through its 8.2% stake in SanuraKapura.
It is a total of 1,496 rigs in which 867 are actually contracted (57.96%), and the others are either cold stacked, ready stacked, under inspection, undergoing a work over, en route to a new destination or under-construction.
Excluding 1), 3), 7) we have a worldwide total of 1,082 rigs in which 633 are actually contracted (58.50%), The 13 companies indicated here represent 63% of the total rigs contracted worldwide.
Complete fleet analysis as of August, 2014:
Company ticker

(1)

UDW
Deep water Semi-sub
Mid Water
Jackup

Lift boat

tender

Shipyard or Available
Cold Stacked
Total Rigs
Floaters
Jackup and other
Idle or for sale
ATW
6
3
0
6
0
3
1
14
AWLCF
0
2
0
0
0
0
0
2
DO
13
7
18
6
0
11
3
44
ESV
10
19
0
46
0
11
0
75
HERO
0
0
0
27
24
5
10
51
14
15
0
49
0
10
2
78
ORIG
11
2
0
0
0
0
0
13
PACD
8
0
0
0
0
0
0
8
RDC
4
0
0
30
0
4
0
34
RIG
29
26
21
15
0
9
8
80
SDRL
18
19
0
29
3
18
0
69
VTG
4
0
0
4
0
1
0
8
Total
117
93
39
212
27
72
24
476
By clicking the ticker you will be able to read my recent and complete article regarding the company for further study.
Financial snapshot including backlog:
Revenue Q2 in

$ million

Net Income Q2 in

$ million

Earning Q2 per share

in $

Total debt

in $ billion

Divi.

per annum

in %

EBITDA

Q2

$ million

(2)

EV

$ billion

(5)

Backlog

$ Billion

ATW
297.8
71.9
1.12
1.47
N/A
133.1
4.49
3.3

AWLCF

(6)

62.8
34.53
1.15
0.125
18.04
44.1
0.843
0.7
DO
650.0
89.7
0.65
2.49
4.55
260.0
7.24
6.2
ESV
1,203.0
370.3
1.58
4.73
6.08
587.0
15.98
11.0
HERO
243.0
6.6
0.04
1.21
N/A
86.68
1.54
1.2

NE

(7)

1,200.4
234.6
0.91
6.01
5.50
578.0
12.78
13.4
ORIG
441.4
69.6
0.53
4.40
4.15
231.8
6.38
4.8
PACD
260.80
49.9
0.23
2.80
7.5 (3)
137.9
4.80
3.3
RDC
422.9
41.2
0.33
2.81
1.3
139.0
5.23
5.1
RIG
2,328.0
587.0
1.61
10.46
7.70
975.0
22.32
27.1
SDRL
1,221.0
890.0

1.82

(1)

10.73
10.74
624.0
29.65
19.3
VTG
219.72
10.18
0.03
2.782
N/A
113.0
3.29
2.5
Without the deconsolidation of SDLP.
It is an approximation in some cases.
PACD voted a dividend starting Q1 2015 which is about 7.5% maximum.
PGN is a new spin-off from NE and many elements are missing now.
From Yahoo.
Q1 results. The stock is trading in the OTC market.
NE results are including PGN. Dividend will be split between NE and its spin off. We will have to wait for the next quarter results, to figure out exactly what is going on.
Classification of the 12 companies in two groups:
Top-tier (over $0.5 billion in revenue per quarter): RIG, SDRL, ESV, NE, DO
Mid-tier (under $0.5 billion in revenue per quarter): ATW, AWLCF, HERO, ORIG, PACD, RDC, VTG
Comparative YTD chart for Top-tier offshore drillers: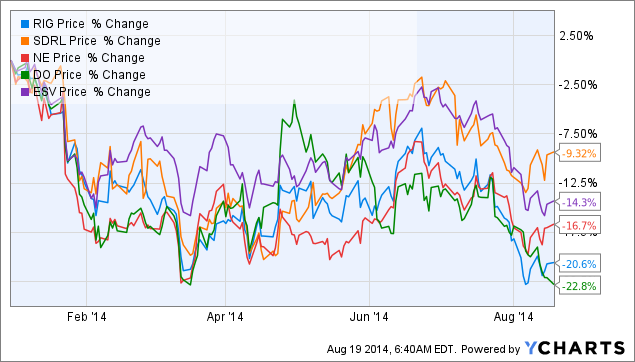 Comparative YTD chart for mid-tier offshore drillers: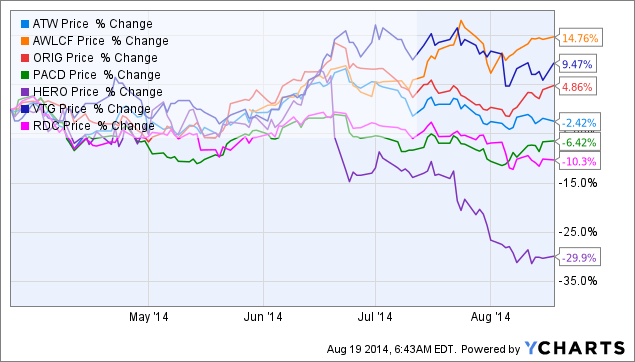 Commentary:
The offshore drilling industry is a profitable and no-matter-what growing industry that should be a permanent part of your long-holding portfolio. 75% of the companies that are indicated above are serving very attractive dividends, up to 18% for AWILCO, which are secured by a strong multi-year contract backlog.
Land reserves of oil and Natural gas are shrinking rapidly and the only real opportunity for the big oils to maintain an adequate reserve level, is to drill deeper offshore. There is no other alternative, and this industry is not about to suffer any prolonged slowdown.
Most of the offshore drillers above are trading at a discount to fair value right now, due to a softness of the floaters and jackups market, which started around mid-2013, aggravated by an exaggerated negative outlook by some analysts.
This softness is essentially cyclical in nature, and driven by two main factors:
A momentarily rigs over-supply coming into an already saturated market, probably until the second-half of 2015. This situation had a negative effect on the day-rates, especially for the low specified and old rigs.
A strategically reduced capital expenditure in the offshore drilling sector by the big oil companies.
Land reserves of oil and Natural gas are shrinking rapidly around the world, and the only real opportunity for the big oils to maintain barely an adequate reserve level, is to drill deeper offshore where the proficient remaining reserves are still waiting to be discovered. There is no other alternative, and this industry is not about to suffer any prolonged slowdown.
This unique situation should be seen as a great opportunity to accumulate a portfolio at a discount to fair value. Furthermore, your patience will be rewarded by often a very attractive dividend.
At last, I advise the reader to choose at least three different companies based on the nature of the fleet (modernity, age, floaters or jackups, etc.) and also the dividend received. AWILCO is a very small company with a high-secured dividend which should be traded separately. I own RIG, SDRL and ESV, mainly; however, I have initiated few others lately, ORIG, PACD, AWLCF, etc.
Due to the nature of its aging fleet, I have a HOLD rating on DO right now and a BUY rating on HERO (as a trading vehicle only).
Disclosure: The author is long RIG, SDRL, ESV, ORIG, AWLCF. The author wrote this article themselves, and it expresses their own opinions. The author is not receiving compensation for it (other than from Seeking Alpha). The author has no business relationship with any company whose stock is mentioned in this article.
Editor's Note: This article discusses one or more securities that do not trade on a major U.S. exchange. Please be aware of the risks associated with these stocks.