By Todd Shriber & Tom Lydon
This year's momentum sell-off is, mostly, in investors' rearview mirrors. You know, the one caused by sharp retrenchments in biotechnology, Internet and social media stocks.
The one that sent beloved exchange traded funds such as the Global X Social Media Index ETF (NASDAQ:SOCL) and the iShares Nasdaq Biotechnology ETF (NASDAQ:IBB) to ominous flirtations with bear markets.
Imagine how bad things were during the March/April momentum sell-off for ETFs that actually have the word "momentum" in their titles. The PowerShares DWA Momentum Portfolio (NASDAQ:PDP) endured that nightmare, tumbling almost 8% from its March peak to its April trough. That decline was not bad compared to biotech, Internet and social media ETFs, but because PDP is framed as a momentum fund, it was cast in the same negative light even though the ETF holds no Internet or social media stocks and has only scant biotech exposure.
Too often those that are willing to highlight an ETF's fall from grace are also reluctant to acknowledge that fund's resurgence. Too bad because they are missing out on the fact that the $1.27 billion PDP is one of 30 ETFs (at this writing) to have touched a new all-time high Tuesday.
Some say the momentum factor as it pertains to ETFs is cooling.
PDP did not get the memo. With Tuesday's modest gain, PDP is up 6.3% over the past 90 days while the S&P 500 is higher by about 5% over the same period.
As is the case with some other momentum ETFs, PDP reminds investors, and it is a critical reminder at that, that there is a big difference between dangerously inflated momentum as it pertains to high-flying stocks from the Internet and social media realms and steady, but still impressive price action.
PDP tracks the Dorsey Wright Technical Leaders Index, "which takes into account, among other factors, the performance of each of the approximately 1,000 largest companies in the eligible universe as compared to a benchmark index, and the relative performance of industry sectors and sub-sectors," according to PowerShares.
With the possible exception of Apple (NASDAQ:AAPL), few if any of PDP's top-10 holdings have the look of true momentum stocks. Again, the ETF holds no Internet and social media stocks. To be fair, PDP does hold some true momentum names, such as Netflix (NASDAQ:NFLX) and Tesla (NASDAQ:TSLA), but the ETF's weights to those names are light.
What PDP does feature is a combined weight of nearly 48% to the consumer discretionary and industrial sectors, two laggard groups this year. Yet PDP is up almost 9% this year while cap-weighted discretionary ETFs are still trying to get to year-to-date gains of 3%. Traditional ETFs are clinging to gains in the 4% to 5% range.
PDP's 15.7% allocation to the materials sector has been a boon for the ETF as five of the ETF's six largest materials holdings have traded higher this year and four of those five names have posted gains north of 10%.
PowerShares DWA Momentum Portfolio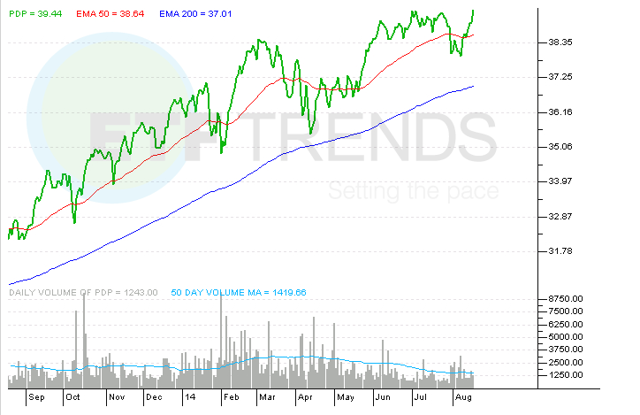 Tom Lydon's clients own shares of Apple.
Disclosure: The author is long AAPL.
The author wrote this article themselves, and it expresses their own opinions. The author is not receiving compensation for it. The author has no business relationship with any company whose stock is mentioned in this article.