After news broke on Aug. 20 that Target (NYSE:TGT) had reported revenue that exceeded expectations for the second quarter of its 2014 fiscal year but that adjusted earnings per share fell short of what Mr. Market hoped to see, shares of the retailer rose almost 2% for the day. In light of this development, should investors consider taking a stake in Target or would it be wise to stay some distance for the time being?
Despite mixed results, investors feel upbeat
For the quarter, Target reported revenue of $17.41 billion. In addition to coming in almost 2% above the $17.12 billion management reported the same quarter a year earlier, the retailer's top line was slightly above the $17.38 billion analysts anticipated. According to its press release, this rise in revenue was driven by an almost 4% jump in store count to 1,925 locations from the 1,856 in operation the same period last year.
Earnings Overview

| | | | |
| --- | --- | --- | --- |
|   | Last Year's | Forecasted | Actual |
| Revenue (billions) | $17.12 | $17.38 | $17.41 |
| Earnings per Share (adj.) | $0.95 | $0.79 | $0.78 |
Unfortunately, comparable store sales for the business came in flat for the year. This can be chalked up to a 1.3% decline in the number of transactions that took place for the quarter, offset by a 1.3% increase in the dollar amount of each transaction. Looking a bit deeper, we can see that the improvement in transaction amount can be attributed to a 3% rise in selling price per unit even as the number of units on a per-transaction basis fell 1.7%.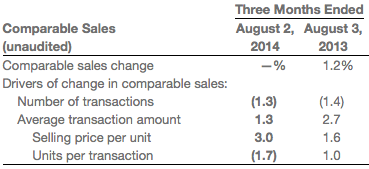 From a revenue standpoint, the situation looks pretty straightforward. This isn't the case when investors take a look at profits. For the quarter, Target reported earnings per share of $0.37, far lower than the $0.95 seen in last year's quarter and below the $0.79 investors hoped to see. If, however, you adjust for non-GAAP transactions that management doesn't believe is representative of the business's performance, then earnings per share would have hit $0.78, narrowly missing forecasts.
The primary drivers behind this adjustment were the retailer's loss on the early extinguisment of debt and costs relating to its data breach in 2013. These two factors accounted for $0.27 and $0.11 per share, respectively, and are expenses that will likely go down as one-time issues.
Takeaway
Moving forward, it will be interesting to see what transpires with Target. On one hand, you have a multi-billion dollar retailer that is growing sales year-over-year in spite of a significant data breach. On the other hand, its bottom line, even after accounting for one-time charges, couldn't match forecasts but its sales aer doing quite well. In recent years, sales haven't grown by all that much (just 11% over the past five years) while Wal-Mart (NYSE:WMT) posted strong sales growth of nearly 17%. This, combined with Wal-Mart's forward P/E of 15 makes the company notably cheaper than Target's 17 ratio.
Disclosure: The author has no positions in any stocks mentioned, and no plans to initiate any positions within the next 72 hours.
The author wrote this article themselves, and it expresses their own opinions. The author is not receiving compensation for it (other than from Seeking Alpha). The author has no business relationship with any company whose stock is mentioned in this article.