By Steven Carroll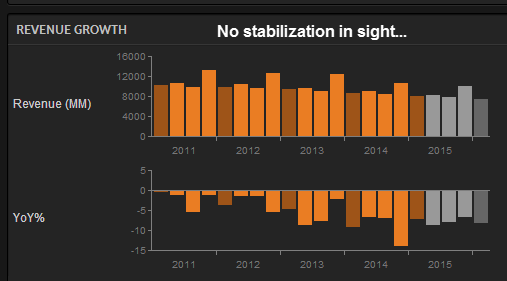 A benchmark
We take a look at Sears (NASDAQ:SHLD), using it as a reference stock to examine each of the bearish StarMine model scores.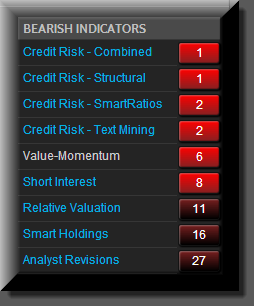 Credit Risk - Combined is an amalgam of the 3 models below it - Structural, Smart Ratios and Text Mining.
Credit Risk - Structural is a Merton approach to probability of default, using equity market information as a predictor of bankruptcy. In comparison to an Altman Z score or a traditional Merton model, it provides an enhanced analysis due to improvements in all three inputs - leverage, drift and volatility. The model was more predictive of defaults over the measurement period, correctly forecasting approximately 80% of defaulting firms. With a score of 1, Sears is certainly in the high risk bucket - which seems supported by its negative free cash flow (the Earnings Quality cash flow component is 17, compared to an industry median of 65), the EQ financial highlights note that Sears CFO was negative $560 million for the quarter (April 14).

Credit Risk - Smart Ratios looks at Sears as a traditional credit analyst would - performing an accounting ratio-based analysis on the company's key metrics. Here the score is 2, indicating high risk of default from this perspective as well.
Credit Risk - Text Mining is an innovative model that uses an analysis of Reuters news, filings and transcripts to identify companies likely to experience default. The implied rating here is a B-, though the overall model score is another 2, placing the company in the second last percentile for North America. While markets are volatile, the overall bullish tone of commentary ("the buying dip is here") probably explains the difference in implied rating. For now, clearly, greed is a more powerful factor than fear.
Val-Mo is another amalgam. It combines two valuation approaches, a metric-based relative value model (RV)- and a Dividend Discount Model (IV), alongside two measures of momentum - a price-based approach (Price Mo) and an analyst revisions measurement (ARM). In aggregate we see another bearish indicator, with the company receiving an overall score of 8. Note, there is no IV score because our DDM is only designed for companies in profit. Given that momentum factors tend to work over a short time horizon, and valuation factors tend to cause mean reversion over a longer period, the combination is especially effective.
Short Interest looks at the level of short positions against the firm, measuring both the supply and demand side of the equation. Sears currently has 14.1% of its outstanding shares being held short against 2.2% for North America and 3.3% for Consumer Discretionary. Hedge funds tend to accurately identify companies likely to experience a share price fall, making the model a useful predictor of future share price declines in many instances.

Relative Valuation provides an in-depth analysis of a variety of Price and EV based metrics - their weights can vary based on several factors. For example EV and cash flow metrics are not used for financials, and PE weight is reduced if EPS numbers show high volatility. The model is particularly useful as it still works for unprofitable stocks (where the Intrinsic Valuation model does not).
Smart Holding takes a more unusual approach; it identifies buy-side patterns in their stock selection by looking at holdings data. Which styles and metrics are in vogue? Revenue growth? P/E? Leverage? The model looks at 25 different factors across growth, value, profitability and so on. It then ranks companies globally based on their attractiveness to the buy side, given what we've identified as their primary stock selection drivers. For Sears the P/E, long-term EPS growth, ROE and EV/Sales are identified as the four factors where the company scores most poorly.
ARM or Analyst Revisions Model - looks at both the patented Predicted Surprise (which forecasts likelihood of a beat or a miss on analyst estimates) combined with changes in the I/B/E/S mean and analyst recommendations changes. The model is a powerful short-term predictor of stock price performance effectively measuring change in analyst sentiment. The I/B/E/S mean has been drifting down across the entire balance sheet, with recent EPS revisions for this quarter down a depressing 9.7%.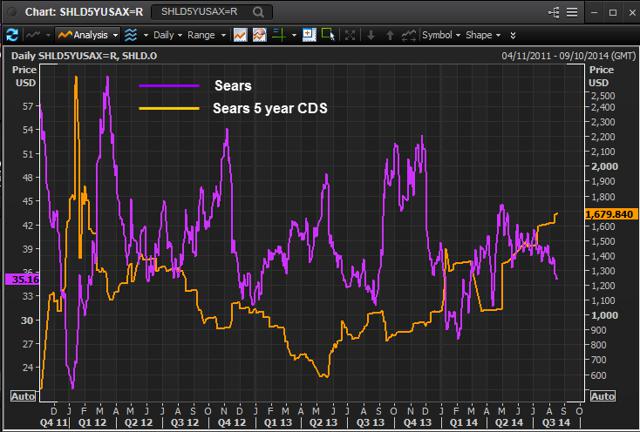 Ringing up sales?
Sears is a well-known bear case, but given the still heightened level of short interest and the probability of a credit event (the 5-year CDS is moving back towards the highs of Q4 2011), it might not be the right time to go bottom fishing yet.
Disclosure: The author has no positions in any stocks mentioned, and no plans to initiate any positions within the next 72 hours.
Business relationship disclosure: Alpha Now at Thomson Reuters is a team of expert analysts that are constantly looking at the financial landscape in order to keep you up to date on the latest movements. This article was written by Steven Carroll, independent commentator and analyst. We did not receive compensation for this article, and we have no business relationship with any company whose stock is mentioned in this article.