By Todd Shriber & Tom Lydon
Plenty of the luster gained last year and in the early part of 2014 by European stocks and exchange traded funds has been lost as economic and geopolitical problems have had investors hitting the sell button on European equities and ETFs.
However, there are some bright spots, including compelling valuations and dividend growth. "Europe is considerably cheaper than the U.S.," Mike Schoenhaut, portfolio manager of the J.P. Morgan Income Builder Fund, said in a Wall Street Journal report. "That may create some opportunities, but we don't really see a near-term catalyst for major European outperformance until later this year."
While equity markets in some of the Eurozone's largest economies, including France and Germany, struggle, rising dividends could give investors a reason to take a look at attractively valued Europe ETFs. Excluding British firms, "European companies paid out $153.4 billion in the second quarter, up 18.2% year-on-year and the best performance on a constant currency basis in at least five years," Reuters reported, citing Henderson Global Investors.
Prior to that data being released Monday, it was known that ex-U.K., European dividends have risen just 8% since 2009, indicating the continent has the potential to deliver robust payout growth going forward. The potential for further European dividend growth shines a light on some broader Europe and dedicated dividend ETFs, including the SPDR EURO STOXX 50 (NYSEARCA:FEZ) and the new WisdomTree Europe Dividend Growth Fund (NYSEARCA:EUDG).
"Spanish and French stocks are currently among the top-yielding plays within the blue-chip Euro STOXX 50 index: Repsol, Banco Santander, Inditex , Vivendi and Total yield between 5 and 10%," according to Thomson Reuters data, Reuters reported.
FEZ as tumbled 4.3% in the past month, but the ETF is noticeably less expensive than the S&P 500 and highly levered to French and Spanish dividend growth. FEZ has a P/E of 14.9 and a price-to-book ratio of 1.3 compared to 17 and 2.4 on the S&P 500.
The ETF allocates a combined 49.3% of its weight to French and Spanish stocks, according to State Street data.
The WisdomTree Europe Dividend Growth Fund, which debuted in May, tracks the WisdomTree Europe Dividend Growth Index, "a fundamentally weighted index that measures the performance of dividend-paying common stocks with growth characteristics selected from the WisdomTree DEFA Index," according to WisdomTree.
Although Eurozone dividend growth has lagged that of other developed markets, such as Australia, the U.K. and the U.S., in recent years, evidence suggests that trend is changing for the better. For example, WisdomTree's Europe Dividend Stream has grown 12.4% year-over-year.
France and Spain combine for 9.5% of EUDG's weight and the ETF offers some ex-Eurozone safety with a 25.2% weight to the U.K., Europe's largest dividend market. British-listed companies paid $102.1 billion in dividends last year, and since 2009 have paid roughly $441 billion, according to the Independent.
Financial services stocks are helping drive European dividend growth. "France's BNP Paribas continued to pay a dividend despite a hefty U.S. fine and crisis-scarred Credit Agricole recently resumed dividend payments," according to Reuters.
Financials account for 26.7% of FEZ's weight, indicating that ETF should be a beneficiary of dividend growth from that sector.
So should the WisdomTree Europe Hedged Equity Fund (NYSEARCA:HEDJ). HEDJ, which is designed to deliver a boost as the euro falls against the dollar, features solid dividend growth credentials of its own although it is not an explicit dividend ETF.
HEDJ features a 12.5% weight to financials and a combined weight of nearly 44.7% to France and Spain. The ETF has more than doubled in size since April.
SPDR EURO STOXX 50 Fund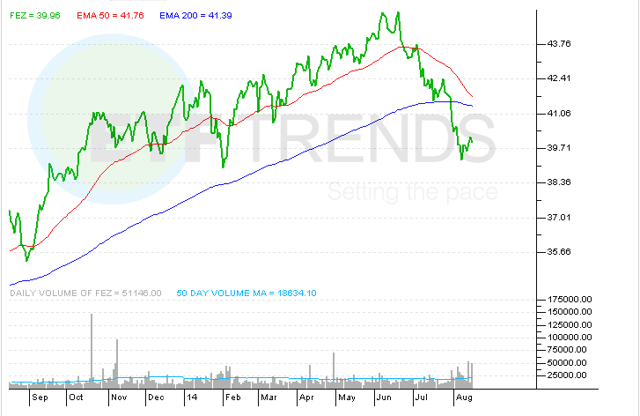 Disclosure: The author has no positions in any stocks mentioned, and no plans to initiate any positions within the next 72 hours.
The author wrote this article themselves, and it expresses their own opinions. The author is not receiving compensation for it. The author has no business relationship with any company whose stock is mentioned in this article.