Honeywell International Inc. (NYSE:HON) is an equally diversified technology and manufacturing company among its four segments: namely; Aerospace, Automation and Control Solutions, Performance Materials and Technologies and Transportation Systems. The company has an active presence in the three main continents: US, Europe and Asia. Recently, the company has announced its second quarter earnings for the fiscal year 2014.
Let's take a look at how the company has been performing and its future growth prospects.
Recent Performance At A Glance
Top Line Growth Drivers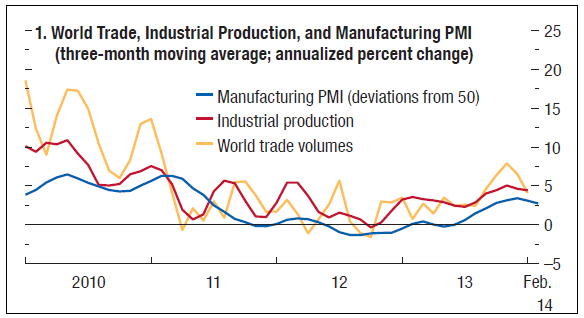 Source: International Monetary Fund 2014
Despite a 4% growth in the Industrial Production, Honeywell was able to rake in revenues of $9.7 billion representing an increase of 6% compared to the corresponding quarter last year. This mid-digit growth was mainly contributed by its Automation and Control Solutions segment which had seen its quarterly sales rise by 10% on the back of positive acquisitions and growth in Environmental and Combustion Controls and Honeywell Scanning & Mobility. In the short run, the company has continued to gain from improving market conditions, product innovations and geographical expansion. Over the long haul, it has increased its backlog levels backed by positive macroeconomic trend and solid win rates.
The company is also working on streamlining its business and becoming more centered on "Great Positions in Good Industries". Following the implementation of this strategy, it has decided to divest from businesses that do not match its long-term strategic plan. It plans to sell its Friction Materials business.
The company will also combine its Transport Systems business with Aerospace during the third quarter of the current fiscal year in order to exploit the benefits of engineering and technology similarities and the shared business mechanisms of the two business divisions. As a result, the company will now be operating under three segments instead of four. This step is likely to bring in operational efficiencies in the future.
Global Growth
Honeywell is looking forward to derive a CAGR of 3.5% for international defense budgets. International growth will also be achieved on the back of many large purchases of Trainers, Helo's, Fighters etc, demand from its aircraft customer MRO service providers and upgradations centering on safety and efficacy.
Margin Expansion
The company witnessed an improvement of 110 basis points in its operating income margin mainly due to the increased segment profit of every business segment, lower repositioning and other charges and higher pension income. Segment profit had shot up on the back of higher productivity and more volume sold along with additional investments made. Greater operational efficiency along with solid productivity results delivered by Turbo under the Transportation Systems segment contributed a major chunk of the margin expansion.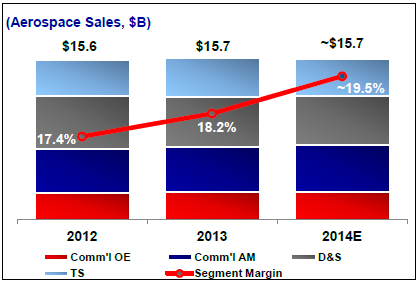 Source: Jefferies Global Industrials Conference Presentation 2014
The company expects to continue to achieve greater operational efficiency and combination benefits by merging Aerospace and Transportation Systems to form as one division. The amalgamation is anticipated to elevate the segment's 2014 margin to 19.5% from 18.2% in the prior year. The company also plans to bring fuel efficiency improvements in Helo Engines and ESPC's. Additionally, it aims to focus on maintaining advanced turbocharger technology via successful platform inaugurations.
Final Verdict
The company has a promising future ahead as the world GDP and industrial production begin to pace up gradually. Also, the company is focusing on deriving cost savings by realigning its business and becoming more operationally efficient. The company's growth potential can also be checked by its capital appreciation potential. Based on the sector's P/E "ttm" of 25.62 and the consensus analyst estimate of EPS for the fiscal year 2014 of 5.54, the scrip's intrinsic value is estimated to be $141.93. The stock is currently trading in the market at a price of $94.20 which represents an upside potential of approximately 50%.
Furthermore, the company is also paying a dividend yield of 1.89% while the average sector level is reported to be 1.62%.
Disclosure: The author has no positions in any stocks mentioned, and no plans to initiate any positions within the next 72 hours.
The author wrote this article themselves, and it expresses their own opinions. The author is not receiving compensation for it (other than from Seeking Alpha). The author has no business relationship with any company whose stock is mentioned in this article.