The iPhone is unquestionably one of the biggest game changing consumer goods in recent memory. Netscape founder Marc Andreessen has characterized it as a "wormhole product", seemingly delivered unexpectedly to Earth straight from the heavens.
Just how revolutionary was the iPhone? At the time of its dramatic January 2007 introduction in San Francisco by Apple (NASDAQ:AAPL) CEO Steve Jobs, Canada-based Research in Motion (RIMM) - then the world's leading mobile device maker - dismissed it, believing the iPhone as described by Jobs to be an "impossible" engineering feat.
I've been a very happy iPhone user ever since the original went on sale 3.5 years ago. Each successive iPhone iteration has delivered significant enhancements. And I've even stood in a relatively short iPhone purchase wait line (but a line nevertheless), anxious to upgrade as soon as the latest version became available. That was until the announcement of the underwhelming iPhone 4.
iPhone Alternatives
The failure of the iPhone 4 to impress, combined with the changing smartphone competitive landscape, led me to take a hard look at two emerging iPhone alternatives: Google's (NASDAQ:GOOG) Android and Microsoft's (NASDAQ:MSFT) Windows Phone.
Microsoft's smartphone efforts the past few years have been nothing short of a complete failure. But Redmond's new Windows Phone software shows real promise. I was particularly impressed with the creativity that went into the elegant and innovative new Windows Phone user interface, called Metro. It's intuitive and refreshing, and the whole scheme is particularly pleasing to the eye on one of Samsung's Super AMOLED screens.
With the new user interface and other encouraging signs across various Microsoft product lines (i.e., ZunePass, SkyDrive, Xbox Kinect), I have growing confidence that the Washington-based software behemoth is recovering its form. In short, Microsoft has a potential winner on its hands. However, at this point in time, there are just too few apps available for Windows Phone. Further, many features widely available on the iPhone are missing (e.g., copy/paste, multitasking, etc.).
What about Android?
Smartphone Wars: Android vs. iPhone
Google and its hardware partners, such as Motorola (MOT), Samsung (OTC:SSNLF), and HTC, have made big strides in 2010. The iPhone/Android app gap has largely closed, and Android's market share is about to (or already has) overtaken the iPhone.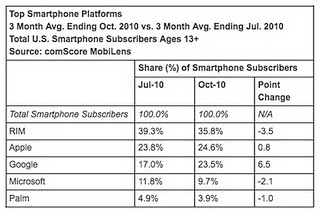 In contrast with the two versions of the iPhone currently available for sale (iPhone 4 and 3GS), there are some 80+ different Android devices. This greater selection - and the increased freedom of choice Android offers over the iPhone in general - is considered to be both Android's greatest strength and biggest weakness.
Many find the array of Android choices somewhat dizzying, while others want features like a Blackberry style keyboard, or a removable battery, or a larger 4" screen for browsing the internet -- all things you can find on an Android device, but not on an iPhone.
Ladies and Gentlemen, We Have a Race
Let's be clear up front: the idea that there is an "iPhone killer" lurking out there somewhere over a not so distant hill is a myth. The iPhone has established critical market share mass, and it will likely remain a solid smartphone for the foreseeable future. Barring a major snafu millions of iPhones will continue to ship.
While 'power' smartphone users have had some great Android options to choose from for awhile now, the more typical smartphone owner basically just wants their technology to be simple and work. I suspect many of these folks who are familiar with Android have probably heard that Google's software is simply not as polished (in terms of ease of use) as Apple's.
However, Google just came out with a new smartphone, the Nexus S; it has been thoroughly reviewed and the verdict is in: it's a winner.
The Nexus S is the "official Google smartphone". It is manufactured by the same South Korean tech powerhouse which provides many of the iPhone's core components (Samsung). In my opinion, it is perhaps the first true mainstream alternative to the iPhone.
Not only does the Nexus S possess hardware which can compete head-to-head with Apple's flagship iPhone 4, but the latest Android software (called 'Gingerbread') is intuitive and easy enough for the average iPhone user to switch to without having to spend much time getting up to speed on a new system.
Google's Nexus S
Long story made short -- the Nexus S not only delivers, but it also delights. The total experience is not just comparable to the iPhone, but in many ways superior. This is particularly true if you use Google services such as Search, Maps, Gmail, and especially Google Voice (which I reviewed here).
The Myth of the One Size Fits All Smartphone
The Nexus S, like all smartphones, has shortcomings because, like the iPhone, it simply can't be all things to all people.
For example, the Nexus S is perhaps the ideal international smartphone for a bevy of reasons; however, if you're based in the U.S. and you need a 3G carrier other than T-Mobile (the Nexus S can't utilize AT&T's (NYSE:T) 3G network, just AT&T's 2G service) then this iteration of the Nexus S (new versions of the Nexus S may be launched on the other carriers) may not be right for you.
The Nexus S also can't take advantage of the even higher speed 3.5G / 4G data networks which are starting to roll out in the U.S. Last, some Android apps are not as fully fleshed out as they are on the iPhone. For example, the Android Bloomberg app doesn't allow you to reorder your news preferences like you can on the iPhone.
Change is Hard
Ignoring network considerations, my best guess is that the majority of users would find the Nexus S comparable to the iPhone 4 in terms of overall pluses and minuses, and superior to the 3GS. Equal, however, is hardly a good enough reason to switch, so I don't expect the Nexus S to generate blockbuster iPhone-like sales.
Many users are understandably reluctant to switch to a different smartphone platform, particularly those who have made a significant investment in iPhone apps and accessories. If you are in this camp, then you may be better off sticking with your iPhone.
But if you're new to smartphones, or ready to make a switch, then you should definitely give Android phones like the Nexus S a serious look. And for those worried about having to learn a whole new smartphone, I think you'll be pleasantly surprised with how familiar Android seems compared to the iPhone.
And for those making the switch to Android, here are some things you can look forward to: I believe 2011 could very well be shaping up to be the Year of Android. What do I mean by that? We already discussed Android's rapid market share growth. With that growth we should see what remains of the the app gap disappear in 2011. And Android's next operating system, called Honeycomb, is generating significant positive buzz and is set for a Q2 2011 launch -- just before Apple typically launches its latest iPhone. Other hardware advances, such as battery sipping dual-core processors, are slated for Q1 release in Android devices. Overall, it's clear that Google and its partners are innovating at a faster clip than Apple.
In the battle of the smartphones, it certainly feels like Google has captured the momentum. For a variety of reasons, Google may also have the medium-term upper hand over Apple.
How Much Does Your Phone Say About You?
There has been a lot made of what your phone, like your car, says about you.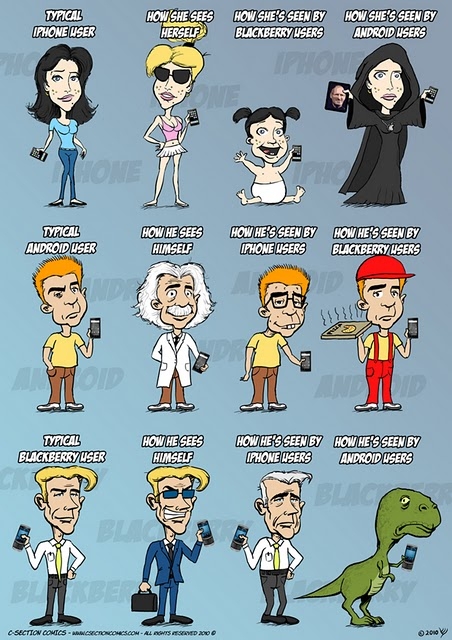 One emerging area where your choice of smartphone may be saying something important about you is the price you are charged when shopping online.
Recently, the growing use by online retailers of 'dynamic pricing' has come to light. Reports have emerged that Google Chrome users are offered lower prices than Firefox users (apparently, Chrome users are considered to be more savvy online shoppers). It's somewhat unclear how widespread the practice of dynamic pricing has become.
Perhaps the takeaway here should be that regardless of whether you feel your phone choice reflects the deeper you, our minds are naturally drawn to outward symbols such as cars, clothes and now smartphones. Like it or not, your consumer choices do say something about you, and perhaps there's a good reason why.
The Politics of Technology
While the Nexus S is the smartphone that led me to abandon the iPhone, the question of "which smartphone?" actually carries larger implications even for non-geeks.
Google and Apple take markedly different approaches to technology. Whether one approach is "better" depends on your perspective, which end product or service we're talking about, and above all else generates heated debate. What is not up for debate, however, is which platform is more open to individual expression and choice -- values which the western democratic world has generally held in high regard.
Why the difference? Whether or not Google fully walks the "don't be evil" talk is open to question, in my opinion. However, when it comes to Apple's approach to technology I think Rich Karlgaard's assessment of Steve Jobs psyche pretty much nailed it.
Closing Thoughts
As discussed previously, the Nexus S and Gingerbread now offer a near iPhone like experience in terms of intuitiveness, simplicity and ease of use. I concur with those who claim the iPhone still has the overall edge in these categories. For now. The gap has closed (and in my opinion will continue to do so) to such a degree that it is no longer credible to claim that if you want a simple, trouble free, and premium smarthphone experience then your only choice is the iPhone.
The bottom line: while it's certainly not black and white, if you prefer Google's approach to technology over Apple's then it's now safe to make the switch away from the iPhone without much risk of regret.
Note: for more Nexus S reviews see also CNET's video review, or from the slightly-to-more progressively geeky writeups respectively by Wired, Engadget, and AnandTech.
Further note: if you read the often entertaining comments sections of the above reviews you'll find remarks from a number of existing Android smartphone owners stating how "disappointed" they are in the Nexus S, often because it's too 'evolutionary' rather than 'revolutionary'. As someone who is brand new to Android, I understand but don't share this point of view. The Nexus S has some bleeding edge tech (i.e., NFC chip, integrated SIP calling). However, the Nexus S is not solely targeted at early adopters. Rather, Google has focused on small details to refine the Android experience for broad consumer adoption.
Disclosure: I have no positions in any stocks mentioned, and no plans to initiate any positions within the next 72 hours.